Six Questions To Ask Any FBO About Their Fuel Handling Procedures
December 2019
Pilots, Directors of Maintenance, and owners rely on FBOs to fuel their aircraft to specifications every time. They expect the fuel to be of the highest quality, trusting it has been properly handled and stored so it remains free of contamination and water. This is only accomplished through teamwork, training, and established procedures.
However, when it comes to jet fuel, not all FBOs are the same. Your best guarantee to receiving high-quality fuel every time is to ask questions.
Below are questions to ask on your first visit to an FBO. Every line service employee handling fuel service should be able to answer these questions without hesitation.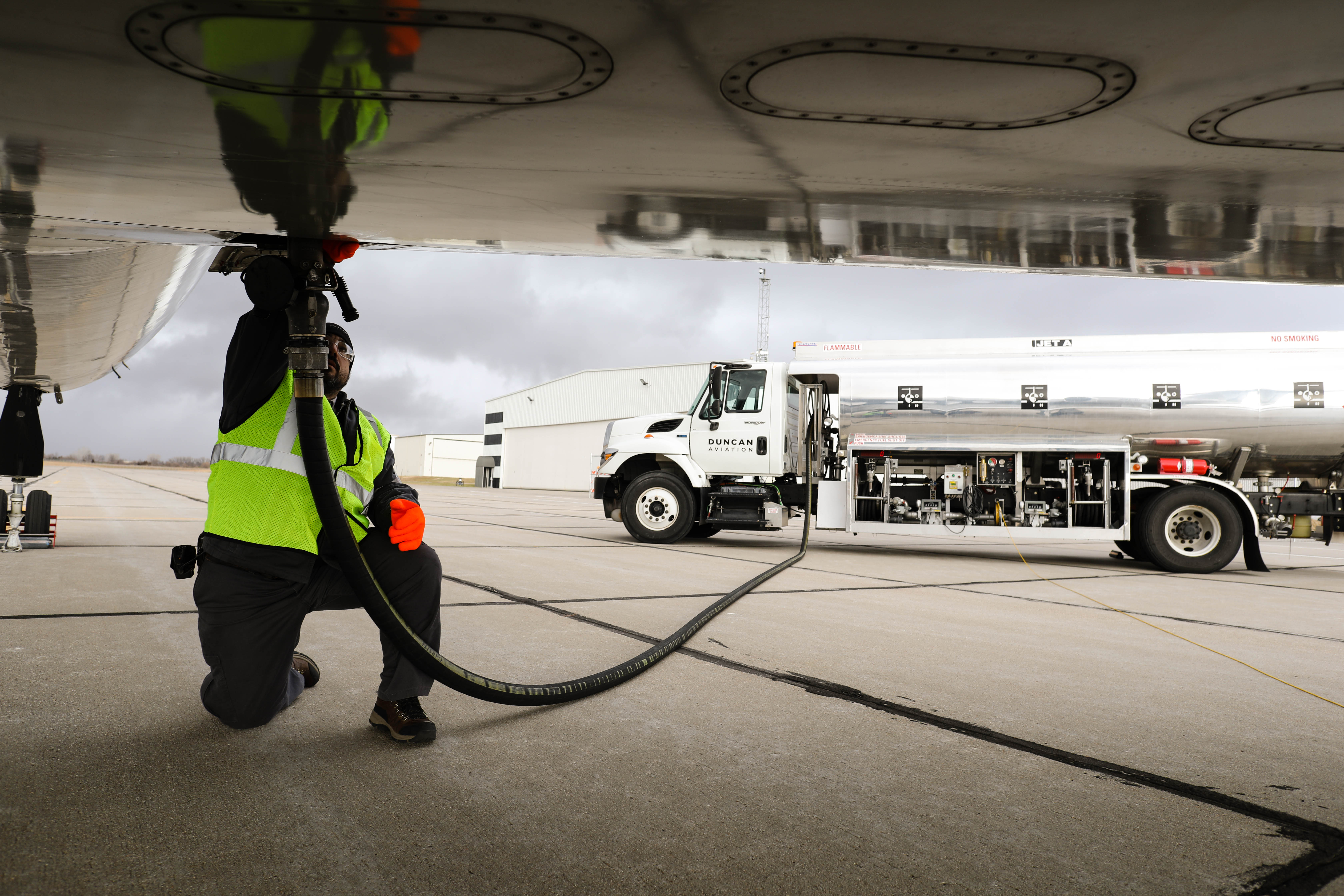 1.

Do you have an active SMS? Are you IS-BAH Certified?

The safety of customers, team members, and aircraft should be a top FBO priority. FBOs with established SMS or Safety Management Systems are operating in a manner that is as safe as possible. The goal of SMS is to identify risks and implement policies and procedures company-wide that will mitigate those risks.

FBOs that have received the IS-BAH (International Standard for Business Aircraft Handling) accreditation have taken further steps to meet a set of global industry best practices for business aviation ground handlers that feature at its core a safety management system. This accreditation indicates the FBO is serious about safety and customer care in all aspects of its aircraft service. The rigorous standards established through the IS-BAH program set a high bar for the industry.

2.

Do you sump your fuel trucks daily? When? What do you check?

Daily sumping of all fuel trucks ensures they are in proper working order with effective hoses, charged fire extinguishers, and completely clean of contaminants. Sumps should be conducted consistently at the same time every day to identify any trends.

3.

Do you follow ATA 103 (US) or JIG (International)?

Only FBOs with commercial fuel contracts are required to follow the ATA 103 Standard for Jet Fuel Quality at Airports and Military compliance. This standard provides guidance for the safe storage and distribution of jet fuel. If the FBO is not following ATA 103 standards or JIG, then your next question should be 'what are your quality control procedures?'

4.

Do you have any BlueDEF (diesel exhaust fluid) equipment on the field?

If the answer to this question is yes, your very next question needs to be 'What is your DEF policy?'

BlueDEF contamination in jet fuel is a very serious issue. DEF is a colorless additive used with diesel engines to reduce emissions, and when mistakenly added to jet fuel, can trigger reactions including the formation of crystals that can plug fuel filters and damage other engine components. DEF and FSII (fuel system icing inhibitor) additives, also known as Prist, are similar in appearance, so it is imperative that proper precautions are taken to ensure they are not mixed up.

Pilots should stay with their aircraft during fueling to ensure they know what is being put into their aircraft, and they should never be afraid to ask questions.
If you already have a trusted relationship with an FBO that has consistently delivered quality fuel, don't be afraid to ask questions if on your next visit you see anything out of the ordinary, like new employees, a change in the appearance of the ramp, erratic behavior from line service personnel, or different fuel handling procedures.
In addition to the questions above, add these to your list.
5.

Are there new employees on the field? How are they being trained?

It is not unusual to see a new line service employee around your aircraft. Don't be alarmed, but be observant. Many errors that happen with new employees have to do with gaps in their training. Are they parking the fuel truck outside the safety diamond? Did they chock the truck? Are they following speed limits on the ramp?

6.

If the ramp appears different, inquire about new FBO management or different fuel handling procedures.

Change is good if it enhances the safety and quality of the FBO experience.
FBOs that are able to provide a quick and satisfactory answer to all of the questions above are committed to providing the highest quality fuel with safety and customer service in mind.
Stay curious, my friends. Ask questions and don't stop until you satisfied with the answers you hear.