Talking To The Principal About Safety Management Systems
November 2020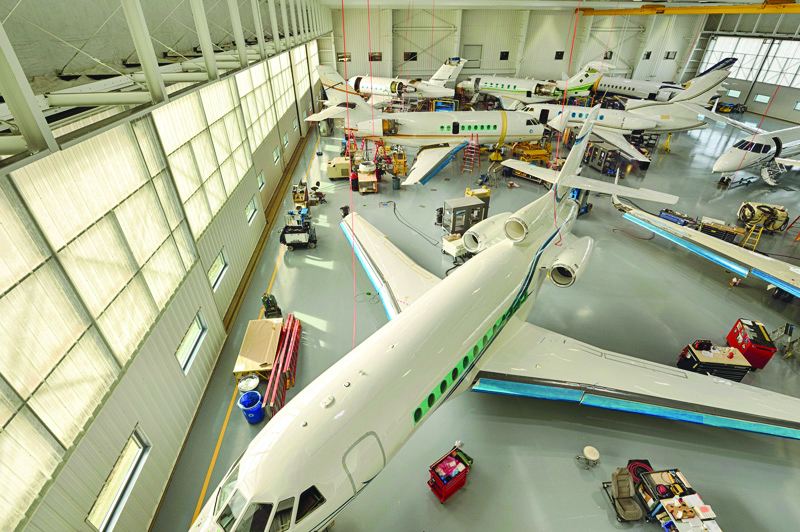 The principal owner of an aircraft is often not involved in the day-to-day operations of the asset. They rely on the expertise of the Director of Maintenance and flight department to make these tactical decisions.
However, they do keep a sharp eye on the bottom line and, from time to time, may want to know more to understand better the cost of maintenance and service of their aircraft.
This Talking To The Principal series will arm you with valuable information to quickly and satisfactorily address these questions.
This issue of Talking to the Principal is about safety and how it is not the same from service provider to service provider. A key element is the safety management system.
Safety Management System Regulations
Let's begin with FAA Safety Management System, or SMS, regulations for MRO facilities…There are none.
As outlined in the FAA 14 CFR Part 5, the FAA SMS Program is entirely voluntary for MROs, and does not require maintenance facilities to have an SMS in place.
Because there are no regulated minimum standards that must be maintained, SMS policies and procedures are not the same at all MROs.
This puts the burden on the aircraft operator to decide with whom they want to entrust their aircraft for maintenance and other service. Aircraft are high-value assets, and they carry high-value cargo. Decisions about their safety shouldn't be taken lightly.
Safety Considerations When Selecting An MRO
Is there an SMS in place?
Who is responsible for the management of and adherence to the safety procedures?
Are they providing safe products and services?
Are they taking the necessary precautions to mitigate risks?
Are they providing a safe environment for customers and employees?
How are the safety procedures reviewed for continuous improvement?
Are their employees trained in safety procedures?
What is an SMS?
An SMS is a system that ensures a company is producing a safe product. It,
Identifies hazards
Investigates the root cause
Creates or changes procedures to mitigate future problems
Requires continuous communication and training on safety-related issues
Is actively managed and promoted throughout the organization
Is regularly analyzed and reviewed for improvements
Four Pillars Of SMS
The FAA does publish recommended voluntary standards for implementing an SMS program, which align with standards established by the International Civil Aviation Organization (ICAO). They are considered the four pillars of SMS.
I. Having a Safety Policy
Maintenance facilities must have a safety policy to provide resources and requirements to fulfill all safety objectives. It must have a clearly stated emergency response plan regularly reviewed, documented, and communicated throughout the organization. An accountable executive or executive team must sign this safety policy to show commitment from top level management.
II. Safety Risk Management
The safety policy must continually assess current systems, develop new processes and procedures, and identify the hazard of ineffective risk controls. Risk assessments are performed in the event of changes in facilities, procedures, and innovations or technologies.
III. Safety Assurance
The safety performance of the established SMS must be monitored and measured to maintain processes. Data must be acquired and analyzed against safety objectives to ensure compliance and correct performance deficiencies.
IV. Safety Promotion
Company-wide safety training is conducted to ensure all employees have the competencies necessary to perform their duties relevant to the SMS's operation and performance. There must be continuous SMS communications about policies, processes, and tools relevant to employee responsibilities.
More information about the four pillars of SMS can be found here: https://www.ecfr.gov/cgi-bin/retrieveECFR?gp=&SID=cc39b8a0c3158d4511ebebecf4249cef&mc=true&n=pt14.1.5&r=PART&ty=HTML
Duncan Aviation Safety Management System
At Duncan Aviation, safety is a core business value. We are committed to making all locations safe for our customers, their aircraft, and our team members while providing safe products and services. The Duncan Aviation SMS has been in place since 2013 and has the full support and participation of the company's Senior Management Team.
All of our safety procedures are SMS driven. It enables us to put out a safe product safely. That is the goal of an SMS.
Duncan Aviation has received Level 3 certification from WYVERN Ltd for having a Safety Management System in place at its repair station in Lincoln, Nebraska. However, all three of Duncan Aviation's MRO facilities operate under the same SMS program.
When a safety hazard is identified at one location, all locations are informed and together they develop new procedures to mitigate further safety concerns. For a repair station of our size, we rely on all locations to be on the lookout and communicate problem areas. It's how we learn and continually get better together.
SMS Level 3 means that our SMS policy can't just be a manual on a shelf collecting dust. The organizations that set international standards want to see the policy in action. WYVERN verified that our SMS coordinates all safety-related activities so we can better manage hazards. The audit found that we, as a company, use the SMS to help us learn from history, mitigate risks, and make informed decisions as we resolve issues.
WYVERN is a global company committed to guiding aviation companies in safety-risk management.
IS-BAH Certification
All of Duncan Aviation's FBOs are IS-BAH (International Standard for Business Aircraft Handling) certified. IS-BAH, developed by the International Business Aviation Council (IBAC) and the National Air Transportation Association (NATA), is a set of global industry best practices for business aviation ground handlers that features a Safety Management System. All FBO locations have also earned the NATA (National Air Transportation Association) Safety 1st and Safety 1st Clean Standards.
IS-BAO Certification
Duncan Aviation's Flight Services has IS-BAO (International Standard for Business Aircraft Operations) Stage 3 Certification and NATA's Safety 1st Clean Standard training.
At Duncan Aviation, we want our customers to know we have a formal, ongoing commitment to their safety. We hope these facts can help technicians, DOMs and flight department personnel share that commitment with others who rely on their aircraft.