The Advantages And Benefits Of A 406 MHz ELT
August 2023
In 2023, flying an aircraft with a 121.5/243 MHz ELT (Emergency Locator Transmitter) is still legal. While it is legal, it may not be prudent. The satellites that monitored the 121.5 MHz frequency were decommissioned in 2009, and no satellite-based system is available that will automatically trigger a SAR or Search and Rescue if one of these older type beacons is activated.
Conversely, newer distress beacons, such as all 406 MHz, are monitored by a global network of satellites operated by Cospas-Sarsat, offering automatic detection.
Location Accuracy: 121.5 MHz vs. 406 MHz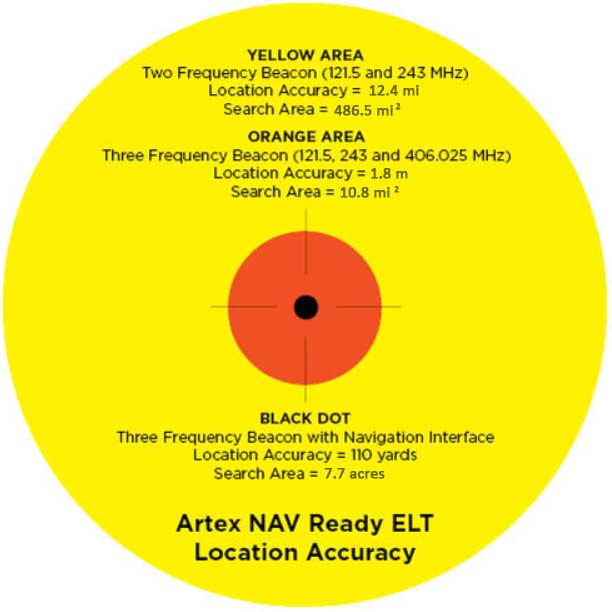 406 MHz ELTs have a more precise location accuracy than 121.5 MHz ELTs, drastically reducing the required search area.
Once detected, an older 121.5/243 MHz beacon has a location accuracy of around 12 NM, leaving SAR crews approximately 486 square miles of search area. Compared to a 406 MHz ELT that provides a satellite-based location accuracy of 1.8 NM, giving SAR crews only 10.8 square miles of search area.
Many manufacturers encode additional information into the digital signal of the 406MHz ELT, such as the aircraft's GPS position. Having the GPS position improves the location accuracy to 110 yards and a 7.66-acre search area. SAR crews can proceed directly to the site of the rescue very quickly.
A GPS position is not required for the 406 MHz ELT to work. But the benefits of having this feature are enormous and could be life-saving.
Nav-Interface Vs. Integrated GPS
There are two ways that an ELT can add position information.
GPS integration by the manufacturer
Some manufacturers produce an ELT with a built-in GPS integration that allows it to receive GPS position data directly from the aircraft. The aircraft power needs to be applied to the onboard GPS to get this data to the ELT and into the ELT distress signal. The ELT will not retain the position data if the aircraft loses power.
Navigation Interface System: Artex ELTs without GPS integration
Artex offers a navigation-interface system that can be added to a nonintegrated Artex ELT to supply the same information to the ELT. This system allows for the use of both Arinc 429 and RS232 data. The NAV Interface also provides an option for strapping the aircraft tail number to the aircraft.
Note: The ELT must have a 24 Bit address protocol for this function to work and then be reprogrammed to the correct tail number.
ARTEX PA (Programming Adapter)
The PAs (Programming Adapters) are used on the C406-Ns, ELT3000, and ELT4000. These PAs hold the aircraft's tail number and can be reprogrammed during tail number changes. The ELT3000 and ELT4000 use the same PA but differ from the C406-N.
We recommend an ARTEX ELT and a NAV-Interface (if needed) for the quickest, safest, and smallest SAR area. Duncan Aviation is an authorized ARTEX ELT Service Center capable of installing and servicing ELTs, the NAV-Interface, and the PAs.
We also maintain and offer an exchange pool of multiple models of the Artex ELTs, NAV Interface, and C406-N PAs.
For technical information about repairs and programming of the ARTEX ELT systems, please contact me anytime.
For ARTEX ELT exchanges, please contact Duncan Aviation Rotable Managers Jamie Blackman or Andy Theis