20 Students Earn Karen K. Duncan College Scholarship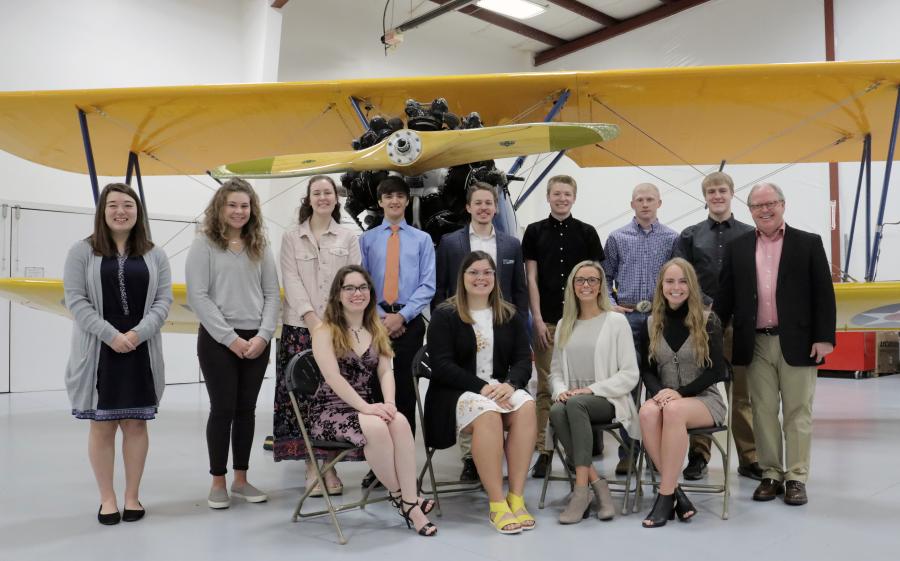 LINCOLN, NEB. — Supporting local communities is one of Duncan Aviation's core values. One way the company invests in its communities is through the children of its team members. For more than 20 years, Duncan Aviation has advanced the futures of students through the Karen K. Duncan Scholarship program.
"In honor of my mother's belief in a strong education, The Karen K. Duncan Scholarship Program was started to help Duncan Aviation team members fund post-secondary education expenses for their kids," says Todd Duncan, Chairman of Duncan Aviation. In the years since we started this program, 322 scholarships totaling $1,792,000 have been awarded."
All dependent children of full-time Duncan Aviation team members who are entering a two- or four-year college program or technical school in the fall of 2019 were eligible. Each scholarship winner will receive up to $4,000 for his or her college education—$1,000 a semester for up to two years.
An independent committee reviewed applicants' essays and assigned point values to them. Students also earned points for academic achievement, leadership, citizenship, career goals and extracurricular activities.
The following students from local communities will receive the 2019 scholarships that together could total up to $80,000.
Battle Creek, Mich.
Kylie Marie Ohrt, daughter of Melissa and James Ohrt
Kylie feels like she was put on this earth to change lives. She plans to attend Grand Valley State University to pursue a career in Occupational Therapy. Kylie has a passion to help people, and as an occupational therapist, she will be able to give people the push and support that they need to overcome any obstacles that may be hindering their quality of life. While at Lakeview High School, Kylie was involved in student government, Spartanaire Show Choir, Chamber Choir, Advanced Choral Ensemble, People of Equity, Lakeview High School Theatre, and school broadcast. She has also served the community through Masque, Masque Jr., Penguin Project, What A Do Theatre, and the Humane Society.
Bee, Neb.
Wyatt Loga, son of Tammy and Martin Loga
Wyatt has always had an interest in wildlife, which has led him to pursuing a degree in Biology at Concordia University-Nebraska with the goal of becoming a game warden or a conservation officer. While at Malcolm High School, Wyatt participated in band, basketball, football, track, cross-country, and Skills USA. In the community, he has volunteered for the Center for People in Need and the MYSA Tournament He has also helped with communion prep and cleaning, and concessions.
Ceresco, Neb.
Joshua Palensky, son of Mary and Gregory Palensky
Joshua plans on entering the medical field at the University of Nebraska-Kearney with the goal of one day being able to help those in the community who are less fortunate. While at Raymond Central High School, he was a 4-year letter winner and 1st Team All-District for football, a 2-year letter winner and Academic All-State award winner for basketball, and a 2-year letter winner and Most Improved Player Award winner for track. He also participated in National Honor Society, Skills USA, Future Farmers of America, jazz band, Future Business Leaders of America, and Fellowship of Christian Athletes. Joshua has assisted with youth football camps and volunteered for Future Farmers of America.
Zoe Bohaty, daughter of Barbara and Philip Bohaty
Zoe has always enjoyed working with people, which is why she plans on going to Southeast Community College and transferring to the University of Nebraska with a major in Academic Transfer/Hospitality, Restaurant, and Tourism Management. Through her extracurricular activities at Bishop Neumann High School, she has participated in two mission trips to Chicago to work with the homeless. She was also part of the concert, marching, and pep bands, percussion and woodwind ensembles, drama/play/musicals, One Act plays, Campus Ministry/Neumann Fire, Elizabeth Ann Seaton, Future Business Leaders of America, softball, and track. Zoe has volunteered for the Lincoln Track Club, Food Bank, Cornhusker State Games, Before School Program, Omaha Rotary Club, Ceresco Library, and the Ceresco Fire Department.
Gretna, Neb.
Cole Huss, son of Jennifer and Ryan Huss
Cole will attend Northern State University in Aberdeen, South Dakota next year with the goal of furthering his knowledge in the field of Biology so he can use what he learns to help the community and the world. While at Gretna High School, Cole was named the captain of his wrestling team, has placed 3rd and 4th at state wrestling, and played football. He also volunteered as a referee for youth wresting, a coach for youth wrestling camps, and served food to those in need.
Lincoln, Neb.
Josh Williams, son of Amanda and Louis Williams
Josh is interested in science, and aspires for a career in the medical field by pursuing a Bachelor's of Science Degree at Nebraska Wesleyan University. Josh is also exceedingly fascinated by different cultures, which is why he has decided to minor in Asian Studies. At Southwest High School, he was involved in HOSA: Future Health Professionals, LSW Marching Band, National Honor Society, Student Ambassadors, Silverhawks Helping Other Silverhawks, LSW Wind Ensemble, LSW Jazz 1, PANgea: Steel Drum Band, and Science Olympiad. He has volunteered for the Community Blood Bank, The Hope Venture Run, Cavett Elementary Family Fun Night, LSW Tutoring, Childhood Pediatric Cancer Foundation, Teacher Daycare Event, Lincoln Food Bank, and Clark Jeary Senior Living Home.
Whitney Scherer, daughter of Tammi and Matt Scherer
Whitney plans to study Animal Science at the University of Nebraska-Lincoln. She has always wanted to become a veterinarian so she can do everything in her power to help animals, and her ultimate goal is to start an animal rescue where as many animals as possible can receive veterinary care and be placed in loving homes. Whitney was a varsity letter winner and team manager on her diving team at East High School. She has volunteered for the Tabitha Rehab Center, People's City Mission, Sheridan Lutheran Church, Little White Dog Rescue, and the Museum of Natural History.
Angelina Nahorny, daughter of Shannon and Alex Nahorny
Angelina plans on studying Psychology/Criminal Justice at Nebraska Wesleyan University. Whether it be working in probation and parole, helping released convicts get back into the community, lowering recidivism rates, or by becoming a forensic psychologist, she wants to use her knowledge of psychological patterns and trends in individuals to help prevent crime from happening. While at Lincoln East High School, she participated in theater and was on the Chinese Dance Team. Angelina has spent time volunteering for The Cat House, Nebraska Community Blood Bank and, Bright Lights.
Morgan Framke, daughter of Aimee and Jeff Schlegel
Morgan will enter the field of business, and plans to study Marketing and Business Administration at the University of Nebraska-Lincoln. She also plans on pursuing a Master's of Business Administration degree. At Pius X High School, Morgan was the dance captain and a letter winner for show choir. She also was a letter winner for Women's Choir, Sotto Voce, and for two musicals. In addition, she ran cross country. Morgan has volunteered for Godteens, at a local nursing home, and at Matt Talbot Kitchen. She has lead painting projects at St. Peter's grade school and rang bells for the Salvation Army.
Matthew Duhs, son of Kathy and Jason Duhs
Matthew wants to become a respected teacher and eventually an administrator. He will attend the University of Nebraska-Lincoln, and plans to study Secondary Social Science Education. During his time at Lincoln East High School, he was the dance captain and a varsity letter winner for show choir, section leader and varsity letter winner for orchestra, All-State, varsity letter award winner for concert choir, and varsity letter winner for theatre/International Thespian Society. He was recipient of Elk's Outstanding Achievement Award and also participated in Tri-M Music Honor Society, jazz choir, Chamber Strings, East musicals and National Honor Society. Over the years he has volunteered at Vacation Bible School, Spartan Jr. Show Choir Camp, LPS Summer Strings Camp, and Esprit de Corps.
Simon Dang, son of Thuy Nguyen and Trung Dang
Motivated by finding a new treatment for Alzheimer's, Simon plans on majoring in Biology with a focus on Neuroscience. While at Pius X High School, Simon ran track and field, played tennis, and was a member of National Honor Society. He has also volunteered at St. Elizabeth's, was a track assistant, and teacher assistant.
Olivet, Mich.
Quincy Bashore, daughter of Paula and Michael Bashore
It has been a dream of hers to become an elementary education teacher, so Quincy will pursue Elementary Education at Indiana Wesleyan University. She loves helping others, and has a goal to own her own ice cream parlor one day. While at Olivet High School, Quincy participated in the Education Academy Leadership Program, student council, National Honor Society, band, theatre, Link Crew and varsity golf. She has volunteered in Youth Group, Operation Good Cheer, Cropwalk, and went on a Dominican Mission Trip.
Potterville, Mich.
Thomas Vue, son of Celina and Cha Vue
Thomas will be attending Michigan State University to study Human Biology, with the goal to attend medical school and become a pediatrician to provide medical care for the future of tomorrow. While at Potterville High School, Thomas participated in National Honor Society, student council, band, Peer Assistant Leaders, varsity soccer, Quiz Bowl, varsity track and field, Science Olympiad, junior varsity basketball, and robotics. He has also volunteered for the Community Food Drive, Giving Tree, Service Day, National Honor Society Snowball, assisted elementary staff, was a planner for homecoming, and assisted at a golf outing.
Saratoga Springs, Utah.
Sara Robson, daughter of Nancy and Mitchell Robson
Sara's goal is to obtain a degree in Medical Laboratory Science from the University of Utah Honors College. She then hopes to pursue a PhD in Biology in order to become an immunologist. While at Westlake High School, Sara was the team captain on her softball team and section leader for the band. She also participated in student government, Health Occupation Students of America, and the Academic Decathlon. Over the years she has volunteered as a camp counselor and made hygiene kits and blankets for the homeless.
Seward, Neb.
Kennedy Goldsmith, daughter of Jeanine Edwards and Michael Goldsmith
Kennedy wants to be a positive leader in her future work environment, and will study Biological Sciences at Northwest Missouri State University. While at Seward High School, Kennedy participated in National Honor Society, Key Club, Future Business Leaders of America, volleyball, basketball, track and field, dance team, and Godparents Youth Group. Her volunteer experience consists of volunteering at the senior center, Godparents Youth Group, and Junior Jays Mentoring Program.
Samantha Warren, daughter of Lydia and Shane Warren
Samantha will attend Morningside College to study Music Education. Her goal is to major in K-12 vocal and instrumental music education with an emphasis in instrumental music. While at Seward High School, Samantha participated in marching band, student council, National Honor Society, Seward High School Ambassadors, Seward High Singers, jazz band, One Acts, musical, and Seward High School Track. She has volunteered for the Masonic Marching Band, Seward Community Band, and Seward High School Ambassadors.
Staplehurst, Neb.
Sarah Bujarski, daughter of Sachie and Jeffrey Bujarski
Sarah plans on continuing her education at the University of Kansas, where she will major in Chemistry on the pre-medicine route with the goal of graduating with her MD/PhD and becoming a physician. While at Seward High School, Sarah participated in marching band, symphonic band, jazz band, pep band, wind ensemble, swing choir, Key Club, 4-H Junior Leaders, Future Business Leaders of America, Skills USA, and Family, Career and Community Leaders of America. She has spent time volunteering for the Awana Cubbies Program, Multicultural Fair, Ronald McDonald House, UNICEF, swing choir camp, concession stand, Pheasants Forever, The Waffleman, Futaba Dermatology Clinic, and at the Ridgewood Nursing Home.
Stromsburg, Neb.
Colby Young, son of Andrea an Kirk Keller
Colby will attend the University of Nebraska-Lincoln and major in Software Engineering with the goal of one day creating his own functional operating system. While at Cross County High School, Colby participated in robotics, One Act, jazz band, marching band, and honor band. He has spent his time volunteering for the Boy Scouts, Matt Talbot Kitchen, Tabitha Nursing Home, Midwest Covenant Home, and the Falls City Clothing Drive.
Wahoo, Neb.
Macy Homes, daughter of Kim and Brian Homes
Macy is looking forward to obtaining her undergraduate degree in Biology at College of Saint Mary, then transferring to Veterinary Medicine at UNL for two years, and then attending Iowa State for the final two years. Her ultimate goal is to own her own veterinary clinic. Macy broke six Wahoo High School Softball records, and also participated in club softball, bowling, track, student council, JuniorMates, and National Honor Society. She has volunteered for Teammates, 4-H, Red Cross, Car Seat Safety event, Wahoo Chamber, Saunders County, and Matt Talbot Kitchen.
Weston, Neb.
Morgan Osmera, daughter of Jessica Johnson and Thomas Osmera
Mental health is very important to Morgan, so she plans on majoring in Human Services/Psychology at Southeast Community College. She is considering further schooling to obtain a master's degree in order to become a certified psychologist. While at East Butler High School, she participated in Family, Career and Community Leaders of America, Future Farmers of America, and National Honor Society. She has won numerous Future Farmers of America awards, consisting of chapter degree, state qualifier for six years in career development events, highest GPA in agriculture classes and attended the National Future Farmers of America event in Kentucky. She has spent time volunteering at the Labor Auction, and Feed the Farmer.
About Duncan Aviation
Duncan Aviation is an aircraft service provider supporting the aviation needs of business aircraft operators, government agencies, and other aircraft service providers. Services include major and minor airframe inspections, engine maintenance, major retrofits for cabin and cockpit avionics systems, full paint and interior services, engineering and certification services, fabrication and manufacturing services, and preowned aircraft sales and acquisitions. Duncan Aviation also has international aircraft components solutions experts available 24/7/365 at +1 402.475.4125 who can handle any aircraft system problem with immediate exchanges, rotables, loaners or avionics/instrument/accessory repairs and overhauls. Complete service facilities are located in Battle Creek, Michigan; Lincoln, Nebraska; and Provo, Utah. We also have dozens of other facilities strategically located throughout the United States to provide customers with scheduled regional support and the quickest response possible to avionics, engine and airframe Aircraft On Ground (AOG) situations.
For more information about any of Duncan Aviation's services, call +1 402.475.2611 or visit https://www.DuncanAviation.aero/services