Duncan Aviation Gives A&P Students A Chance to Win A Snap-On Toolbox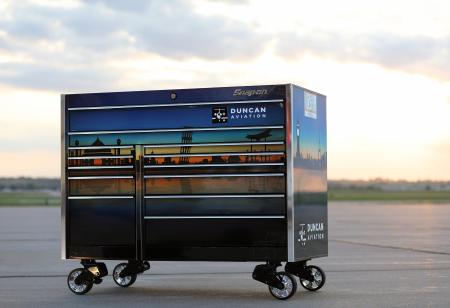 LINCOLN, NEB— Duncan Aviation is giving aviation maintenance students a chance to win a Snap-on Master Series 13-drawer roll cabinet. The toolbox is valued at $10,000 and was purchased by Todd Duncan at an auction this spring for the National Business Aviation Association's Maintenance Technical Reward and Career Scholarship (TRACS) program.
At the NBAA's Maintenance Conference in Albuquerque, New Mexico, this May, the toolbox was won in a raffle and then promptly donated back to TRACS to be auctioned off to the highest bidder. Todd Duncan, Chairman of Duncan Aviation, purchased it at auction for $6,000. He now wants to give it to one lucky aviation student.
Aviation maintenance students who attend upcoming on-campus career and recruitment events this fall and visit Duncan Aviation's booth are encouraged to enter a drawing to win the toolbox. One winner will be drawn from each event. A final winner will then be drawn in early 2019 at an opening event for Duncan Aviation's first expansion maintenance hangar at its Provo, Utah, facility.
"It's a beautiful piece of art depicting an aviation-themed wrap," Duncan says. "I am sure some lucky student will be very proud to store his or her tools in it. Who knows, maybe the toolbox will even grace a Duncan Aviation hangar again sometime in the future."
The video here shows the toolbox that will be given away, https://www.youtube.com/watch?v=w3--R7L6ncg.
Upcoming on-campus student recruiting events include the following:
9/17 Spartan Broomfield campus, Broomfield, Colo.
9/17 UNO Aviation Institute Expo and Career Fair, Omaha, Neb.
10/4 Utah State University Aviation Career Fair, Logan-Cache Airport, Logan, Utah
10/4 LeTourneau Career Fair, Longview, Texas
10/4 Embry Riddle Career Expo, Prescott, Ariz.
10/16 Northern Michigan University Career Fair, Marquette, Michigan
10/18 Spartan Tulsa Campus Career Fair, Tulsa, Okla.
Recruiting events are being added all the time and an up-to-date list can be found at https://www.duncanaviation.aero/careers/students.
To view the official rules for the drawing, visit https://www.duncanaviation.aero/toolbox-drawing-rules.
About Duncan Aviation
Duncan Aviation is an aircraft service provider supporting the aviation needs of business aircraft operators, government agencies, and other aircraft service providers. Services include major and minor airframe inspections, engine maintenance, major retrofits for cabin and cockpit avionics systems, full paint and interior services, engineering and certification services, fabrication and manufacturing services, and preowned aircraft sales and acquisitions. Duncan Aviation also has international aircraft components solutions experts available 24/7/365 at +1 402.475.4125 who can handle any aircraft system problem with immediate exchanges, rotables, loaners or avionics/instrument/accessory repairs and overhauls. Complete service facilities are located in Battle Creek, Michigan; Lincoln, Nebraska; and Provo, Utah. We also have dozens of other facilities strategically located throughout the United States to provide customers with scheduled regional support and the quickest response possible to avionics, engine and airframe Aircraft On Ground (AOG) situations.
For more information about any of Duncan Aviation's services, call +1 402.475.2611 or visit https://www.DuncanAviation.aero/services