Duncan Aviation's Aircraft Sales Receives International Dealmakers Award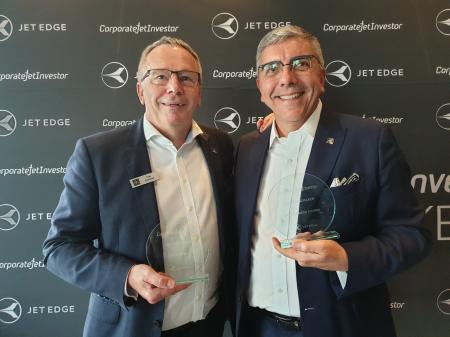 Duncan Aviation is pleased to announce that Tim Barber and Jose Costas, who provide Aircraft Sales and Acquisitions services for operators in Europe, the Middle East, and Africa, were recognized by Corporate Jet Investor as Top 30 International Dealmakers.
Corporate Jet Investor surveyed more than 6,000 people in its search for the Top International Dealmakers in the European, Middle East, Africa, and Asia Pacific regions with the qualifications being dealmakers who initiate deals and conduct jet transactions, reflecting the unique role of brokers and aircraft advisors.
"It was such an honor to receive the award at the Corporate Jet Investors Dealmakers event at EBACE," Barber says. "Al and Louisa Whyte have done a phenomenal job in creating the Corporate Jet Investor brand and these awards are just another step forward for their incredible team. Having Duncan Aviation's newest Aircraft Sales professional, Jose Eduardo Costas, receive an award alongside me made the evening even more enjoyable."
Costas agrees, "The recognition by business aviation stakeholders of the global aircraft sales services I have provided for more than 20 years was satisfying. Besides being able to work with phenomenal teams who helped in my endeavors, keys to this nomination include my passion for aviation, motivation to develop the industry, desire to develop relationships with the highest level of ethics, and always looking for how best to support our customers. I feel even more energized to continue this work now in my new home at Duncan Aviation, and to continue to support aircraft operators worldwide."
"Having both Tim and I nominated for this award is a strong message to customers seeking support to acquire or to sell an aircraft," Costas continues. "Our combined experience, integrity and success shall remain of extreme value for our customers."
Vice President of Marketing and New Business Development Steve Gade, says, "This recognition by the industry and CJI exemplifies exactly why Duncan Aviation and is very fortunate to have Tim and Jose as members of our Aircraft Sales and Acquisition Team."
Duncan Aviation began in 1956 as an aircraft sales company, and their decades of experience in the turbine resale market have given them a wide spectrum of clients and contacts. Duncan Aviation's Aircraft Sales and Acquisitions team is comprised of technical aircraft sales consultants, each with an average of 25 years of aviation experience. Backed by in-house flight operations staff and 2,150 airframe, engine, and avionics technical experts located around the world, Duncan Aviation has first-hand access to, and knowledge of, the aircraft marketplace unmatched by any other broker or acquisition organization.
The Duncan Aviation Aircraft Sales and Acquisitions team has the experience of more than 3,500 transactions, and in the last 36 months, has conducted business with 79 of the 86 Fortune 100 companies that own aircraft.
Duncan Aviation is a founding member and Accredited Dealer of the International Aircraft Dealers Association. Only 3% of all aircraft dealers have earned IADA Accreditation, and they are responsible for more than 60% of all pre-owned aircraft sales globally.
About Duncan Aviation
Duncan Aviation is an aircraft service provider supporting the aviation needs of business aircraft operators, government agencies, and other aircraft service providers. Services include major and minor airframe inspections, engine maintenance, major retrofits for cabin and cockpit avionics systems, full paint and interior services, engineering and certification services, fabrication and manufacturing services, and preowned aircraft sales and acquisitions. Duncan Aviation also has international aircraft components solutions experts available 24/7/365 at +1 402.475.4125 who can handle any aircraft system problem with immediate exchanges, rotables, loaners or avionics/instrument/accessory repairs and overhauls. Complete service facilities are located in Battle Creek, Michigan; Lincoln, Nebraska; and Provo, Utah. We also have dozens of other facilities strategically located throughout the United States to provide customers with scheduled regional support and the quickest response possible to avionics, engine and airframe Aircraft On Ground (AOG) situations.
For more information about any of Duncan Aviation's services, call +1 402.475.2611 or visit https://www.DuncanAviation.aero/services