Duncan Aviation's Senior Captain Larry Bartlett Receives FAA's Wright Brothers Master Pilot Award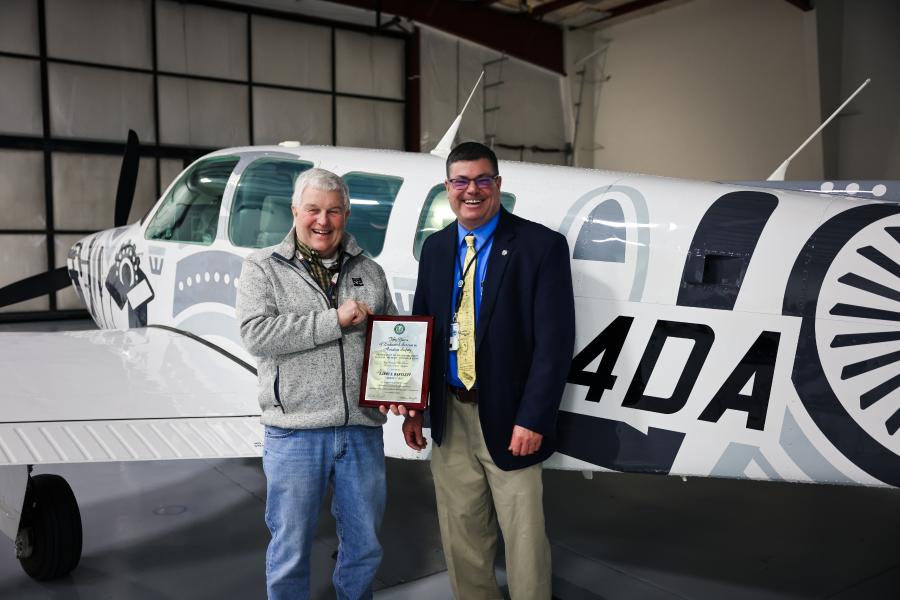 LINCOLN, NEB. — Duncan Aviation is excited to announce that its Senior Captain, Larry Bartlett, has been awarded the FAA's Wright Brothers Master Pilot Award. The award honors pilots who hold a US Civil Aviation Authority or Federal Aviation Administration pilot certificate, have 50 or more years of civil and military piloting experience, are US citizens, and have not had any airman certification revoked.
The Wright Brothers Master Pilot Award is the most prestigious award the FAA issues to pilots certified under Title 14 of the Code of Regulations (14 CFR) part 61. This award recognizes individuals who have exhibited professionalism, skill, and aviation expertise for at least 50 years while piloting aircraft as "Master Pilots."
Bartlett attributes receiving this award to his perseverance over the years.
"I've attended FlightSafety for aircraft initial or recurrent pilot training over 60 times," said Bartlett. "I've also taken roughly 160 FAA Part 135 check rides to stay current to fly air taxi (charter) over the years."
Duncan Aviation Flight Department Manager Craig Rathjen described Bartlett as a very skilled and knowledgeable pilot with a broad level of experience in aviation.
"Larry has a great love for aviation and is always willing to pass on knowledge to other pilots," said Rathjen. "Larry is very deserving of this award. He has had a great career in aviation and has taught and helped many pilots along the way."
Bartlett's story starts in Gothenburg, Nebraska, where he was born in March 1951. His mom and dad, Ruby and Dale, raised him on the family farm, 1 1/2 miles from the Cozad, Nebraska, airport. As a young boy he would climb to the top of the windmill and watch airplanes come and go.
His interest in aviation became evident in high school when he wrote his senior paper about the agricultural aviation he had witnessed from his perch on that windmill. Bartlett left the farm and moved to Lincoln to go to the University of Nebraska at Lincoln. At UNL, he discovered skydiving, which is a passion of his even to this day.
His actual flying started in the fall of 1971 when he took lessons in Gothenburg, and his first solo at a stunning 8 hours of flying time occurred on December 2, 1971. By the time of that solo flight, he had more than 580 skydives. Bartlett earned his Private Pilot's Certificate that same month on December 27, with 39.1 hours.
By January 1972, with 50 hours of TT (total time), Bartlett was checked out in a Cessna 182. He never looked back at that Cherokee 140 that he had soloed in and gotten his license in just one month before.
In June of that year, Bartlett earned his Commercial Pilots Certificate with 188 hours TT and his first paid flight was carrying ag chemicals from Salina, Kansas, to Gothenburg.
With 290 hours TT and having earned his Instrument Certificate in October, Bartlett could legally fly in the clouds.
He continued to fly commercially for Gothenburg Aviation in a Cessna 182 and a Cherokee 6 while becoming a CFII (Certified Flight Instructor Instrument) around April 1973.
In the June that year, Bartlett started flying a Pawnee for Gothenburg Aviation, spraying fields and honing his low altitude flying skills.
In 1980 with 5 years and more than 2,000 hours of flying with Gothenburg Aviation, he was offered his dream job of flying Multi-engine Charters in a Cessna 310s out of Scottsbluff and Alliance, Nebraska. Bartlett earned his Multi-Engine and Air Transport Pilot ratings while in Scottsbluff.
Bartlett and his wife Sue have three kids (a boy and twin girls). In 1982 after a couple of short years working out of Western Nebraska, Larry, Sue, and their family moved to Lincoln, and he started working as the Chief Flight Instructor for Duncan Aviation's flight school, known as Lincoln Aviation Institute.
Duncan Aviation closed the flight school in 1985, and Bartlett became the Chief Pilot for Duncan Aviation's Flight Department.
Bartlett joins Chairman Emeritus Robert Duncan, previous Duncan Aviation pilot David Moll, and the late, longtime team member Harry Barr as Wright Brothers Master Pilot Award recipients with Duncan Aviation backgrounds.
Bartlett's Flying Facts
Total Flying Time: 23,900 hours
Pilot in Command: 21,825
Second in Command: 1,696
Dual: 859
Dual Given: 5,762
Night: 2,356A
Instrument: 621
Total Sky Dives: 3,000+
About Duncan Aviation
Duncan Aviation is an aircraft service provider supporting the aviation needs of business aircraft operators, government agencies, and other aircraft service providers. Services include major and minor airframe inspections, engine maintenance, major retrofits for cabin and cockpit avionics systems, full paint and interior services, engineering and certification services, fabrication and manufacturing services, and preowned aircraft sales and acquisitions. Duncan Aviation also has international aircraft components solutions experts available 24/7/365 at +1 402.475.4125 who can handle any aircraft system problem with immediate exchanges, rotables, loaners or avionics/instrument/accessory repairs and overhauls. Complete service facilities are located in Battle Creek, Michigan; Lincoln, Nebraska; and Provo, Utah. We also have dozens of other facilities strategically located throughout the United States to provide customers with scheduled regional support and the quickest response possible to avionics, engine and airframe Aircraft On Ground (AOG) situations.
For more information about any of Duncan Aviation's services, call +1 402.475.2611 or visit https://www.DuncanAviation.aero/services