Duncan Aviation Signs Agreement With Héroux-Devtek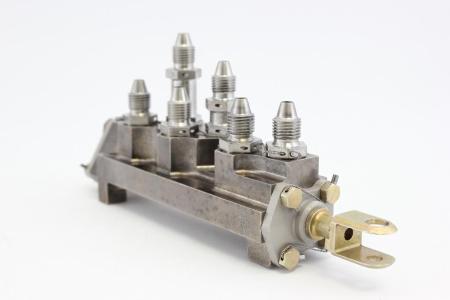 LINCOLN, NEB — Duncan Aviation is pleased to announce the company was recently named a Héroux-Devtek Distributor, one of only five worldwide. This designation gives Duncan Aviation Component Services access to expanded repair and overhaul services.
"We are excited to partner with Héroux-Devtek to the benefit of our mutual customers," says Chris Gress, Duncan Aviation Parts & Rotable Sales Business Development Manager. "With this agreement we are able to offer another avenue to competitively priced repair, overhaul, and exchanges on Héroux-Devtek/APPH (acquired by Héroux-Devtek in 2014) landing gear actuation systems and components, like sequence valves, steering and airbrake jacks, and reversing valves found on Hawker 125 Series aircraft."
Marc-Olivier Gagnon, VP Product Support at Héroux-Devtek, says, "We are convinced that adding Duncan Aviation to our list of privileged distributors will be instrumental to better reach and serve the aircraft owner and operators."
According to Tony Curtis, Duncan Aviation Assistant Manager Component Repair Services, Héroux-Devtek is leading the aviation industry in maintenance response times. "I have always been very impressed with their ability to overhaul and return landing gear within 30 days. That's remarkable. And they don't compromise quality. All components are like new after overhaul,"
Customers are able to search Duncan Aviation's available landing gear parts and repair and overhaul capabilities through an online parts search portal located here: https://myduncan.aero/online/parts/index.jsf. Free troubleshooting and technical support are also available in addition to aircraft parts loaners and exchanges.
About Héroux-Devtek Inc
Héroux-Devtek Inc. (TSX: HRX) is an international company specializing in the design, development, manufacture and repair and overhaul of landing gear and actuation systems and components for the Aerospace market. The Corporation is the third largest landing gear company worldwide, supplying both the commercial and defence sectors of the Aerospace market with new landing gear systems and components, as well as aftermarket products and services. The Corporation also manufactures hydraulic systems, fluid filtration systems and electronic enclosures. Approximately 90% of the Corporation's sales are outside Canada, including about 65% in the United States. The Corporation's head office is located in Longueuil, Québec with facilities in the Greater Montreal area (Longueuil, Laval and St-Hubert); Kitchener, Cambridge and Toronto, Ontario; Springfield and Strongsville, Ohio; Wichita, Kansas; Everett, Washington; Livonia, Michigan; and Runcorn, Nottingham and Bolton, United Kingdom.
About Duncan Aviation
Duncan Aviation is an aircraft service provider supporting the aviation needs of business aircraft operators, government agencies, and other aircraft service providers. Services include major and minor airframe inspections, engine maintenance, major retrofits for cabin and cockpit avionics systems, full paint and interior services, engineering and certification services, fabrication and manufacturing services, and preowned aircraft sales and acquisitions. Duncan Aviation also has international aircraft components solutions experts available 24/7/365 at +1 402.475.4125 who can handle any aircraft system problem with immediate exchanges, rotables, loaners or avionics/instrument/accessory repairs and overhauls. Complete service facilities are located in Battle Creek, Michigan; Lincoln, Nebraska; and Provo, Utah. We also have dozens of other facilities strategically located throughout the United States to provide customers with scheduled regional support and the quickest response possible to avionics, engine and airframe Aircraft On Ground (AOG) situations.
For more information about any of Duncan Aviation's services, call +1 402.475.2611 or visit https://www.DuncanAviation.aero/services