Duncan Aviation Updates Design Center in Battle Creek, Michigan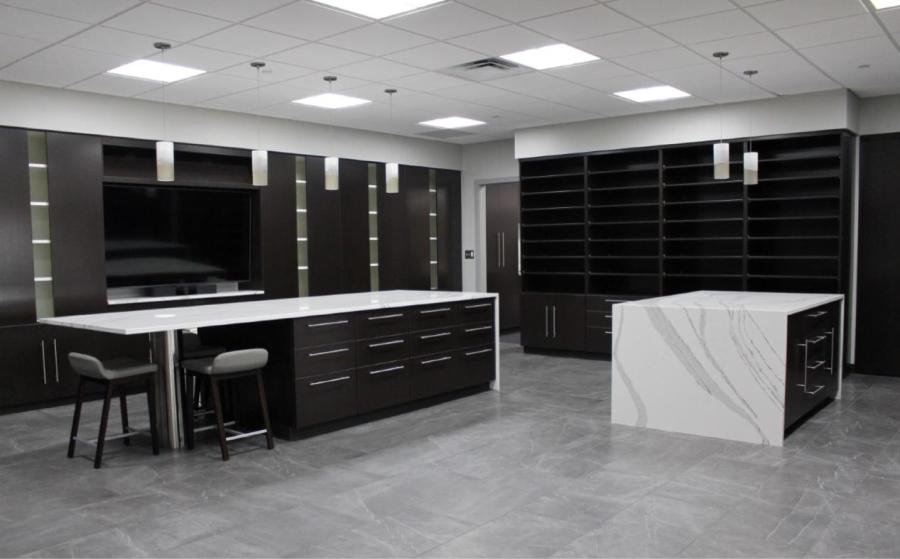 BATTLE CREEK, MICH. – After months of renovation, Duncan Aviation unveiled a new Design Center at its Battle Creek, Michigan, MRO (Maintenance, Repair and Overhaul) facility. The updated Design Center now has 30% more space, a more efficient work area, and an inviting environment for customers as they spec out designs for their aircraft paint and interior modifications.
When you approach the entrance of the newly remodeled Design Center, you'll notice that it is fully covered by glass and features large, glass doors. After walking through those glass doors at the center, you'll see a new conference room and a sample library full of cabinets and counter top space to show customers material samples. The space then extends to include separate work stations for individual designers.
"This new space is organized and efficient, and it better captures the professionalism of the Design Team," says Andy Richards, Executive VP & COO of Duncan Aviation's Battle Creek facility.
The Design Center hadn't changed substantially since the 1990s, when Duncan Aviation purchased the facility.
"The new configuration also makes better use of space and storage. In the past, all of the functions of our space were put together; there was no separation among the library, conference table, storage areas, or designers' desks," says Lead Designer Emily Krawczak.
Now, multiple client presentations can occur simultaneously, without interruption, either in person or virtually. If in-person, the new conference room features a new big-screen TV so customers can view 3D renderings of the various ideas for their aircraft.
The space also holds a table that seats 10 people, so Designers and Sales, Paint and Interior team members can meet comfortably with customers in a private area. Additionally, as the coronavirus pandemic continues, the 3D technology allows many of the teams to meet remotely with customers who prefer to make decisions from their own offices or homes.
The Duncan Aviation Design Team in Battle Creek has four designers and one multimedia Illustrator. The company also has full design capabilities in Lincoln, Nebraska, and Provo, Utah. The team in Lincoln has five designers and one multimedia Illustrator and Provo has one designer and currently utilizes multimedia illustrators along with other designers from the Lincoln and Battle Creek locations.
About Duncan Aviation
Duncan Aviation is an aircraft service provider supporting the aviation needs of business aircraft operators, government agencies, and other aircraft service providers. Services include major and minor airframe inspections, engine maintenance, major retrofits for cabin and cockpit avionics systems, full paint and interior services, engineering and certification services, fabrication and manufacturing services, and preowned aircraft sales and acquisitions. Duncan Aviation also has international aircraft components solutions experts available 24/7/365 at +1 402.475.4125 who can handle any aircraft system problem with immediate exchanges, rotables, loaners or avionics/instrument/accessory repairs and overhauls. Complete service facilities are located in Battle Creek, Michigan; Lincoln, Nebraska; and Provo, Utah. We also have dozens of other facilities strategically located throughout the United States to provide customers with scheduled regional support and the quickest response possible to avionics, engine and airframe Aircraft On Ground (AOG) situations.
For more information about any of Duncan Aviation's services, call +1 402.475.2611 or visit https://www.DuncanAviation.aero/services