«Spring 2008
MPI Extreme Advantage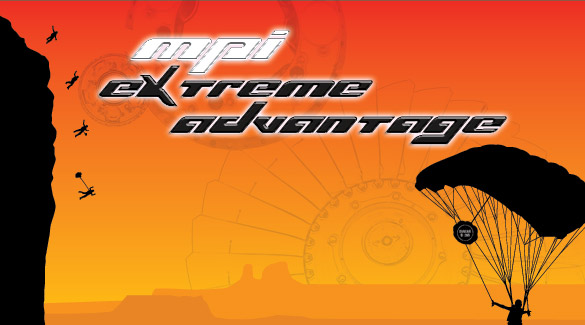 CONSIDER THESE INSPECTIONS IN THE SAME LIGHT AS A
DOCTOR'S PHYSICAL
. THEY HEAD-OFF MAJOR MALFUNCTIONS.
Passengers want to know that safety is Priority One for you. They trust that you provide safe and efficient flights by scheduling routine periodic inspections for your aircraft. You may consider these inspections in the same light as a doctor's physical. They head-off major malfunctions by identifying and solving problems when they are small. But if left untreated, just like your health, major complications can occur at a later time.
MPIs are an example of a necessary periodic inspection, during which—in the simplest of terms—an engine turbine section and on most models the fan and gear reduction is torn down to its most basic parts. They are cleaned, inspected, repaired or replaced. New parts replace the old and damaged. Then the process is reversed. Components are assembled; engines are built, tested and then hung back on the aircraft for the final runs. Sounds simple, right? If it were, then everyone from coast to coast would have an engine shop set up in their garage.
IN REALITY
MPIS ARE NOT CREATED EQUAL
AND THERE IS NOTHING THE SAME ABOUT MAINTENANCE FACILITIES AND THE QUALITY OF WORK PERFORMED.
Although the FAA attempts to standardize MPIs through regulations and requirements, in reality MPIs are not created equal and there is NOTHING the same about maintenance facilities and the quality of work performed. NOTHING. Your logbooks are a safety record that contains everything anyone would need to know about the maintenance of your aircraft, including who performed the work. A Duncan Aviation entry in your logbook means more than a completed inspection; it speaks to all who see it that you require quality work from a company with integrity.
When deciding where to take your engines for a MPI, you want more than what is required. You want great service for a fair price. You want an experienced company that knows what you need and delivers what you want. Duncan Aviation understands this and goes to the extreme to provide value-added extras. Only Duncan Aviation customers get to experience these extreme advantages.
A Need for Speed
Time is money and your aircraft needs to be available at all times. When it comes to a MPI, there isn't another business aviation maintenance facility that can match the downtime savings of Duncan Aviation. Barring any unforeseen maintenance issues or parts supply shortages from the OEM; you will be back on the flight deck taking off in less than a week.
YOUR PERSONAL PROJECT MANAGER
LEADS A TEAM OF EXPERTS
TO DISCUSS AND CREATE A DETAILED SERVICE PLAN WITH BENCHMARKS TO MEASURE PROGRESS.
This extreme five-day turnaround is made possible because Duncan Aviation has invested in many customer advantages that allow for greater efficiencies and customer service. The Duncan Aviation preplanning process is legendary in the industry and a hallmark of our success. Your personal Project Manager leads a team of experts to discuss and create a detailed service plan with benchmarks to measure progress. These verbal face-to-face team discussions ensure everyone understands the workscope, buys into the project and begins to take personal ownership of it. Although your Project Manager is your single point of contact for job progress and open issues, he or she is not your only source.
As a customer, you have full access to your project at any time. Feel free to walk into the shop areas, watch the work, talk to the mechanics and ask questions of the Duncan Aviation Tech Reps. This unlimited access extends to you even when you are away from a Duncan Aviation facility. myDuncan.aero—an on-line item approval system launched in the fall of 2006, allows you to view and manage the progress of your project anywhere and anytime, even if it is on the other side of the world. Approvals, open issues and decisions can be made without having to wait on email replies, phone calls or time zone changes. You are always in the loop and in control, even though you may not be in the hangar.
During your five-day MPI downtime, your engines are not the only part of your aircraft that we care about. Our Interior SWAT Team will be deployed to inspect your aircraft interior and offer at no-cost or obligation, an in-depth examination of items that can be corrected, cleaned, updated to improve the interior during your stay. For more information, see the S.W.A.T. feature in this issue.
These are but a few of the many advantages reserved only for Duncan Aviation customers. If these are the lengths that we are willing to go to deliver more than what is required, imagine what we will do with what is.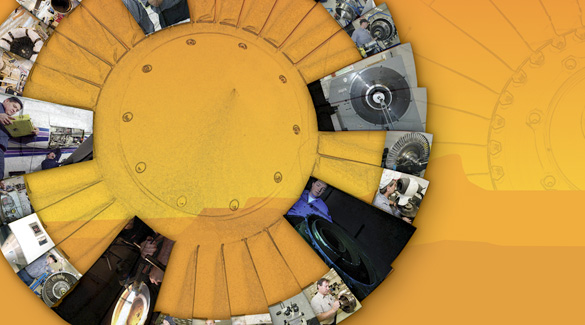 Duncan Aviation's custom engine shop offers many in-house services. From digital balancing to HP turbine wheel flow and A4 / A5 nozzle flow, our experts have an intimate working knowledge of each engine, which shortens downtime and ensures engine performance is at its best.
MPI Five Day Turnaround (cont'd)
Extraordinary Service
The Duncan Aviation Engine Shop is a one-stop custom shop, literally. All major periodic inspection (MPI) and maintenance procedures, except for OEM required procedures, can be handled in-house so we retain more control over engine specs, repair costs and downtime than shops which send out for these specialized services. Our capabilities have also been called into service to support competitor engine shops that are not equipped to handle the entire job.
WE RETAIN
MORE CONTROL OVER ENGINE SPECS, REPAIR COSTS AND DOWNTIME
THAN SHOPS WHICH SEND OUT FOR THESE SPECIALIZED SERVICES.
Our modern facility is more than 20,000 square feet that houses 12 separate engine bays where your engine will remain during the entire MPI process. Each bay is 12'x24' including a dedicated parts rack and counter area for each engine. A separate shipping/receiving dock exclusive to the Duncan Aviation Engine shop allows for faster parts and engine delivery to and from the shop. Duncan Aviation has been a major service center for TFE731 engines for over 27 years and has seventeen licensed, factory-trained engine technicians working two shifts that are dedicated to support TFE731 engines.
Unlike other shops that use an "assembly line" approach to servicing your engines, the Duncan Aviation Engine Shop assigns a team of skilled technicians dedicated to your engine from start to finish. That means that the moment your aircraft arrives, one team of factory-trained turbine specialists will be working together. This customized team approach gives us better control of the fine tuning of your engine tolerances and the unique details of your engine that can have a major effect on the quality of the engine performance. Duncan Aviation maintains over $25 million in parts inventory, exclusively in support of the TFE731 shop.
Additional in-house capabilities:
Nondestructive Testing, including florescent penetrant, magnetic particle, ultrasonic and eddy current inspections. Eddy current capabilities are fully automated for HP rotors and fan discs.
Blading and digital balancing for all turbine components and fan assemblies with two traditional spinning computerized balancers. For many engine models, the Engine Shop uses a modern moment weight balancer. This weighs the blades statically hanging horizontal and sequences them automatically by weight for optimum results.
Separate bearing and turbine inspection room. All bearings are vacuum sealed after inspection to minimize contamination.
Fuel manifold flow bench.
Bench for high pressure turbine rotors that completes the required leak check of the HPT rotor assembly.
A-4 nozzle flow bench
A-5 nozzle flow bench.
Oil pressure simulation fixture.
Fan blade shot peening.
Separate parts cleaning area with separate solvent for bearings and parts that are non-destructive tested and general cleaning.
All light maintenance manuals and illustrated parts catalogs are accessed online for the latest information available from the OEM. We utilize specialized MPI paperwork for each TFE731 models. For example, the -2 engine paperwork details 1000 checkpoints for disassembly part inspection and reassembly.
SPECIALTY EQUIPMENT
KEEPS ALL THE WORK IN-HOUSE
AND IN OUR CONTROL.
Duncan Aviation has a dedicated Machine Shop that performs repairs on a majority of engine parts and completes the machining processes dictated in many service bulletins. Specialty equipment—like an inert gas welding chamber, a thermal spraying unit and a CNC machining unit—keeps all the work in-house and in our control. Additional Machine Shop capabilities: re-spray abradable seals for the t-duct, LP stub shaft and exhaust nozzle seals and replace and cut honeycomb seals.
Our in-house records and research staff provides accurate research of each engine to assure that all required inspections and airworthiness directives are completed, all service bulletins are noted per the manufacturer's recommendations and critical life-limited parts are monitored for their life remaining during the course of the MPI.
The Duncan Aviation Engine Maintenance Line Shop, consisting of 23 technicians, conducts all the line maintenance on aircraft mounted engines including pre-removal 5-point runs, engine R&Rs, troubleshooting and squawk repair. Additionally, they accomplish replacement of line replacement units (LRUs) including fuel pumps, fuel controls and oil pumps. They are equipped with the latest state-of-the-art tooling such as JEDA, ACES and MEDRA computer software and digital high-resolution borescopes.
OUR AOG RAPID RESPONSE TEAMS ARE
PREPARED TO RESPOND QUICKLY
TO UNSCHEDULED EVENTS ANYWHERE IN THE U.S.
You don't want to ever worry about engine maintenance and it is our goal to have you forget about it in between scheduled events. However, if something does come up, we are prepared to respond quickly with a large pool of trained technicians in Lincoln and Battle Creek along with seven Rapid Response locations strategically located throughout the U.S. to take care of your engines in the most efficient manner with the least amount of inconvenience to you.
If there is any other work you need done while you're here—avionics, paint, interiors modifications, airframe inspections, etc—our full-service facilities can take care of everything at once.
The bottom line is that we promise to deliver an experience and then deliver more. These are just a few of the many extreme advantages that can be experienced only as a Duncan Aviation customer. We go to this extreme to add value to your visit, because it is not our goal just to provide you the necessary inspection, we want to become your partner. We want to be your first phone call for business aviation maintenance and your final source for industry advice and guidance. We want to be your first thought when you are asked by a peer for a recommendation. We want to be your first choice, because we provide more than what is required.