«Spring 2008
newsbriefs Spring 2008
Gulfstream IV on Display at Duncan Aviation 's NBAA Static Booth an Inspiration to Many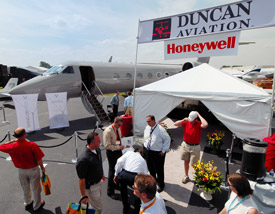 The Gulfstream IV on display at the Duncan Aviation / Honeywell Static Booth #02 at the NBAA Convention in Atlanta was a highlight for show attendees interested in seeing top-quality completions work and unique design applications.
Duncan Aviation's team of design experts worked in conjunction with Aviation Aesthetics to develop unique applications for the aircraft's interior that exceeded expectations of their discerning customer. The level of design and customization in this aircraft is astounding.
"There are so many pieces and parts in this aircraft that are original creations, it's wicked crazy!" exclaims Duncan Aviation Senior Completions Designer Nate Klenke. "The effort on everyone's part to work through each and every design element and customer request couldn't have happened without everyone involved—from owner to technicians—and focused on finding creative solutions, then executing the details flawlessly."
The result is truly different.
"This experience has been unique for me as far as the level of service and attention," says Havilande Whitcomb of Aviation Aesthetics. "The experts at Duncan Aviation never said 'No' to the implementation of unusual ideas. The collaborative effort between a discerning owner, me as an interior designer and the Duncan Aviation design and production teams was refreshing. The level of craftsmanship is incredible. And there was a razor-like focus on detail. That's what we hoped for when we chose Duncan Aviation. The experience exceeded our expectations."
The G-IV, which is managed by Volo Aviation and is on the company's charter certificate, will be highlighted in an upcoming issue of the Duncan Debrief, complete with lots of photographs.
Duncan Aviation now Authorized to Service Honeywell KFC-400 Autopilots
Duncan Aviation is pleased to announce that Honeywell has selected the company to repair and overhaul the KFC-400 Autopilot. Outside of Honeywell, Duncan Aviation is the only facility authorized to service this autopilot.
"The KFC-400 Autopilot is at the pinnacle of autopilot technology and is used in many Learjets," says Don Fiedler, Duncan Aviation's Avionics Business Development Manager. Duncan Aviation will offer some of the fastest turntimes available for these units in addition to a limited number of loaners, he adds.
For more information about the Honeywell KFC-400 Autopilot and how Duncan Aviation's Components Solutions team can help keep you in the air, just call 800.562.5377.
Duncan Aviation Installs 32-inch Monitor in Challenger 600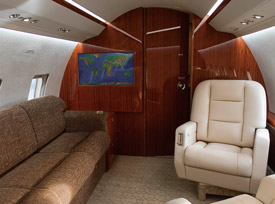 Duncan Aviation recently installed a wide-screen, 32-inch LCD monitor in a Challenger 600. The monitor was manufactured by Flight Display Systems and was surface-mounted by Duncan Aviation technicians on the aft left bulkhead. The unit weighs only 26 pounds and was relatively easy to install due to the large size of the Challenger bulkhead.
"Our customer is very pleased with the installation," says Dennis DeCook, Avionics Sales Representative at Duncan Aviation's Battle Creek, Mich., facility. "The ease of installation and the picture quality are impressive. More and more of our clients are asking for entertainment systems for their aircraft that mirror what they have at home. This installation is a perfect example of this trend."
For more information on this installation or any cabin entertainment system, please contact Dennis DeCook at 269.969.8400.
Duncan Aviation Names Doug Alleman Manager of Airframe Sales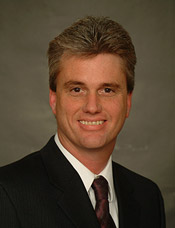 Doug Alleman, Manager of Airframe Sales, Lincoln, Neb.Duncan Aviation is proud to announce the promotion of Doug Alleman to Manager of Airframe Sales at Duncan Aviation's Lincoln, Neb., facility. In this role, Doug provides leadership for the airframe sales team and development and execution of sales and marketing strategies for the airframe business.
Doug obtained his A&P training in Cheyenne, Wyo., and began work with Duncan Aviation in 1988 as an Engine Mechanic. He was named Team Leader in 1993, Technical Representative in 1997 and Engine Shop Supervisor in 1999. In May 2001, Doug joined the engine service sales team.
Doug can be reached by calling 402.479.4236.
Duncan Aviation Announces New Citation and Bombardier Tech Reps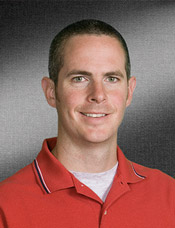 Justin Merkling, Citation Tech Rep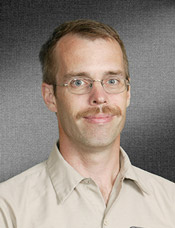 Cary Loubert, Challenger / Learjet Tech RepDuncan Aviation is proud to announce the addition of Justin Merkling and Cary Loubert as the newest members of the team of Technical Representatives located at Duncan Aviation's Battle Creek, Mich., facility. Justin serves as Tech Rep for Citation aircraft and Cary serves as a Bombardier Tech Rep for Learjet and Challenger airframes. Both will provide customer technical service support and troubleshooting.
Justin has many years of aviation experience and holds a bachelor's degree in Aviation Maintenance Technology from Western Michigan University. He has received OEM training on Citation aircraft. A member of the Battle Creek Citation team for many years, Justin demonstrated a high degree of technical expertise. His devotion to customer service and ability to work with others has been regularly recognized.
Cary has served as the Learjet Team Leader in Battle Creek for the past three years. He began his aviation career with Michigan Aviation after graduation from Western Michigan University with a bachelor's degree in Aviation Maintenance Management. Cary joined Duncan Aviation in 1996 as a Learjet and Challenger airframe mechanic at Duncan Aviation's Lincoln, Neb. facility.

Justin can be reached by calling 269.969.8422 and Cary can be reached at 269.969.8452.
Duncan Aviation Welcomes Dan Arrick as Engine Shop Manager in Battle Creek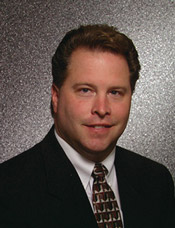 Dan Arrick, Manager of Engine Service"Duncan Aviation is proud to announce the addition of Dan Arrick as the Manager of Engine Service at the company's Battle Creek, Mich., facility.
Dan has spent the last two years as the Manager of the Pratt & Whitney engine repair facility in Orlando, Fla. Prior to working for Pratt & Whitney, Dan was a member of the Duncan Aviation team for more than 20 years. Dan is excited to return to Michigan and put his extensive experience to work for Duncan Aviation's expanding Pratt & Whitney capabilities. Dan's many years in the engine business coupled with his industry relationships will allow him to lead the effort to deliver outstanding engine service to Duncan Aviation customers.
Dan can be reached by calling 269.969.8460.
Andy Fernandes Joins Duncan Aviation's Installations Sales Team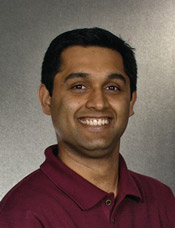 Andy Fernandes, Installations Sales RepDuncan Aviation is pleased to announce Andy Fernandes as the newest member of the company's Installations Sales Team. Fernandes previously served as a Duncan Aviation Project Manager and Customer Service Coordinator for six years, demonstrating a high degree of technical expertise and customer service devotion. In his new position, Fernandes will be assisting customers with avionics installation needs, quotes and scheduling for Duncan Aviation's Lincoln, Neb., location.
Fernandes began his aviation career working on big iron in Bombay, India. He moved to the United States about 10 years ago and received his A&P from Lewis University in Chicago, Ill. He then received his bachelor's degree in Aeronautical Technology from Kansas State University. Fresh out of school in 1999, Fernandes landed his first job at Duncan Aviation as an Airframe Mechanic and soon made the move to Customer Service. While working at Duncan Aviation he continued his education, earning his master's degree in Aviation Safety from Central Missouri State University.
Andy can be reached by calling 402.479.4186.