«Spring 2008
Stories. Unlike Any Other. Spring 2008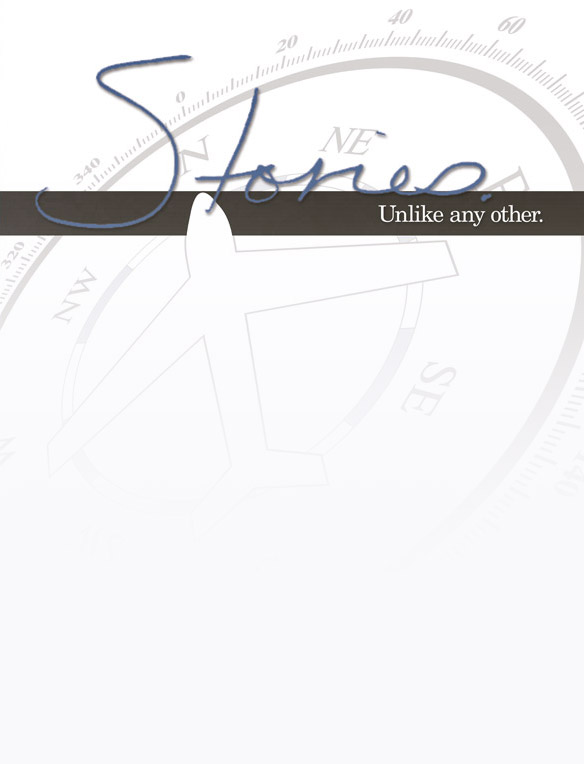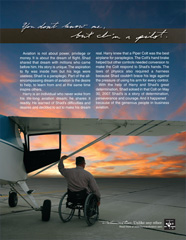 AVIATION IS ABOUT THE DREAM OF FLIGHT.
THIS MAN LET NOTHING STAND IN HIS WAY.
NOT EVEN PARAPLEGIA.
As those of us who work in and around business aviation know, the majority of business aircraft are used as productive business work horses, and they earn their keep. In a world where time is of the essence, these tools allow businesses to efficiently conduct site visits, schedule flexible meetings and make the most of their employees' time.
The journey of most business aviators, though, is more than maintaining and flying aircraft and keeping corporate interests. Aviation as an industry is unusually generous. And we're talking about things more difficult to donate than just money.
There are countless stories of people who have gone farther and done more because of an aviator's investment of time, innovation, patience, courage or caring. Many generations of these stories have been lost. We think it's time these types of stories have a chance to be heard.
You may have seen our current advertising campaign recognizing some of the unsung heroes among us inProfessional Pilot, Aviation International News orBusiness Jet Traveler magazines. Our goal with this campaign is three-fold:
to remind those in business aviation that we are an industry of which we should be proud;
to encourage those of us in this industry to do more when and where we can;
and to share with the world that business aviation is more than business as usual.
We plan to highlight different stories every few months. In order to do this, we need participation from the industry. If you know of a story of generosity, passion or innovation that should be shared.
We'd love to help you recognize special people connected to business aviation whose moral compass encourages them to make the world a better place.