«Summer 2008
Excellence Is Not An Accident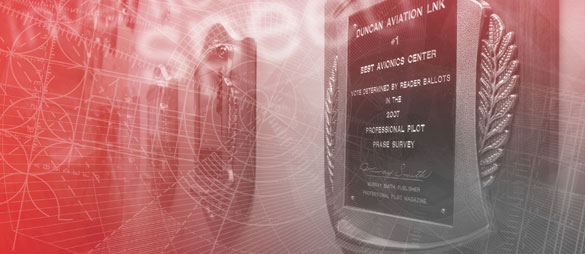 EXCELLENCE IS NOT AN ACCIDENT
Component Solutions encompasses avionics/instruments, accessories/propellers, parts/rotables and in-the-field services or satellite facilities all available 24/7/365. These areas, and the philosophy inherent in combining them, involved a massive investment from Duncan Aviation. Equipment/tooling, facilities, training and, most importantly, professional aviation experts are needed to attain the best, all-inclusive aviation services found anywhere.
NO MATTER WHAT THE NEED, NO MATTER HOW LARGE OR SMALL THE PROBLEM;
WE HAVE THE SOLUTION
.
Thousands of people in the aviation industry know about Duncan Aviation's reputation and commitment to their needs. In 2008, we took that commitment to a level unheard of in the industry. The new Component Solutions team is our answer to every aviation part or component need you have. Everything is included, no matter what the need, no matter how large or small the problem; we have the solution.
What makes Component Solutions so different from any other service you've heard of or used before? We believe three things are essential to an aircraft operator in need: Experience, Service and People or what we call ESP. ESP makes the difference day after day for Component Solutions' customers. It encompasses every area, thought and aspect of our new Component Solutions idea. People are the factor most important to ESP. If good, reliable, professional people are in this equation, they acquire the experience customers need and they are happy to provide the exceptional service customers expect.
AVIONICS & INSTRUMENTS SERVICE AREAS
ADF/DME
Radar
Autopilot
Nav/Com
PST
Gyro I & II
Indicators
Calibrations
Since 1985, Duncan Aviation's avionics and instruments area has won first place in Professional Pilot magazine's prestigious PRASE survey. This is no small feat; since inception, no other company has ever won this coveted award! Year after year the readers of this highly acclaimed magazine not only choose Duncan Aviation for avionics and instruments excellence, but for top-rated airframe maintenance excellence as well. There are tangible reasons for this standing in the industry and for what it means to your bottom line as an operator.
Let's examine the avionics and instruments area using some ESP. There are eight service areas that have 10 specialized teams within them (see "Avionics & Instruments" on the left).
Each team is loaded with highly experienced people who are intimately familiar with each of the units they work on. There are more than 87 technicians in the shop who are available to speak with customers any time, and the shop itself is the largest independently owned avionics and instrument shop in the world with more than 392 linear feet of avionics and 420 feet of instrument workbenches! The shop is a well-lit, environmentally maintained "clean-room." It is state-of-the-art in every way imaginable. In fact, Duncan Aviation's Avionics and Instrument Shop has test equipment that many OEMs don't even have.
AVIONICS & INSTRUMENTS CAPABILITIES
New capabilities are added at a near exponential rate. The most recent additions include:
Universal FMS/TAWS/DCVR
Artex ELTs
Honeywell Primus II
King KFC-400 autopilot
NAT audio systems
Chelton avionics systems
Improved DG-234 turntimes
Air Data Test Set time slots for calibration
The people who work in this highly advanced facility have a retention rate much higher than other companies. This retention, in addition to a dual inspection system, contributes a great deal to the shop's phenomenally low warranty incident rate of less than 1%. In fact, the average years of service for each technician is more than 14. The number swells to more than 16 when support people are included.
That support includes seven Customer Account Representatives (CARs) who help customers with every aspect of their repair or overhaul and four of the most highly respected technical representatives in the aviation industry: Dan Magnus, Curt Campbell, Gerry Schultz and Larry Troyer. These guys have solved more problems for more customers than any other aviation technical team in history and they've done most of it at no charge.
This unbelievable level of experience allows the shop to perform AOG turns faster than anyone else and the low warranty rate and remarkable touches (see "Remarkable Touches") provide outstanding value because units last longer and aren't sent back for repair as often. In 2005, the shop was named the first and only Universal Service Center.
The avionics and instruments shop also relies on a world-class shipping department. This is not an ordinary shipping area. Duncan Aviation personnel are highly trained because of the intricacies of packaging and shipping delicate avionics and instruments and can offer FedEx discounts for shipping. Customers routinely inform us about the excellent condition of packages they receive. It's another contributing factor to the low warranty rates that give us our status in the industry.
THEY HAVE SOLVED MORE PROBLEMS FOR MORE CUSTOMERS THAN ANY OTHER AVIATION TECHNICAL TEAM IN HISTORY AND
THEY'VE DONE MOST OF IT AT NO CHARGE
.
It's little wonder that customers who regularly use our avionics and instrument services love us so much and consistently vote us number one in the PRASE survey. Every phase of our service outstrips other shops. Communication is evident and professional: technicians are available to speak with you; CARs guide every step of the process; and Tech Reps are there for you when you need them. Who else offers a customer that type of comprehensive service? Experience, Service and People (ESP) are evident throughout this area and that type of ESP equates into value for customers.
Satellites
The very name "satellite" conjures up exotic images of spacecraft with multiple wires and antenna sprouting out of a metallic, cylindrical or spherical framework orbiting Earth. That's not quite the Duncan Aviation definition, but one definition is consistent between both; they excel at communication and bring people together.
For more than 20 years, Duncan Aviation's Satellite Network has been growing and bringing ESP to the hangar doors of many customers. In fact, over that time, Duncan Aviation satellite personnel have performed more than 750,000 individual customer assistance events! That might mean traveling to Gander, Newfoundland, to install an ADC (see "Getting Out of Gander") or ordering an exchange for a customer at their airport location or locating a special pin. Whatever the need, the satellite team is ready to assist.
With nearly 100 technicians, Duncan Aviation satellites provide the same comprehensive component solutions that the main facilities in Lincoln, Nebraska, can. Operators who are located at airports where Duncan Aviation has a satellite facility often use these small shops for their front-line service needs. They can provide installation services, coordinate any repair, overhaul, exchange, loaner or part needed for any jet, turbine, piston-powered aircraft or helicopter 24/7/365.
DUNCAN AVIATION'S SATELLITE NETWORK HAS
LOCATIONS AT 15 OF THE 33 BUSIEST BUSINESS AVIATION AIRPORTS
IN THE U.S.
Duncan Aviation's Satellite Network has locations at 15 of the 33 busiest business aviation airports in the U.S. (See our complete listing of satellites). Another special feature of the satellite network is that all the locations are mobile. In fact, Duncan Aviation's Satellite Network is probably your first, best choice to find out the best current options for airborne telephone replacements. Using their Experience, Service and People (ESP) to explore the best alternatives for your airborne telephone will probably save time, money, frustration and get you the right system for your needs the first time.
The expanding nature of the satellite network means that in the near future, a Duncan Aviation Satellite Shop may be present at your airport. This will aid many additional Duncan Aviation customers in their day-to-day operations. Every satellite is available 24/7/365. We advise customers, pilots and potential customers to keep the listing of satellite shops in their cockpits; they might just save one of your trips someday.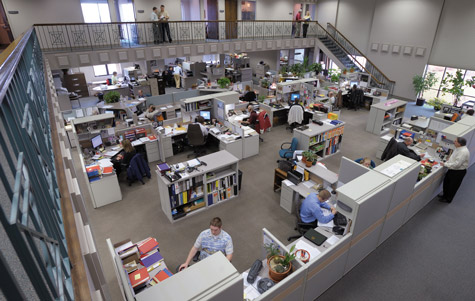 The Component Solutions team is comprised of five domestic and five international part sales representatives and a team of eight rotable and consignment management people. This is a group with nearly 400 years of combined experience and an average of more than 32 years in the industry.
ACCESSORIES & PROPELLERS
For 30 years, Duncan Aviation's busy Accessory and Propeller Shop has been fulfilling the needs of the aviation community. But that community is not limited to corporate or individual customers. The shop has close ties with many OEMs, the FAA (with a long-time propeller contract) and the U.S. Military (Navy landing gear contract). As with other areas of Component Solutions, there are tangible reasons for these special relationships and those same reasons secure the loyalty of thousands of corporate and individual customers.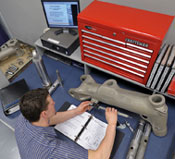 ACCESSORY SERVICE AREAS & TEAMS
ESP unveils eight service areas within the accessory area and seven unique teams encompassing them:
Electronics
Electro Mechanical
Hydraulics
Landing Gear
Pneumatics
Batteries
Wheels & Brakes
NDT (all aircraft)
The accessory landing gear area is an approved Challenger, Learjet and Hawker landing gear overhaul facility. Just recently, the shop added free Hawker landing gear loaners to its already impressive list of accomplishments. The Non-Destructive Testing (NDT) area is certified to perform Eddy current, magnetic particle, ultrasonic and dye-penetrant testing. The shop has repaired and overhauled more Learjet stab actuators than anyone else in the industry.
For propellers, Duncan Aviation's excellence extends to both turbo- and piston-powered propellers. We are a McCauley Black Mac Dealer, Hartzell Top Prop Dealer and a Raisbeck Dealer. Our Propeller Shop employs factory-trained technicians who provide the best overhaul, repair and dynamic balancing in the industry for: All King Air models, Mitsubishi MU-2 and MU-300, Fairchild SA-226 and SA-227, and Aero Commander & Turbo Commander.
Our skilled, factory-trained technicians know the ins and outs of accessories and propellers from their hundreds of years of experience with these disciplines. That's why they're trusted by some fairly demanding organizations. There are more than 53 of these aviation professionals working in one of the most modern shops in the U.S. The shop comprises more than 234 linear feet of workbenches and includes three stab actuator test stands and (thanks to a talented R & D department) several sets of unique test equipment proprietary to Duncan Aviation. All accessory and propeller test equipment is calibrated using NIST certificate traceability.
The quality of work produced by the shop is again evident with an industry-leading less than 1% warranty rate. Super-low warranty rates such as this are possible because of Duncan Aviation's commitment to employee retention (the average years of service for each technician is more than 11 years), remarkable touches, six separate inspections that take place at multiple points during the repair or overhaul process and careful selection of only top candidates for open positions. The shop is supported by four CARs who assist customers with tracking work in process, shipping or any other customer request, and two Tech Reps, one for accessories and one for propellers.
Remarkable touches abound throughout the Accessory and Propeller Shop as technicians are authorized to perform the "extras" that customers often never notice but always receive lasting value from. Over the last few years, the shop has worked closely with OEMs and the FAA to repair and overhaul units previously thought to be economically unviable with alternative methods that Duncan Aviation experts have developed. This creative use of our ESP philosophy has saved Duncan Aviation customers literally hundreds of thousands of dollars. This process of expanding options for accessory and propeller customers is continuing with notable success.
No accessory or propeller shop in the world can offer a customer faster turntimes than Duncan Aviation. These dedicated professionals work seven days a week to continue moving units through the shop so Duncan Aviation customers can keep flying. And in corporate aviation, everyone knows that less downtime means more productivity. To help keep our customers in the air, accessory personnel are often dispatched to remote locations to help satellite or rapid response teams who receive calls from operators who are AOG. That's one more example of how Duncan Aviation responds to a customer in need.
As with the Avionics and Instruments Shop, the Accessory and Propeller Shop also relies on a world-class shipping department. Duncan Aviation shipping personnel provide custom-made, reusable boxes and crates for uniquely shaped accessories and propellers and are trained to pack these sensitive units with extreme care. Customers should carefully consider packaging and shipping expertise when considering a component service provider. Duncan Aviation can also help customers save money with FedEx discounts.
PARTS, ROTABLES & EXCHANGES
Some companies have only recently discovered that customers would rather connect with and speak with people rather than machines. At Duncan Aviation we've known that since inception of the company; it's a philosophy handed down from our founder, Donald Duncan, more than 51 years ago. ESP tells us that we should always be in-sync with our customers, especially when it comes to parts, rotables and exchanges. When aircraft operators need parts, they don't want to hear excuses or double-talk; they want to speak with a person who has the knowledge and experience to help them. That's why, today more than ever, tens of thousands of FBOs, brokers, mechanics and flight departments of all sizes make Duncan Aviation their first call, which in turn becomes their only call.
DUNCAN AVIATION'S PARTS & COMPONENT TEAMS HAVE
MORE AVIATION CONTACTS
THAN ANY OTHER COMPARABLE GROUP.
Each day, Duncan Aviation satisfies hundreds of part, rotable and exchange needs throughout the world. The Component Solutions area meets these needs with a team comprised of five domestic and five international part sales representatives and a team of eight rotable and consignment management people. All these people are available for any part, rotable or exchange need 24/7/365 at 800.228.1836 or 1.402.475.4125 for international service.
This is not a group of recently graduated high school seniors. They have nearly 400 years of combined experience and an average of more than 32 years in the aviation industry. In the Donald Duncan tradition of networking, they have more aviation contacts than any other comparable group in aviation. ESP views this as highly valuable to a customer looking for a hard-to-find part.
Duncan Aviation has dozens of service agreements, including authorized service center agreements for Challenger, Citation, Falcon, Hawker and Learjet airframes and we have more experience with the Astra/Westwind family than any other company. Duncan Aviation is an authorized sales and factory service center for more than 50 of the top equipment manufacturers, names like Universal, Collins, AlliedSignal / Honeywell, Garmin, Chelton / Wulfsberg and J.E.T./B.F./L3 and distributorships such as Securaplane batteries and MAPCO products. These many agreements give us access to parts and units that are otherwise difficult to impossible for an individual to find. ESP views these many contracts as vital to the ongoing needs of aircraft operators and Duncan Aviation's growing customer base.
Duncan Aviation's rotable pool is one of the largest in the world, including dozens of different airframe types, propellers, avionics, landing gear and many other components. This impressive, multi-million dollar resource adds up to more than $25 million of components available to customers 24/7/365. Years ago, Duncan Aviation's ESP model told us that rotables and exchanges would be valuable future tools for flight departments who need to stay on schedule. Our instincts have been correct as more and more operators choose to use rotables to keep their operations airborne. This in addition to our service center agreements allow us to provide OEM exchanges and rentals at discounted prices. Aircraft operators should also be aware that Duncan Aviation has an insatiable appetite for rotable and spare inventory acquisitions. If you have spares collecting dust, call us, you'll make money!
400,000 line items, $100 million worth of total inventory including a massive array of piece parts, rotables and exchanges and consumables of all kinds are only part of the story, however. What about the all-important documentation and internal quality control? The FAA and EASA 8130 tags generated by our top-rated avionics / instruments and accessory / propeller shops are the most coveted in the industry. The value these tags add to a unit have made many a customer happy over the years. ESP identified this aspect of repair and overhaul as crucial to the effective operation of corporate flight departments.
Our experience, service and people are as varied as the wonderful industry we all serve. The fact is, Duncan Aviation people are pure aviation people; many are pilots or have a long history of aviation interest. What does your ESP tell you about what Duncan Aviation can do for you? It should be alerting you that Duncan Aviation can make your life a little easier by making one simple call to 800.228.1836 to handle all your Component Solutions needs.
View a complete list of Duncan Aviation's Satellite Locations in the facility directory.