«Summer 2008
International Solutions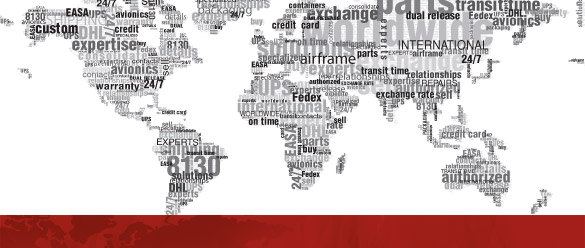 Duncan Aviation's experience spans the entire globe. Businesses from many nations rely on the speed and dependability of Duncan Aviation's components services
.
INTERNATIONAL SOLUTIONS 24/7/365
Call 1.402.475.4125
QUESTIONS & ANSWERS
Do you accept credit cards?
Yes. Duncan Aviation Component Solutions accepts all major credit cards except Diners Club. There is a processing fee for amounts above $10,000; this fee varies according to the card used.
What sort of certification do you provide?
All units that are repaired or overhauled in-house come with a Duncan Aviation signed 8130-3 with a dual release. Units repaired or overhauled by outside vendors, usually have dual release tags. Piece parts will have the manufacturer certificate of conformance. Export 8130-3 tags are available for qualifying items. Duncan Aviation maintains an on-staff DAR for 8130-3 and EASA compliance.
Can I consolidate my orders?
Yes. We consolidate orders because the cost of shipping internationally is extremely expensive. Consolidation can save hundreds of dollars per shipment. Duncan Aviation can ship your order via any of the major carriers, the choice is yours.
Who do I contact for other questions?
Call 1.402.475.4125 for any question or component need.
International aircraft operators purchase the vast majority of their parts and components from companies in the United States. Today, with the U.S. dollar plummeting and exchange rates going their way, a growing number of international aviation customers are looking to find the best U.S. partner to help handle their needs.
There are many criteria for understanding who might be best to work with. For instance, international shipping can be extremely tricky and risky when one wades through the vast sea of regulations for the hundreds of countries involved. Because regulations are so complicated, many U.S. aviation companies don't even bother with international customers. They handle small international transactions through third parties. This ultimately costs international customers much more money if for no other reason than shipments are not consolidated. Fortunately, thousands of international customers have discovered a huge difference by using Duncan Aviation Component Solutions to handle their U.S. purchases.
Regulations, shipping and exchange rates are all important factors to consider when selecting a partner who suits a company's individual needs. Duncan Aviation has always believed that what international customers need most is a proficient business relationship with a highly experienced team of aviation professionals who are experts at handling the many intricacies of international transactions.
Duncan Aviation Component Solutions has an international team of five people who are skilled at cutting through the regulatory "red tape" of governmental agencies, providing the information necessary to expedite any international shipment. This team has excellent connections with all the top international shipping companies and together they work to ensure items arrive when they need to and in the same condition as when they were sent. Although Duncan Aviation can't do anything about exchange rates, they certainly do favor international customers doing business in the U.S. Exchange rates with Euros, British Pounds, Brazilian Reals, Australian Dollars, Canadian Dollars, Mexican Pesos, Russian Rubles, Japanese Yen or just about any currency you can imagine have all strengthened against the U.S. Dollar in the last year. This can save untold amounts of money for an international customer.
Another important aspect for international customers is freight consolidation. Consolidating shipments can save thousands of dollars in shipping. Duncan Aviation Component Solutions understands this important phase of an international transaction. We routinely consolidate shipments at our facility in Lincoln, Nebraska, often bringing in items outside the realm of aviation from other U.S. vendors to help our customers save money. If you are dealing with a company who does not understand freight consolidation, you are wasting money and should reconsider your options. In fact, Duncan Aviation customers frequently become part of Duncan Aviation's network of aviation parts suppliers and we often act as a third party to put buyers and sellers together. Being in the Duncan Aviation Component Solutions network can be extremely beneficial in many ways.
In the final analysis, international customers need to know that the company they select to help them has the expertise and the intelligence to navigate the difficult arena of international shipping and governmental and OEM regulations; they want a team who can smooth out the details and handle the entire scope of a deal. Maybe that's why Duncan Aviation Component Solutions currently has 2,125 active international customers, one of the largest and growing international customer databases in the aviation industry. Duncan Aviation's International team of parts and components experts can tame even the roughest waters of an international deal and do it while the customer tends to other business.