«Summer 2008
NEWS Summer 2008
Taking Advantage of the Economic Stimulus Act
The Economic Stimulus Act of 2008 includes provisions that may benefit companies that purchase aircraft or upgrade existing aircraft with new equipment through accelerated depreciation. This Act increases the potential first-year depreciation deduction from 20% to 60%.
In order to qualify, the property must generally be acquired by the Taxpayer after December 31, 2007, and prior to January 1, 2009. One important caveat: this only applies if no written binding contract for the acquisition was in effect prior to January 1, 2008.
"This accelerated depreciation benefit adds heat to an already active avionics and interior market," says John Slieter, Vice President of Sales. "We encourage clients to book early for planned work to secure schedules and take advantage of significant tax savings."
Aircraft owners who acquire new avionics equipment for their used aircraft in 2008 in the amount of $1 million, a 50% bonus depreciation may be available plus 20% of the remaining depreciation, resulting in a total first-year depreciation amount of $600,000. Owners should always consult a tax consultant for guidance concerning this benefit.
Battle Creek Gains ASF for the Challenger 300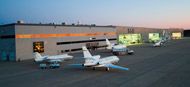 Bombardier Inc. recently named Duncan Aviation–Battle Creek, located in Michigan, as an Authorized Service Facility (ASF) for the Challenger 300 aircraft. Duncan Aviation joins the worldwide network of 18 Bombardier Challenger 300 ASFs in providing warranty work, engine, airframe inspections and repairs, service bulletin installations, "smart services" administration, and avionics updating and troubleshooting for the Challenger fleet. The facility was named a Challenger 604 ASF in 2005 and continues to support Challenger 600 and 601 models.
"We are pleased that as an independent, family-owned service provider, Bombardier recognizes Battle Creek as a natural fit to provide services for their expanded product line," said Aaron Hilkemann, President of Duncan Aviation. "Duncan Aviation's half-century relationship with the Bombardier line, beginning with Bill Lear as an orginal Learjet dealer, continues to grow as we add the Challenger 300 to our long list of factory authorizations."
"Battle Creek has been providing services for Challenger aircraft operators for years," said John Biever, Vice President of Aircraft Services with Duncan Aviation. "Expanding our services, maintenance and customer support to include warranty work for Challenger 300 operators, adds to the experience and better meets the needs of all Challenger 300 aircraft operators."
Gary Harpster Named Aircraft Electronics Association's Member of the Year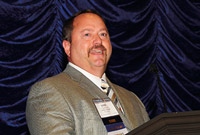 Gary Harpster of Duncan Aviation was named the 2008 Aircraft Electronics Association (AEA) Member of the Year during the AEA International Convention & Trade Show in Washington, D.C. The award process begins with a nominating committee assembling a list of individuals who have gone above and beyond in their efforts to promote the general aviation community and are actively involved in the affairs of the AEA. Once the list is assembled, it is sent to the full AEA membership for a vote—which means the winners of the award truly are being recognized for their service and participation in the industry and the Association.
Gary is well-known throughout the industry and the AEA membership. Gary's career began in the U.S. Navy as a Seabee. Following his service in the Navy, Gary attended Iowa Western University, where he received a degree in electronics technology.
"I grew up less than two miles from the Omaha airport in Nebraska, so I was always fascinated by the different types of airplanes that flew over our house," Gary said. "When I was 20 years old and stationed in Puerto Rico with the Navy, I traded flying lessons for scuba diving lessons to a local instructor who was teaching on the base."
Gary flew for Omaha Air Supply for two years before landing a job at Sky Harbor in Omaha, Neb., as manager of their Avionics Shop. In 1985, he joined Duncan Aviation and helped set up satellite shops in Houston, Texas, and Cleveland, Ohio. He then became an Avionics Tech Rep; his current position is in Avionics Sales.
"When Cockpit Voice Recorders became mandatory, I transferred to avionics sales in Lincoln, Neb., and I've been in that capacity ever since," he said.
Gary holds a private pilot's license and a commercial pilot's license. He has been an AEA board member since 2005, and he serves on the AEA Trusteeship Committee.
Duncan Intelligence: An Industry Favorite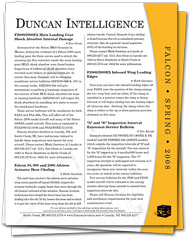 Read by nearly 20,000 industry professionals quarterly, the Duncan Intelligence newsletters have been a respected source of technical information for 11 years. With articles written by Duncan Aviation Tech Reps, they are packed with tips that can't be found in any other publication. Just a few technical subjects covered in recent editions are:
PW545A and PW545B Engine Troubleshooting
Proper Use of MELs
GIV Rudder Trip Variance
Thrust Reverser Maintenance Tips
Falcon 50 Lateral Engine Mount Chafing
Don't miss the next edition! They are free and it is easy to subscribe. Simply visitwww.DuncanAviation.aero/publications or e-mail the Intelligence staff for more information.