«Summer 2008
Tech Updates Summer 2008
DUNCAN 411
News & Tech Updates
TECH UPDATES
Duncan Aviation Releases Satcom & HSD Straight Talk Book, Online Tool
Duncan Aviation brings its extensive avionics experience to a new book in its popular Straight Talk series: Straight Talk about Satcom & HSD. Available online and in print, the book provides insight into the complex aircraft communication and data market including satellite communications and high-speed data.
In addition to the book, Duncan Aviation has developed an online planning tool to help operators select the best Satcom and High-Speed Data options for their aircraft. By making just a few clicks, you can view and print a customized list of communication upgrades available for your aircraft. And, if you take a few extra minutes to fill out a short survey, one of our avionics experts will give you all of the information you need to help you make the best choice for an immediate upgrade or guide you on what you might consider in the future.
The entire Straight Talk lineup, including the new book, the online tool and previous publications, can be found at www.DuncanAviation.aero/straighttalk. As always, the information is free.
In addition, Duncan Aviation plans to expand the Straight Talk concept, bringing resident experts online to regularly shed light and provide updates on topics ranging from Satcom to Liquid Crystal Display retrofits, to Wide Area Augmentation System (WAAS) and many other hot issues in the industry. To make this most useful to those working in business aviation, we want to hear from you.
What do you want to know more about? What information would help you be even more successful? Send us your ideas or contact our avionics experts through the Straight Talk web page.
First-Ever Honeywell AFGS: Falcon 900B Upgrade Complete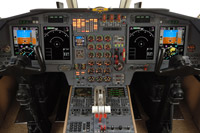 Duncan Aviation recently added to its extensive Glass Box Project lineup with the installation and certification of the Honeywell Advanced File Graphics Server (AFGS) upgrade in a Falcon 900B. The AFGS is a computing platform bringing advanced graphics generation capabilities, such as electronic charts and uplinked weather, together with mass data storage to allow for the operation of flight display applications.
Duncan Aviation had recently equipped this Falcon 900B with Honeywell's Primus Epic CDS/R solution, a 4-display major panel retrofit. This aircraft is one of 14 CDS/R installations Duncan Aviation has recently completed or plans to complete this year. Duncan Aviation has installed the system in the following aircraft models: Hawker 800A, Hawker 1000, Gulfstream GIII and Falcon 900B. Duncan Aviation also plans to complete the CDS/R installation with the AFGS upgrade in a Challenger 601-3A this year.
"Through an unprecedented amount of teamwork between Honeywell and Duncan Aviation, the Glass Box program for the Falcon 900B is fully realized with the addition of Advanced File Graphics Servers," says Gary Harpster, Avionics Sales Representative for Duncan Aviation. "Pilots and owners are now able to see the benefits of Jeppesen Charts that depict the aircraft position on the Primary Flight Displays. Duncan Aviation's Glass Box Project has installed this system in over 10% of the domestic fleet of Falcon 900s and we expect that number to grow rapidly—our customers can't wait to get these capabilities on their panels."
The AFGS interprets complex symbology commands based upon stored databases and generates a vivid pictorial display of the data for the flight crew. The AFGS generates custom graphics and performs high-speed processing and high-capacity data storage as necessary to support the display of electronic charts and maps and uplinked weather information. The server enables the display of approach charts, terminal maps, Standard Instrument Departure (SIDs) charts, Standard Terminal Arrival (STARs) charts and the map application. The map feature provides a moving map on which uplink weather data is displayed. The AFGS applications are controlled by drop-down menu selections shown on the DU-1080 and controlled by the MC-800 multifunction controller.
Duncan Aviation Completes First SwiftBroadband Installation in a Challenger 601-3R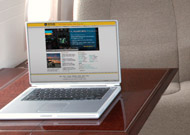 Duncan Aviation recently completed installation of the EMS eNfusion HSD-400 SatCom in a Bombardier Challenger 601-3R. This installation provides one of the first Challenger 601s to be upgraded with true Inmarsat SwiftBroadband capability. The installation allows passengers to use their personal wi-fi devices, including notebook computers, BlackBerry devices, iPhones and other popular data communications tools, in the cabin during flight.
This system utilizes Inmarsat's new SwiftBroadband system, providing two separate channels for a high-speed airborne internet connection. The installation included the EMS CNX-200 accelerator, new EMS AMT-50 high gain antenna and EMS high performance tail-mounted radome. When installed, passengers will experience data transfer rates up to five times faster than most other systems, giving them DSL-like speeds.
Duncan Aviation Prepares to Begin Work on the First-Ever Falcon e 2000
Duncan Aviation is preparing to begin work on its first Falcon e 2000 as the company plans and prepares to install and certifiy the Rockwell Collins Pro Line 21 avionics system in the cockpit of a Falcon 2000. Duncan Aviation and Rockwell Collins are developing a Supplemental Type Certificate (STC) that makes it possible to retrofit Rockwell Collins Pro Line 4 CRT EFIS-equipped aircraft with Rockwell Collins Pro Line 21 Flat-Panel LCD systems. The installation includes a dual Integrated Flight Information System (IFIS) that enables the operator to display electronic charts, real-time broadcast graphic weather, enhanced maps and provides a growth path for future technologies.
This latest in a series of STC developments between Duncan Aviation and Rockwell Collins will focus on the Falcon 2000 and 50EX business jet airframes. These aircraft were originally manufactured with the Rockwell Collins Pro Line 4 CRT EFIS-display systems.
The "e" in the Falcon e 2000 retrofit stands for "Enhancements by Duncan Aviation," a program that Duncan Aviation began in 2006. Enhancements by Duncan Aviation bundles high-value solutions like Glass Box Project installations and interior completions packages on model-specific aircraft and "brands" those aircraft as Enhanced by Duncan Aviation. This provides a designation that the work was completed at the highest possible quality and will hold market value.
The Glass Box Project: An Industry Standard
RECENT ADDITIONS:
Honeywell Advanced File Graphics Server upgrade for the Primus Epic CDS/R
Pro Line 4 to 21 upgrades for the Falcon 50EX, Falcon 2000 and Falcon 2000EX
Honeywell Primus Epic CDS/R for the Challenger 601-3A
Universal EFI-890 for the Challenger 601
A complete profile of all Glass Box Project offerings can be found atwww.DuncanAviation.aero/gbp
Starting with one Falcon 50 in 1998 and building significant steam over 10 years, the vision of Duncan Aviation's Glass Box Project has lead the industry to a new standard: investing in your aircraft in lieu of buying new. It is now accepted that investing 5-10% of the aircraft value into new systems is a wise choice. So much so that FlightSafety has a new Falcon 50 Pro Line 21 simulator—a response to the fact that a significant portion of the Falcon 50 market has gone "glass".
Gary Harpster, one of Duncan Aviation's Glass Box specialists, explains the logic behind such an investment, "For example, a Falcon 900 owner might have between $18 and $20 million invested in his aircraft, and the airplane's main systems were designed nearly 30 years ago. The weakest link on that airplane is the dated avionics display technology in the cockpit. The aircraft's desirable performance and cabin capabilities still meet all the mission profiles the customer has. With a Honeywell Epic CDS/R retrofit, available for less than five percent of the value of the aircraft, the owner gets a completely new cockpit from the display perspective. The CDS/R system changes out the symbol generators and puts four 8x10" large Liquid Crystal Displays (LCDs) in front of the crew that are linked to two optional file graphics servers."
Safety is one of the primary concerns driving the glass retrofit market. As more aircraft are operating in the same airspace, pilots and owners are recognizing the safety benefits of large-format displays for the crew. It is important that pilots can quickly identify any traffic that may cause a problem. Instead of looking at the Traffic Alert and Collision Avoidance System (TCAS) on a small screen with a three-inch display, the new standard is seeing all of the information on an 8x10" multifunction display (MFD).
Although Duncan Aviation is not the only company providing these cockpit retrofits, we can certainly claim the most retrofits in number and variety. Since the Glass Box Project's inception, Duncan Aviation has completed 36 Glass Box retrofits, with 18 more scheduled so far for 2008.