«Fall 2010
Buying For A Fleet: Duncan Aviation's JetResources Team Can Help You Build Your Business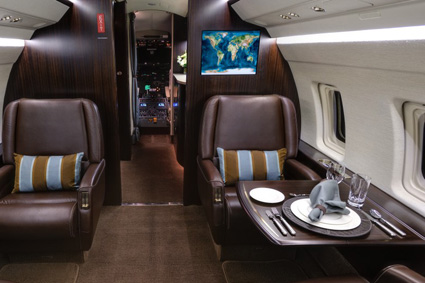 When Bob Sullivan, Chief Pilot and Aviation Manager for Oklahoma Citybased natural gas company SandRidge Energy, was looking for a Challenger 601-3A in 2009, he picked up the phone and called Rene Cardona, Aircraft Sales Representative for Duncan Aviation. Bob had done business with Rene in the past, and as he says, "Rene has always treated us really well. I can take his word to the bank."
Instead of paying to outsource executive business travel,SandRidge Energy decided to bring it in-house.
In 2007, SandRidge Energy needed a Citation SII to shuttle its employees, including drilling engineers, Information Technology and Human Resource specialists and field workers, from the company in Oklahoma City to its oil fields in Midland and Fort Stockton, Texas.
Bob says, "We choose to live in Oklahoma, but our work is in Texas. So we have to have reliable transportation in order for our people to support our operations in the field. I called a friend of mine who was the chief pilot for another company and told him what we were looking for. Without hesitation he said, 'You need to call Rene Cardona over at Duncan Aviation. He's a good guy, and he'll give you an honest answer.'"
Rene says, "When a director of flight operations calls to inquire about potential jet requirements, it's my responsibility to provide the most accurate information regarding cost and operation and research the market to find the best aircraft value." This is what he did for Bob. After Rene thoroughly explored the market, the best SII value was determined to be a Canadian-owned aircraft. He then assisted SandRidge with the purchase of the aircraft and the start of its operation.
Rene has been selling aircraft for 30 years, 23 of them with Duncan Aviation. He says he got into aircraft sales for the same two reasons that have kept him there: "I really like airplanes, and I enjoy the relationships I've built over the years."
The business jet community is a relatively small community, and business relationships frequently evolve into friendships. Rene values those friendships. Getting to know a potential client helps Rene meet his or her unique buying needs. Rene adds, "My clients know they can use me as a resource. I'm here to research the aircraft market, keep my ear to the ground and negotiate with sellers so I can get the best aircraft value for them."
In late 2007, Rene says he and Bob discussed acquiring a CL-601-3A for SandRidge Energy, too. Bob says, "We decided rather than continue to spend on outsourcing our executive business travel, we had the resources, flight department and the infrastructure in place to bring it in-house."
After extensively researching and tracking various Challengers on the market in 2007, they decided it wasn't a good time to buy. During the next couple of years, Rene and Bob spoke frequently, and they continued to discuss the Challenger market. In May 2009, Bob's management wanted to look at purchasing a CL-601-3A. Bob asked Rene to put in front of him the four best value alternatives in that market segment. Once Bob met with his management, they decided to place an offer on one of the alternatives, and that aircraft was purchased.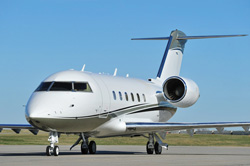 Big, wide-bodied aircraft are more suitable for longer-range flights, and with amenities like Wi-Fi it can serve as an extension of an office.
Bob says of the Challenger, "We wanted a big, wide-bodied airplane suited to executive-business travel. Our Citations are perfect for shuttling our folks back and forth on short trips, but our principal frequently has much longer-range flights. Regardless of whether he's in the air or on the ground, he has to continue to perform his duties as Chairman of the Board. The Challenger is literally an extension of his office; it has wireless Internet access, a bathroom and a cabin suited for long hours of work. When it's wheels up, his laptop is open. He works the whole flight, and that's something he's not able to do with other modes of transportation."
"Often, as was the situation with Bob at SandRidge," Rene says, "clients know exactly what they want to buy. They know a particular model has the airspeed, occupancy or cabin size they need, so they call up, and I research the market and find that airplane for them. Other times, knowing generally what clients want, I propose alternatives and make comparisons. The bottom line is, I want to work hard, take care of my clients' needs and get them the best aircraft on the market."
Bob notes that because Rene gets to know his clients and their needs, Rene has sold a lot of airplanes in Oklahoma City. Bob says, "Rene is dependable. Everyone at Duncan Aviation is. We do quite a lot of work there, and the guys on the floor are great, too."
Duncan Aviation JetResources
To reach Duncan Aviation's aircraft acquisition and sales experts, call any of the following numbers and ask for assistance with buying or selling an aircraft:
Rene Cardona
Aircraft Sales Representative
Aviation professional since 1983
Direct: 402.479.1529
Doug Kvassay
Aircraft Sales Representative
Aviation professional since 1980
Direct: 402.479.1530
Bob McCammon
Aircraft Sales Representative
Aviation professional since 1968
Direct: 402.479.1514
Doug Roth
Aircraft Sales Representative
Aviation professional since 1975
Direct: 402.479.1522
Marc McKenzie
Aircraft Sales Assistant
Aviation professional
since 1989
Direct: 402.479.8108
Steve Gade
Vice President of
Marketing and Sales
Aviation professional since 1994
Direct: 402.479.1551