«Fall 2010
Dirty Fingerprint: How Detailed Logbook Entries Benefit Your Aircraft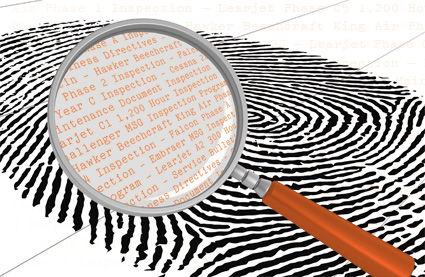 Anything that affects an aircraft requires documentation in the form of a logbook entry. Some call it the "dirty fingerprint" because If maintenance isn't documented in the records, it's like it never happened.
When you think about the tools and equipment necessary to properly operate an aircraft, some of the first items on the list might be properly tuned engines, overhauled landing gear and the latest in flat-panel technology. There is one that is often given only cursory consideration but that can ground an aircraft faster than anything... paperwork.
Aircraft paperwork consists of log books, maintenance records, aircraft registration, airworthiness certificate, flight manual and ops books, among others. Not all have to be carried on the aircraft at all times, but must be up-to-date, complete and available for inspection. Without them, your aircraft is grounded.
Aircraft Logbooks: Safety & Compliance
Aircraft inspections are all about preventative maintenance. Because it is unwise and unsafe to allow certain critical parts to fail while they are in service, the Federal Aviation Administration (FAA) mandates that the owner/ operator follow a Maintenance Program, one option would be the manufacturer Chapter 5 Requirements, or the operator could choose to use an FAA-approved Approved Aircraft Inspection Program (AAIP) program. The goal of Chapter 5 and the AAIP is to find and fix things before they go wrong and to keep an aircraft airworthy and in the air. It is the aircraft's logbook that provides the evidence everything is up-to-date with all maintenance and inspections. Of course this is nothing new to aircraft owners or operators. Logbooks have been required since the beginning of time, or so it seems.
An aircraft's logbookprovides the proof that maintenance and inspections are up-to-date.
The logbook is the written record and true representation of an aircraft's history. Whatever impacts an aircraft, whether maintenance, parts, life-limited components, inspections, etc., it requires documentation in the form of a logbook entry. In Federal Aviation Regulation (FAR) 43.9 and FAR 43.11, the FAA advises an operator to write it down. If maintenance is performed, write it down. Did you have it inspected? Write it down. FAR 43.9 regulates maintenance while FAR 43.11 regulates inspections. It is the law and failure to comply with either puts your aircraft in jeopardy of being grounded. According to the FAA, if it is not recorded, there is no proof it was ever done.
Paul Lewandowski, Duncan Aviation's Chief Inspector, likes to call it the dirty fingerprint. "If it's not documented in the records, it's like it never happened. You may have a perfectly safe aircraft but if you don't have it in your logbook, you can't prove it to the FAA. And if you can't prove it, the aircraft could be deemed unairworthy." Paul goes on to say, "Logbooks provide two things: safety and compliance with the law."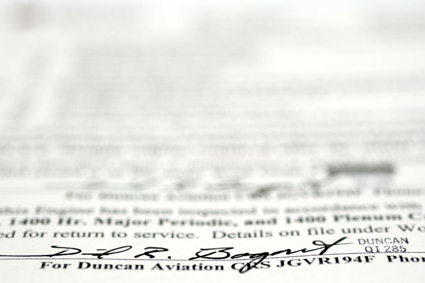 Lost logbooks have the potential to cost sellers up to 10% of the value of an aircraft. When valuing an aircraft, you either have complete, consecutive and original logs—or you do not. Potential buyers have walked away from a sale because of missing or incomplete logbooks.
The FAA requires you to write it down, but it doesn't dictate how or to what level of detail. The only requirement is that a qualified person makes a statement about what inspections have been complied with along with a signature, date and an A&P or Repair Station number. It is not uncommon for Duncan Aviation's Maintenance Record Technicians to see entries with single-line statements such as, "We have complied with all Chapter 5 requirements logbooks entries at this time." Although these vague one-line entries fulfill the law, they often raise more questions down the road. Detailed logbook entries become critically important when an aircraft is in for life-limited component inspection, such as landing gear or the many parts within the landing gear that are life-limited. Were they overhauled? Repaired? Replaced? Was the replacement an overhauled component? How much life was remaining? What about Chapter 4 items?
In addition to detailed logbook entries, every operator should insist on having work order information included in the records. Just in case logbook entries don't cover everything required, a work order history is available to fall back on for proof. Many operators do not ask for this information and they should. It adds to the comprehensive history of the aircraft.
Impact on Pre-buy Evaluations
During a pre-purchase evaluation, the logbook plays a major role, and vague statements become a liability. The status of a logbook is a negotiable tool. The more complete and comprehensive, the more value it brings to the aircraft. If there is poor documentation and many items are left open with no record of completion, the buyer will negotiate based on those open items.
Doug Kvassay has facilitated many buyers and sellers through the pre-purchase evaluation. As one of Duncan Aviation's Aircraft Sales Representatives, he understands the impact a logbook can have when valuing an aircraft in the secondary market. "Lost logbooks have the potential to cost sellers up to 10% of the value of an aircraft. When valuing an aircraft, you either have complete, consecutive and original logs—or you do not. Although it doesn't happen often, potential buyers have walked away from a sale because of missing or incomplete logbooks."
If maintenance is not documented in the logbook, it's like it never happened.
An aircraft presented with a thorough and detailed logbook is more valuable in the secondary market than one that has vague entries that cannot prove maintenance was performed. If an inspection facility cannot determine from the log entries if a maintenance action was taken or a component overhauled or inspected, they will require the owner to complete it again. Inspections and component overhauls are often recorded in the aircraft's maintenance tracking program as being done, however there is no documentation of it in the logbooks. Without that history on record, it is as if it never happened. The only option open to an owner is to spend the hundreds of thousands of dollars to have the maintenance performed again or try to contact all the maintenance facilities that touched the aircraft to recreate the missing maintenance history. Your logbooks are then at the mercy of how well these facilities maintain their work histories for their customers and the memory and willingness of the inspector who performed the work to sign off on his work again.
If you are considering putting your aircraft up for sale on the secondary market, it would be to your advantage to have a thorough and complete logbook research conducted to ensure all your bases are covered and no outstanding maintenance issues or holes remain. The cost of a comprehensive logbook research is considerably less than needing to have an inspection redone due to lack of documentation.
Logbook Research
A thorough logbook research will give the Director of Maintenance (DOM) a good idea of the state of maintenance the aircraft is in. This is accomplished by having your logbooks researched by someone who understands the requirements called out by the FAA, and the Original Equipment Manufacturer (OEM). This includes looking at the FAA mandated Airworthy Directives (ADs), Service Bulletins (SBs), inspection requirements and life limited components. It could go as far as an 8130-3 tag verification depending on how in-depth the DOM wants the aircraft research to be.
Duncan Aviation conducts AD and SB research on all aircraft that arrive for major inspection when the logbooks are provided. According to Penny Smith, Duncan Aviation Maintenance Record Technician, many of the issues found during logbook research are issues that aircraft DOMs may want to address. "As soon as the DOMs become aware of the outstanding AD, they allow us to do the work. It is a win/win situation. We are able to provide the operators a valuable service, and the customers avoid large fines from the FAA. Because the FAA monitors AD compliance very closely, we want every aircraft that leaves our hangars to be in complete compliance with the law."
Duncan Aviation has a team of Maintenance Record Technicians well-skilled in Chapter 4 and 5 requirements in addition to two full-time Chapter 4 and 5 experts dedicated to make sure the database is up-to-date with the latest ADs and SBs issued or any changes to airframe maintenance manuals. This ensures that the research is completed with the latest information coming from the Original Equipment Manufacturers (OEMs) or the FAA.
Duncan Aviation is one of a few Maintenance, Repair and Overhaul (MRO) companies that can provide a customer with comprehensive aircraft maintenance service, thorough logbook research and maintenance tracking services. The combination provides an extra level of service that cannot be matched. Duncan Aviation has a clear understanding of the ins and outs of aircraft maintenance and how it translates into a logbook entry. The expertise and knowledge is first- hand and first-rate. Duncan Aviation provides every customer with exactly what is necessary, and the company stands behind its work. Knowing and understanding the maintenance history of the aircraft is beneficial to every customer that returns to Duncan Aviation for future work. Duncan Aviation maintains an aircraft's maintenance history in the Duncan Aviation Tracker Database for easy access for future work, whether or not the work was performed by Duncan Aviation.
Maintenance Tracking Services
Duncan Aviation is among a small number of maintenance repair facilities that has developed and maintains its own maintenance tracking system and database. Ours is called Tracker. Customers who take advantage of this service do not have any surprises when it comes to required maintenance. Tracker verifies that the necessary records are at hand, making it unnecessary to look elsewhere to get missing information from an outdated database.
Pilots and DOMs areresponsible for all activities that surround the aircraft. They are the ones who benefit the most from Tracker.
Penny Smith says our typical Tracker customer is the one who wears lots of hats. "He is the pilot/DOM and responsible for all activities that surround the aircraft. He is the customer that we are able to help out the most. He can turn over his maintenance tracking needs to us and we will keep him informed of any and all necessary requirements that are pending and help him to develop a plan to meet his needs. He isn't required to come to Duncan Aviation for the work, we'd like him to come to us, but he isn't required to do so."
Duncan Aviation's Tracker service is set apart by the technical support available behind it. When a customer calls in and asks about a revision or an upcoming inspection that is due, all Duncan Aviation maintenance research technicians draw upon the comprehensive knowledge of in-house Tech Reps and Inspectors. They are ready to answer any questions an operator may have.
Whether it is an inspection, scheduled maintenance or meticulously detailed logbook entries, Duncan Aviation's goal is to keep you flying. Wheels up!
We Make It Easy. We Make It Hard.
Easy to understand
Duncan Aviation provides every customer with a good, clean, detailed logbook entry in a nice package where they can easily see all requirements have been complied with. They leave Duncan Aviation knowing they're flying safe and flying legal.
Hard to ignore
We provide every customer with a clear record of what is in compliance and what is pending, making it hard to ignore necessary maintenance requirements. There are no excuses for any aircraft to overfly its limits.
Common Pre-buy Concerns
During a pre-buy evaluation many aircraft have several appliance ADs that remain as open status items. This happens when an owner receives an AD on an appliance that is not installed on the aircraft. Instead of entering the AD into the logbooks and stating it is not applicable and then signing the entry, the AD is left undocumented. When it comes time to sell the aircraft, these open ADs will show up on the report as unfulfilled. If an appliance has been approved to be installed on your aircraft, even if it isn't, it will be in the database and the open status will need to be cleared. The simple solution is to notate every AD in the logbooks, whether or not they are applicable and then sign.