«Fall 2010
Volunteers Find Special Olympics Airlift an Uplifting Experience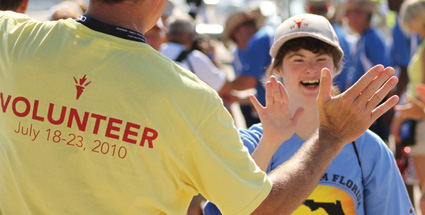 At 6:30 a.m. on Saturday, July 17, Brian Ryba, a Marketing Information Specialist with Duncan Aviation, gathered with 135 of his co-workers and countless volunteers from the community and Cessna Aircraft Co. at the Lincoln Airport to await the arrival of the first aircraft in the 2010 Cessna Citation Special Olympics Airlift.
The mission of the airlift was to fly 839 athletes and coaches from 26 states to the Special Olympics USA National Games, which were held July 18-23 in Duncan Aviation's headquarters city of Lincoln, Nebraska. To do this, 150 Cessna aircraft landed at the Lincoln Airport over a 10-hour period with one landing roughly every four minutes. The owners of the aircraft proved once again how generous and caring the business aviation community is by donating not only the use of their aircraft but also the crews and all associated costs, including fuel.
"It was just awesome. It was so cool to see the athletes get off the planes with big smiles on their faces."
- Brian Ryba, Marketing Information Specialist
Piloted by Duncan Aviation Chairman Emeritus J. Robert Duncan, the first aircraft to arrive was a Citation Mustang carrying athletes representing Ohio. Designated "Dove One," the Mustang touched down at 7:30 a.m. and Brian and the other volunteers sprang into action. There were teams of "greeters" and "escorts" to welcome the athletes, cheer for them and ensure they maneuvered the tarmac area safely and quickly. Brian divided his time between unloading luggage and driving luggage-filled EZ-Gos and Gators to one of seven waiting UPS trucks for delivery to the various places the athletes would stay throughout the week.
In spite of the luggage demands and the drenching Nebraska heat and humidity, Brian was caught up in the celebratory mood of the day. He says, "It was just awesome. It was so cool to see the athletes get off the planes with big smiles on their faces."
He adds, "It was amazing to see how well-organized the event was, too. For the amount of activity, the number of people and airplanes, it all ran remarkably smoothly."
That is because the number of hours spent planning for the event is staggering. And the event has been going on long enough that experience has been an excellent teacher. It was the sixth Special Olympics Airlift coordinated by Cessna Aircraft Company and the second in which Duncan Aviation participated. It was the first in which, as the major FBO on the chosen city's airport, Duncan Aviation held such a pivotal role.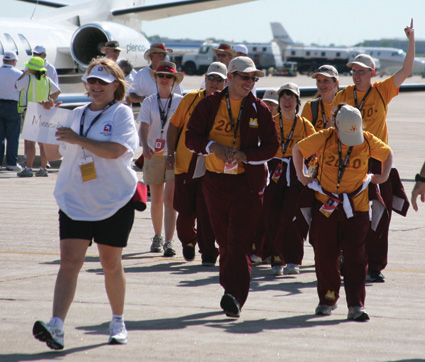 Doyle Garrett, a Duncan Aviation Project Manager, spent nearly two years planning for the event and working with Cessna, the Federal Aviation Administration, the Lincoln Airport Authority, and the Special Olympics in the coordination of Duncan Aviation's 266 volunteers and community partners in the ground and flight logistics including the unloading, moving, fueling, and possible service for such a large number of corporate jets in such a short time span.
"The energy and emotional payout you get from helping so many people and seeing the joy on the faces of the athletes is the bestpayment you can receive."
- Doyle Garrett, Project Manager
"It was lots and lots of work with a lot of long, full days," Doyle says. "But it was fun, rewarding work. The airlift logistics went well. The energy and emotional payout you get from helping so many people and seeing the joy on the faces of the athletes is the best payment you can receive. I was thrilled to be part of it."
The whole operation ran in reverse on Saturday, July 24, when 131 additional Duncan Aviation volunteers joined community members, Cessna employees and Cessna owners once again to return the athletes and coaches to their homes.
Brian says he would like to help again with the next Special Olympics Airlift in 2014. He says, "The experience was so moving. Everything that so many people were willing to put into this to make it all come together just amazed me."
Brian cares so deeply about the athletes who participate in the Special Olympics that he and three other Duncan Aviation team members participated in the Polar Bear Plunge at a local Lincoln lake in February of this year. They braved 27-degree air temperatures and frigid, ice-covered water without wet suits to raise $1,500 for the Nebraska Special Olympics team.
Brian says, "When you have a child with special needs, it makes you want to get more involved in events like the Special Olympics." Brian's eight-year-old son, Kolton, has Nager Syndrome, which is a rare condition that causes facial anomalies but doesn't usually affect cognitive development. Kolton is eligible for the Para Olympics as opposed to the Special Olympics because he doesn't have an intellectual disability. When asked if he'd like to see his son in the Para Olympics, Brian says, "As long as video games and eating are part of the 2022 Para Olympics, Kolton may be competing."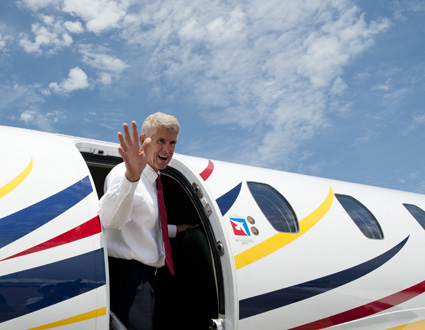 Airlift Creates a Special Memory of a Special Friendship
Bill Wagner, now retired Chief Pilot for Townsend Vision in Des Moines, Iowa, wanted to make his final flights really special. He chose to retire after helping to fly two athlete contingents, a total of 16 athletes and coaches, home on Saturday, July 24, during the Cessna Citation Special Olympics Airlift.
With more than 18,000 hours, Wagner was the first pilot to taxi out of Lincoln Airport at 7 a.m. that day. He took Florida athletes and coaches home to Orlando.
"It would be the most important flight of my career."
- Bill Wagner, Retired Chief Pilot
He then came back to Lincoln for a second return flight in the airlift, this time to Oklahoma. Shortly before 2 p.m., Oklahoma athletes and coaches boarded his aircraft for what would be his last flight as a corporate pilot.
As a longtime customer of Duncan Aviation and friend to many Duncan Aviation team members, a crowd had gathered to say goodbye. He gave them a wide smile and waved goodbye as he boarded the aircraft for the final time. Doyle Garrett, a Project Manager for Duncan Aviation, a friend of Bill's since 1978 and a major organizer for Duncan Aviation's part in the airlift, ran alongside the aircraft to salute his longtime friend.
It made for a lasting memory.
"You know, leaving a career after 40 years isn't easy... especially f lying," Bill says. "A year or so ago, I knew retiring was just around the corner. It was painful for me to think about. And then a lightning bolt struck me. Why not make the 2010 Special Olympics the last flight? After all, it would be the most important f light of my career."
He continues: "That moment... as I loaded the athletes on board. That moment... as I taxied out with Doyle Garrett saluting me. That moment... when the taxiways were lined with my friends from Duncan Aviation. That moment... I won't forget for the rest of my life!"