«Summer 2010
Chairman's Notes Summer 2010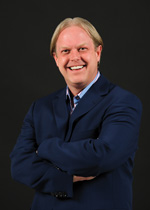 Traditionally, Duncan Aviation has been known for individually focused customer service. We communicate with our customers formally and informally and take their ideas and suggestions to heart. Over the years, many of our new and innovative services and processes were implemented as the direct result of customer suggestions. The same is true of Duncan Aviation team members. We pride ourselves on having a culture of continual improvement. We constantly look for ways to do things better and to make business aircraft ownership better. Then we take those ideas and add them to our processes to improve service, products and efficiency. Being family owned and operated allows us the flexibility to react and implement these changes and continually improve who we are and the way we deliver our services for our customers.
PROCESS IMPROVEMENT MANAGER - TED ROETHLISBERGER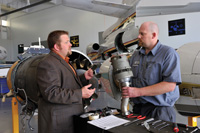 Ted Roethlisberger embraces change and the positive results that often come with it. As the Process Improvement Manager for Duncan Aviation, Ted has led the company's "continuous improvement" effort for the last 18 months. He has been pleased with the results so far.
"The biggest difference between Duncan Aviation and other companies that strive for 'continuous improvement' is that we eliminate much of the red tape that can be involved with process change. We are serious about making improvements and understand that those involved in performing the work know best how to get it done better and more efficiently. We empower those team members to uncover and eliminate waste in their day-to-day activities and to brainstorm change opportunities. Those same team members are responsible for implementing their ideas. We then track results, tweak the
process where needed and make sure the changes are implemented consistently."
Two processes that have recently seen marked improvement are winglet installations for Falcon 2000 aircraft and paint detailing. Better work area tool and parts "staging" has resulted in significant downtime reductions for Falcon operators opting for fuel-saving winglet modifications and out-of-the-box window masking ideas have cut time and risk in paint detailing around aircraft windows.
"We aren't interested in making changes just for the sake of change," Ted continues. "The result needs to make things better for the company, our team members, our customers and the aircraft we work on."