«Summer 2010
Machines That Make the Difference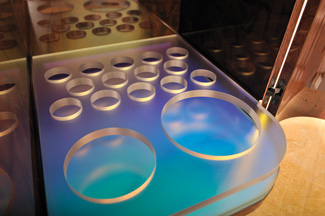 Liquor cabinet parts and liquor trays cut with the CNC machine and assembled.
The aviation industry requires the fabrication of complex parts and unique materials cut to demanding specifications. Duncan Aviation has invested in nine Computer Numerical Control (CNC) machines so meticulous that even the smallest of details is not overlooked.
With these CNC machines operating nearly every day, Duncan Aviation delivers customized, fabricated parts in a wide range of materials, expertly designed and then reproduced in minutes. With anything from control panels to cabinet inlays, fabricated parts or soft leather goods, customers won't experience the frustration of waiting weeks while enduring the time-consuming process of sending critical specifications and materials to a far-away company. All of the machines are controlled by highly skilled Duncan Aviation technicians trained and certified in the latest operating software such as Solidworks CAD, Camwork CAM and CATIA 3D modeling.
Because aircraft owners and operators always want to be in the air, downtime is often the most critical deciding factor when selecting a maintenance repair facility. With the latest technology, Duncan Aviation can and will produce solutions in minutes, not days or weeks, saving customers money and, of course, time.
Parts Fabrication
The Flow I 4800 Integrated Flying Bridge water jet cutting machine is a 5-axis CNC capable of cutting 8-inch, hard titanium or soft, pliable leather–fast! It generates 60,000 pounds of air pressure (PSI) with the incredible accuracy of .003 inch. The quality of edges this system produces eliminates the need for costly secondary finishing, saving customers even more time and money.
Duncan Aviation's HAAS VF-6SS Multi-Tool Milling Machine is a high-performance, 4th-axis capable, 12,000 revolutions per minute (RPM) machine. It features an inline drive coupled directly to a 20 horsepower motor. The table size is 64 x 32 inches and will hold material up to 30 inches thick and weighing 4,000 pounds. To enhance speed, the tool changer can hold 24 different tools and change from tool to tool in 2.8 seconds.
Unique Styling
Cabin and galley designs are an extension of the aircraft owner and reflect their personal or corporate style. Many companies request logos intricately replicated into cabinet or table laminate using a variety of materials. With the precise cutting capability of the Shoda Maxxim CNC Router in the Duncan Aviation Cabinet Shop, the cabinet team members are limited only by their imaginations.
The Taurus XM cutting system is the latest in leather-cutting technology that is able to cut from the whole hide. The automatic nesting software places all necessary cuts on the material in the most efficient manner, reducing waste and ensuring the most critical parts are cut only from the highest quality areas of the hide. It is able to cut through cloth, light foam and carpet along with other various materials. The real benefit of this machine is its efficiency. It saves a significant amount of leather and patterning time, allowing Duncan Aviation upholstery technicians to focus on craftsmanship, fit and finish.