«Fall 2012
Simplifying the Complicated Process of Aircraft Sales & Acquisitions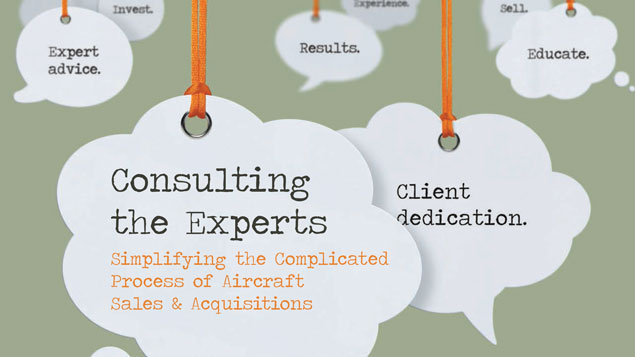 Consulting the Experts
Simplifying the Complicated Process of Aircraft Sales & Acquisitions
When it comes to buying and selling corporate aircraft, Duncan Aviation's Aircraft Sales & Acquisitions representatives are among the most experienced in the industry, and they are known for their dedication to the interests of their clients. Understanding that one of the most difficult decisions a company or individual can make is whether to invest in a business aircraft, the Duncan Aviation Sales & Acquisition team members do everything they can to make the complex and risky process easier. This includes sharing their experience.
"Customers who understand what to expect when entering into a business aircraft transaction will navigate through the process easier and will be happier with the results," says Doug Kvassay, an Aircraft Acquisition and Sales Rep with Duncan Aviation. Doug and the rest of Duncan Aviation's Aircraft Acquisition and Consignment representatives have become regular contributors to the Duncan Download blog in an effort to help educate individuals considering the purchase or sale of corporate aircraft.
Advice on the Duncan Download
The Duncan Download blog is a weekly online publication written by Duncan Aviation's experts. When you sign up, you will receive in your email inbox blog posts filled with advice and observations about the business aviation industry, from maintenance to sales to new regulations. Roughly one article a month has an aircraft sales topic. Following are the titles of recent articles written by the Duncan Aviation's Aircraft Sales & Acquisitions experts providing information about some of the most common concerns their customers face on a daily basis:
Naked Brokerage Transactions
Avoid the high fees of purchasing a business aircraft by knowing how to recognize a naked brokerage transaction.
Your Business Aircraft is a Depreciating Asset
Business aircraft are sound business investments but are still depreciating assets with a useful life that is somewhat longer than most other capital equipment.
Know Your Business Aircraft Purchase Agreement
The Business Aircraft Purchase Agreement is the most important document to the transaction. It is in your best interest to understand it.
The Tightening of Bank Lending Rules
While banks protect themselves, they are choking small business opportunities.
How Interior Aesthetics Affect Business Aircraft Resale Values
First impressions make a big difference in the sale. A well-maintained interior will help a business aircraft sell faster at a better price.
Backward Lending Policies
How a change of perspective would ease the volatility of aircraft prices.
At Duncan Aviation, we believe that our customers are smarter just by doing business with us. So we encourage everyone who is considering the purchase or sale of a corporate aircraft to get as much information as possible before entering into any agreement.
Future Download Topics
The Duncan Aviation Aircraft sales team will continue their educational series with some of the following topics. To receive the Duncan Download blog in your inbox, go to DuncanDownload.aero and enter a valid email address in the subscription form.
Here are some of the future subjects you can expect from the experts at Duncan Aviation's Aircraft Sales and Acquisitions:
What Lending Institutions Look for When Issuing Aircraft Loans
What do banks prefer, and not prefer, when looking at loaning money for aircraft assets.
Get Your Aircraft Records in Order
How missing records can impact the selling of your aircraft.
Aging Aircraft Engine Values
The advantage of engine maintenance programs and how they affect aircraft sales.
How Buying and Selling Aircraft has Changed in the Last 20 Years
The impact that technology, the internet and a global economy has had on the secondary business aircraft market.
How Do You Sell Your Aircraft in a Saturated Market?
What can you do to make your aircraft stand out among the crowd.
Advice for First-Time Aircraft Buyers
Tips to avoid the common pitfalls and roadblocks to purchasing your first corporate aircraft.
Selecting a Pre-Buy Facility
Selecting an experienced, knowledgeable pre-purchase facility makes all the difference in the world. Learn how to recognize one.