«Spring 2012
Simple Economics: The Value of Reclaimed Engine Parts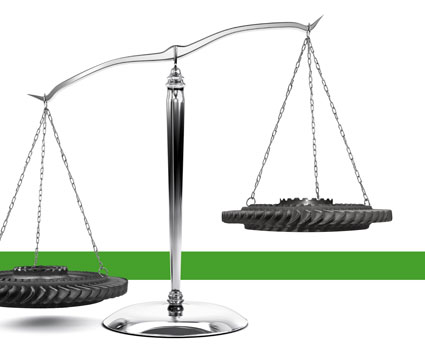 "As an authorized OEM facility, Duncan Aviation has been buying, selling and exchanging engines and APUs for more then 20 years. Duncan Aviation is the only Honeywell-authorized facility to offer this lower-cost alternative."
The Honeywell TFE731 engine has been manufactured for more than 30 years. These engines can be found on the latest business aircraft rolling off the line (Falcon 900EX/LX, Learjet 40XR/45XR, Gulfstream G150, Hawker 750/800XP/900XP) as well as many aging aircraft such as Falcon 10 and 50; Learjet 31, 35 and 55; Westwind; Hawker; and Citation 650. It is a workhorse of an engine that delivers solid performance with every flight.
As an aircraft ages, the cost associated with operating and maintaining older TFE731-2 and -3 engines begins to represent a larger portion of the overall cost of operation of that aircraft and those costs increase every year. This required maintenance can have a direct impact on an operator's decision to pay the cost to maintain operation or trade-in the existing engine for an exchange. An additional alternative is to declare the maintenance cost in excess of the value of the aircraft and sell it for salvage. All of these are stressful decisions for operators to make.
In the past, with a strong economy, budgets were large and everyone wanted new parts for their engines when they were in for a major inspection. As the economy began to slow, operators scrambled to find lowercost alternatives. Now, even though the economy is showing improvement,people haven't forgotten; they continue to seek the best value available.
That value can be found in reclaimed engine parts. As an engine reaches its life-limit, many parts are still in good condition. The engine still contains good, serviceable hardware that is extracted, reclaimed and reintroduced back into the fleet at significant savings to the operators who need these parts. Reclaimed parts are a lower-cost alternative that allows aging aircraft to continue to provide valuable flight services to their operating companies for longer periods of time.
Why would a customer consider reclaimed engine parts? It's simple economics. Many of these aircraft have a limited life left before they are no longer viable. For example: buying a new 10,000-cycle part to put on an aircraft that has only 2,000 cycles remaining would be wasteful.
Reclaimed vs. New?
In an industry that historically has been based on purchasing new parts, many operators are rethinking the need to purchase new over reclaimed. In the past decade, engine part sales have been trending towards reclaimed parts as they provide the same operating service as new parts for a lower cost. This is important because there are more than 1,000 parts in a TFE731 engine and during major inspections, numerous parts are replaced. The reclaimed parts have been inspected, overhauled or repaired and then re-inspected. And finally, the parts are declared viable for operation and tagged for release.
In an effort to drive down the cost of operating older TFE731-2 and -3 engines, Duncan Aviation offers reclaimed parts for sale. As an authorized Original Equipment Manufacturer (OEM) facility, Duncan Aviation has been buying, selling and exchanging engines and Auxilury Power Units (APUs) for more than 20 years. Duncan Aviation is the only Honeywell-authorized facility to offer this lower-cost alternative.
Duncan Aviation's Reclaimed Engine Parts
All reclaimed engines are brought to Duncan Aviation's engine facility, which is a Honeywell-authorized TFE731 service center, and put through a complete engine tear-down. All parts are cleaned and inspected per Honeywell approved data. Many will immediately receive an FAA 8130 dual release tag, accepted by both the Federal Aviation Administration (FAA) and the European Aviation Safety Agency (EASA), and put into inventory. Some parts are brought back to specs by Duncan Aviation technicians and/ or other approved repair facilities.
All engine parts purchased from Duncan Aviation are ready for installation into an engine. Every operator who comes to Duncan Aviation is always offered new or used parts, when available. With this information, the customer can make the best business decision that fits their needs.
Duncan Aviation has an inventory of serviceable and reconditioned engine parts valued at more than $10 million. "We always maintain an adequate amount of inventory to meet the world market demand," says Leo Sawatzki, Duncan Aviation's Engine Parts Sales Manager. "The demand for reclaimed Honeywell TFE731 engine parts has always been strong, but with our reclaimed engine parts program, it will only grow and get stronger. We remain ready by continually adding engines to our reclamation and recycling process."
RECYCLING "AT ITS BEST"
The environmental impact associated with new aviation manufacturing is significant. Aircraft engine parts are made out of exotic metal alloys such as titanium, waspaloy, hastelloy and inconel. The entire aviation industry (commercial, business and general aviation) relies on these rare metals because they are able to withstand high heat and have the strengthto- weight ratio that is necessary for flight. Because the supply of these limited resources is dwindling and becoming rarer, the cost of the parts is rising significantly.
Reclaiming good, used engine parts and reintroducing them back into service is recycling at its very best. No more precious metals are taken out of the earth and very little, if any, machining or chemical applications are necessary in order to return these parts to service in another engine. In Duncan Aviation's used engine parts business, 75 percent of each engine's parts are reclaimed and recycled. This process, on many levels, significantly lowers the environmental impact.