«Fall 2012
Current Aircraft Designs Feature Function and Form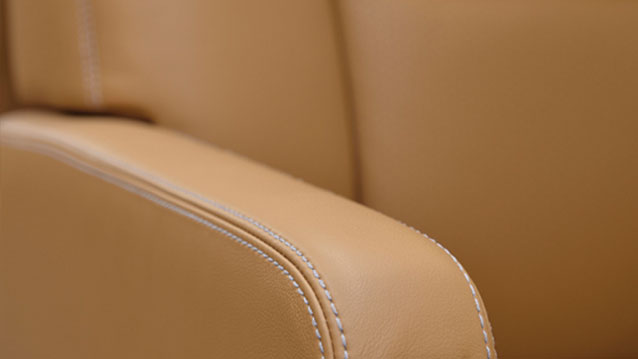 Perforated leathers, contrasting stitching and seats covered with two
complementing colors are trending in aircraft interior design
Today's aircraft operator considers their aircraft not just a mode of transportation, but an extension of their office and their home. They want the aircraft to allow them to be productive. Beyond functionality, though, the aesthetic effects of the aircraft interior are often equally important. They want the aircraft interior and paint scheme to complement that of their home or office as well. That mindset affects the way aircraft interior designers combine aviation materials, fabrics and paint to create the overall aircraft design, both inside and outside the fuselage.
OPERATORS ARE OPTING FOR PERFORATED LEATHERS, CONTRASTING LEATHER STITCHING, AND SEATS COVERED WITH TWO COMPLEMENTING LEATHER COLORS, WHICH MANY MANUFACTURERS ARE USING IN THE NEW AIRCRAFT COMING OUT OF PRODUCTION AS WELL.
Duncan Aviation has seven experienced aircraft design experts. In discussing the customer requests they have received, some current aircraft design trends have emerged. Here, we share with you some of their insights and observations.
Functionality
Emerging technology in the cabin over the last few years has had an effect on the interior design of the aircraft. Designers need to be vigilant about the compatibility of systems when converging new technology with current systems and existing technology. To help with this task, Duncan Aviation's interior sales teams and designers work closely with the avionics installation teams, systems engineers and certification teams to ensure compliance with oversight agencies, like the Federal Aviation Administration.
For example, it is becoming standard to incorporate iPad technology and personal monitors into the design of each passenger seat, thus eliminating the need for large monitors, especially in the smaller business aircraft. Operators of larger business aircraft are still opting for full monitors to take advantage of the high-definition (HD) technology, and they want large but thin monitors mounted in their aircraft. Many operators also expect the convenience of using Wi-Fi for personal and seamless carry-on technology.
Bolder Accent Colors
Fifteen to 20 years ago, aircraft owners were more conservative with colors, textures, and materials. Today, they want practicality in their aircraft, yet they want it to be stylish and personal. They are mindful of the limitations and regulations within business aviation, and they want stylish designs that are within the regulations. Aircraft interior designers use their creativity, while considering the style and preferences of the customer, to provide options the customer hasn't even considered.
Duncan Aviation Senior Aircraft Interior Designer Mary Lee says, "Customers tend to choose soft, light earth tones for their interiors. But we're starting to see the resurgence of light, warm grays and charcoals as a popular alternative."
Senior Aircraft Interior Designer Teri Nekuda adds, "Our international customers often opt for more flashy colors and gold trim, while our customers from the United States tend to stay with more subtle colors and silvers."
That said, Duncan Aviation's design team members agree that "every customer is different and it's all about personal preference." What's fun and exciting for them is that some customers are choosing to make a statement and really show off their individuality with the accent colors in the aircraft. Grass green, turquoise blue, oranges and yellows are some of the latest accent colors adding a nice, extraordinary finish to aircraft interiors rolling out of Duncan Aviation hangars.
Eco-Friendly Products
Another fairly recent change is consideration for the environment when choosing interior products for an aircraft. According to Mary, "Today, when we work with customers wanting to update and upgrade their interiors, we see a strong push for eco-friendly fabrics and materials. Our customers are demanding more "green" products and processes. And, it's not all about the carbon footprints. They're also concerned with the toxins and gasses emitted by manufactured products and materials." Designers are incorporating these requests into all facets of the interior, including cabinetry, veneer, flooring and upholstery.
Aircraft operators have options for composite and reconstituted wood veneers that replicate the wonderful veneers produced from natural woods. Some operators are uncomfortable with the depletion of natural forests as a result of harvesting trees to furnish the veneers, Mary says. Composite and reconstituted wood veneers are equally durable and upkeep and care is comparable to that of the natural wood veneers.
Wood Veneer
For those customers who prefer the natural wood veneer, Senior Aircraft Interior Designer Lori Browning says, "Straight-grain species such as a walnut or eucalyptus are very popular for their neutral brown color and availability of high-quality logs." Whether composite, reconstituted wood, or natural wood veneer, changing cabinet veneers has a dramatic effect on the interior of the aircraft.
A new variation is a take on a European method of using non-standard materials, like leathers, in cabinet construction and designing drink rails that use contrasting woods and undertones. Tailored Lines and Seat Designs Overall, operators want clean, simple, tailored lines in their cabinet and seat designs.
Seat design trends are similar to what we are currently seeing in the auto industry. Operators are opting for perforated leathers, contrasting leather stitching, and seats covered with two complementing leather colors, which many manufacturers are using in the new aircraft coming out of production as well.
Operators are also pleased with the introduction of new flooring products that simulate wood and stone, and requesting that these materials be added into their aircraft. Manufacturers are applying new, non-slippery finishes that make these products adaptable to aircraft. These new flooring products are a nice complement to the fabulous carpet options that are available.