«Spring 2012
Duncan Aviation Aircraft Sales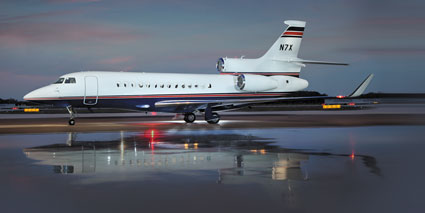 2008 Falcon 7X For Sale

A 10 or more worldwide charter company is also FOR SALE!
AIRFRAME TOTAL TIME: 474
LANDINGS: 197
EASy II Synthetic Vision.
Honeywell EASy Communications Management Function (CMF) with AFIS/SATAFIS.
Collins Airshow 4000 System.
Swift Wireless Broadband.
802.11g Wi-Fi.
Collins Tailwind Sat TV (Domestic/European/ Middle East).
Baker Audio Amplifiers (3EA).
ENGINES: 474 (ESP Gold.)
APU: 280 (MSP Gold.)
13 Passenger Interior with 3 Crew Members.
Forward Lav and Right Hand Forward Galley.
4 Forward Place Cabin Conference Club Seats with Electric Tilt and Recline Functions.
2 Three-place Belted Divans (Right Hand Divan Certified to Carry Two Passengers at Take-off and Landing.
For more information on this 2008 Falcon 7X for sale, please visit www.DuncanAviation.aero/aircraftsales/detail.php?acID=89.