«Spring 2015
Aviation Alphabet Associations
Doing More Together
"We [Duncan Aviation] were a small player in the industry early on, relatively unknown by many. One of the ways to raise our visibility was to have key people join industry associations, volunteer, get involved and do their part. That's what we did from the very beginning. And we continue it today." – Robert, Chairman Emeritus-Duncan Aviation
Duncan Aviation has long histories and deep relationships with many aviation associations. Here, we feature a few of these key associations.
NBAA
National Business Aviation Association
In 1966, NBAA was the first industry association Duncan Aviation joined. The first NBAA booth was a purple foam structure in a 20 x 20 space, where 10 team members greeted attendees and explained who Duncan Aviation was. That was just the beginning.
For nearly 49 years, Duncan Aviation has participated in the annual NBAA Convention and Exhibition. No longer relatively unknown, we are one of the first places to stop for many convention attendees. But our participation and influence at NBAA goes well beyond the convention hall.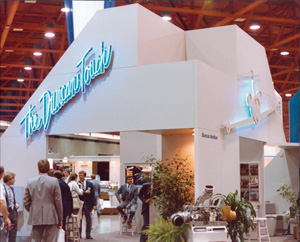 Duncan Aviation's booth structure and NBAA in 1983
For a total of 21 years, Duncan Aviation has maintained a presence on the NBAA Associate Member Advisory Council (AMAC), beginning with Robert Duncan in 1983. As members, he, Duncan Aviation Chairman Todd Duncan and President Aaron Hilkemann contributed to council discussions and activities to identify and improve communications among membership segments. Each has served or is currently serving in a leadership position. Aaron also served a two-year term as council chairman. In these roles, each became associate member advisors to the NBAA board.
Jeannine Falter, vice president of business development, is a five-year member of the NBAA Corporate Aviation Management Committee (CAMC), which provides programs and tools to help aviation managers meet business objectives.
She served two years as co-chair of the committee's annual NBAA Leadership Conference. This leadership conference is the only industry event of its kind, where business aviation managers and executives gather to focus on sharpening leadership and professional skills, networking and sharing ideas.
"The NBAA Leadership Conference is a great opportunity for industry leaders to be exposed to ideas and thought-leaders that they otherwise may not have access to," says Jeannine.
She is also a current member of the NBAA Maintenance Management Committee, whose purpose is to address the high-level, strategic issues pertinent to maintenance operations. This group is currently working on a long-term project to align the professional standing of aviation technicians with current and future technology by updating the level of education, training and expertise.
AEA
Aviation Electronics Association
Ron Hall, a retired Duncan Aviation avionics sales rep, attended his first AEA convention in 1970, held in Kansas City. He says those early conventions were small, with only about 150 people and booths consisting of cardboard structures with a table.
In those early days, AEA drew companies together to discuss their frustrations and share their ideas and successes with the latest technical information. Even though many were competitors, they shared anyway in order to make the industry better. Ron says it was this collaboration that helped Duncan Aviation to grow from a small radio and instrument shop into an experienced facility with technicians specializing in the maintenance, repair and installation of the latest in avionics technology.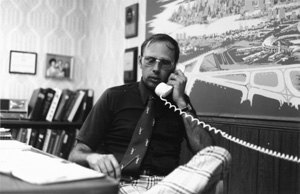 Shortly after his first convention, Ron joined the AEA Board of Directors and stayed for 20 years. During those two decades, Duncan Aviation hosted three regional meetings in Lincoln, Nebraska.
In 1985, Ron was named the AEA Member of the Year. And because of his dedication and continued involvement in AEA during his entire career, he received the AEA Lifetime Achievement Award in 2011—the highest honor bestowed on an AEA member.
Duncan Aviation's AEA involvement and influence didn't end with Ron's retirement. Gary Harpster, avionics installation sales rep, stepped up and actively participated at several regional and national AEA events. As a well-known expert in the industry on NextGen technology, he has presented educational sessions to operators around the world.
Gary was an active board member, serving as vice chairman and chairman of the board for several years. He also served on the AEA Trusteeship Committee and was named 2008 AEA Member of the Year.
Another chapter in Duncan Aviation's AEA history unfolded in 2014, when Mike Minchow, manager of completions and avionics sales, was among the newly elected directors selected by the members of AEA.
Today, AEA boasts nearly 1,300 member companies in 43 countries.
NATA
National Air Transportation Association
NATA has 2,000 member companies representing a broad spectrum of aviation service businesses, such as FBOs, charter providers, MROs, flight training, airline service companies and aircraft management companies. NATA's mission statement is very clear: Empowering our members to be safe and successful aviation businesses.
In Washington, D.C., NATA is an advocate for issues that affect their member companies by appearing before Congress, the FAA and other state and federal agencies in support of the further growth and prosperity of air transportation.
Not long after Duncan Aviation joined NATA in 1981, Robert Duncan became a member of the Board of Directors and the NATA Aircraft Sales Committee, serving as the committee's chairman.
Todd Duncan, also a NATA board member and chairman, participated in several NATA events, including the Aviation Business Roundtable, Day on the Hill and was featured in the 4th Quarter 2009 issue of NATA Aviation Business Journal. Aaron Hilkemann is a current member on the Presidents Council.
Duncan Aviation was a founding member of Air Charter Safety Foundation in 2007 and the company's charter operation adopted the NATA Safety Management System in 2010. All Duncan Aviation locations are NATA Safety 1st line certified.
NARA
National Aircraft Resale Association
In 1991, there were a number of aircraft broker dealers conducting business that in ways that were less than completely ethical. Robert Duncan, along with other concerned individuals, joined together to address the lack of standards and issues. "There were a lot of things happening that affected the ability of honest broker dealers to conduct business in the aircraft-resale market. We knew we had a stronger voice if we band together and formed an association," Robert says.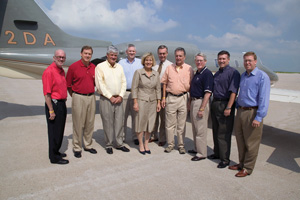 The founders of NARA (pictured in 2004 left to right) Robert Duncan, John Foster, Jack Prewitt, Dan Dickinson, Susan Sheets, James Markel, Johnny Gantt, Jerry Smith, Matt Huff and Johnny Foster.
The National Aircraft Resale Association (NARA) was formed to establish a set of standards for member companies to follow that raised the ethical bar. Each company who joined promised to abide by a code of ethics and represent the best interests of their customers. Together, they formed a lobbying organization for the benefit of the general aviation industry.
Every year since the association was formed, members of Duncan Aviation's Aircraft Sales team have remained actively involved. In 2010, Steve Gade, vice president of business development and marketing, was appointed to serve as the association chairman.
"NARA gives a prospective client, whether buying or selling an aircraft, a safe and trusted place to conduct business," says Steve. It also gives associate members access to resources and services they may not have available in-house, such as insurance, legal and title. This great wealth of resources is a result of the network of NARA members.
GAMA
General Aviation Manufacturing Association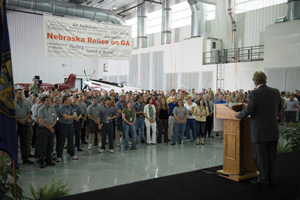 Todd Duncan speaking at the GAMA Rally for Jobs hosted by Duncan Aviation on May 18, 2012. The rally was held to recognize the number of jobs aviation provides to the state of Nebraska.
With worldwide representation of the leading aviation manufacturers, GAMA is dedicated to the interests and activities of general aviation. This includes improving the general welfare and safety in the industry, as well as a strong communication program to help the public gain a better understanding of the importance of general aviation.
In 2011, Aaron joined GAMA and became active in the Airworthiness & Maintenance Policy Committee, serving as committee chairman in 2014. He is currently serving as the vice chairman of the Board of Directors and will assume the Chairmanship next year.
GAMA is a strong, united voice before Congress on issues that impact general aviation, lobbying for legislation to improve and advance the industry. In January 2015, as a member of the GAMA Board of Directors, Aaron testified on Capitol Hill in front of the House Committee of Transportation and Infrastructure to show support for some FAA recommendations.
"As we grow, our issues are not just our issues, but issues we share with others. By becoming active members of our industry associations, we have an opportunity to be side-by-side with our industry peers, competitors and customers, to learn their concerns and needs so that we can come alongside them and help them exactly when they need us. It is only through the conversations and relationships we gain by being active in these associations that we move our industry forward."


Todd Duncan, Duncan Aviation chairman