«Spring 2015
Dassualt Falcon 50 EX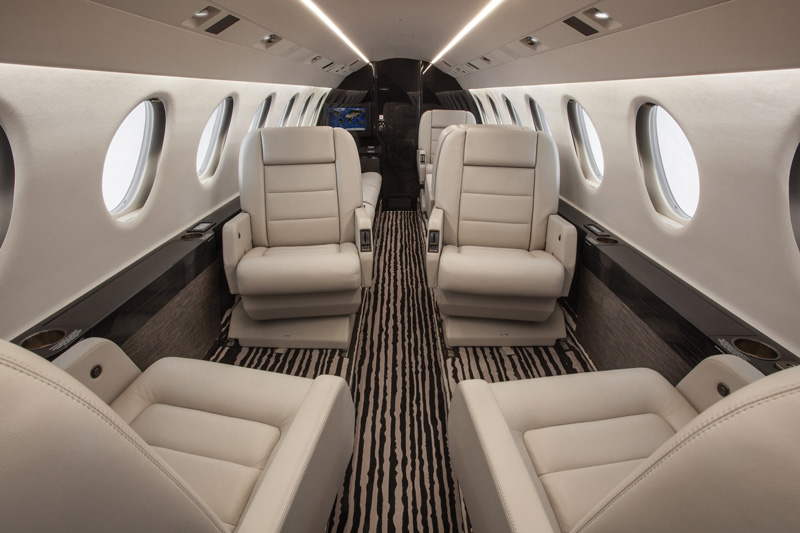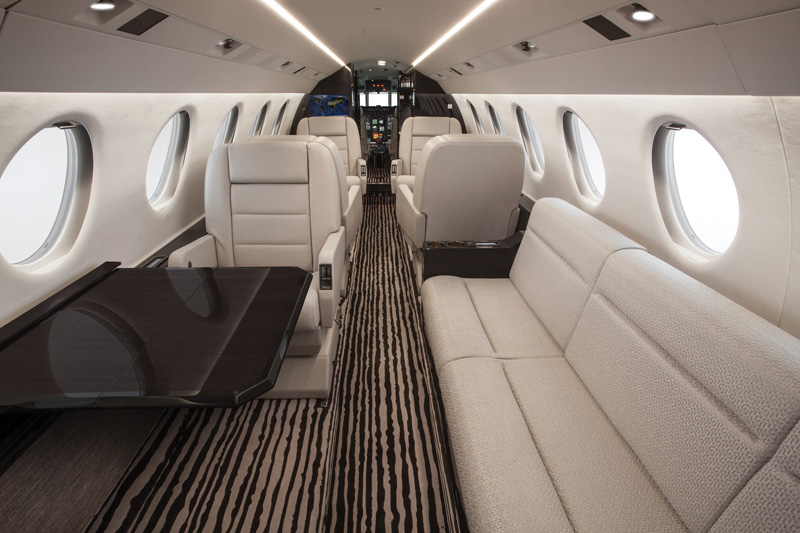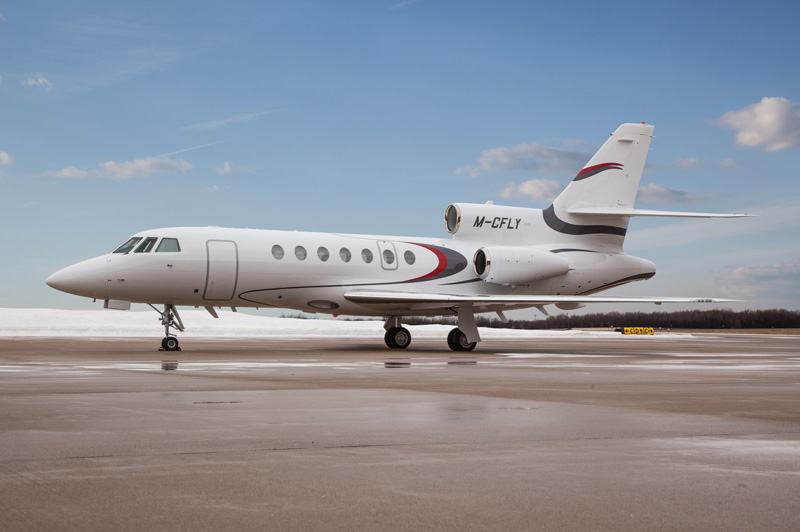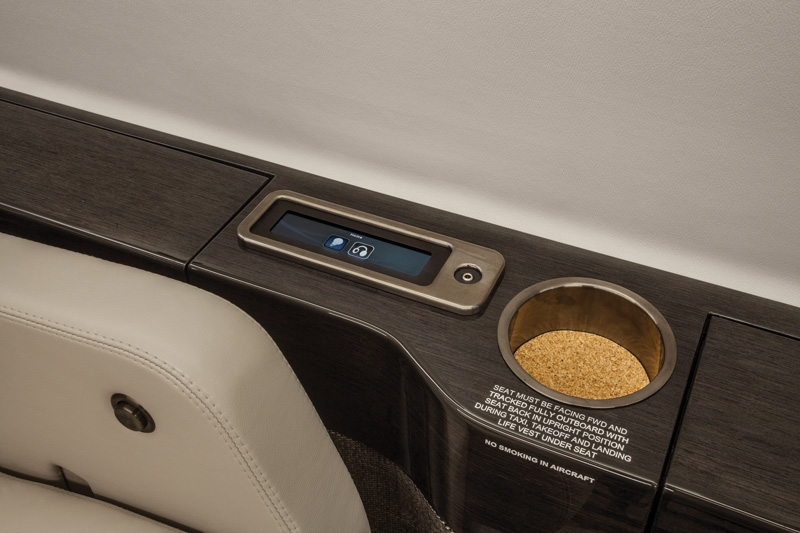 Individually Crafted with the Passenger and Pilot in Mind
Duncan Aviation works with a variety of customers. The majority use their aircraft for business purposes, some have personal aircraft and a small portion are pilots themselves. A very select group fit all three categories.
When a customer came to Duncan Aviation's Battle Creek facility with a Dassault Falcon 50EX, his mission was to leave with the best upgrades in the cabin, as well as the flight deck.
"Our customer dubbed the Falcon a Time Machine, and wanted to ensure this time saver was the most comfortable and efficient tool to get from point A to point B," says Completions Sales Rep Nate Darlington, confirming that the creative tail number M-CFLY was, in fact, a "Back to the Future" time-traveler movie reference.
After completing a pre-buy inspection through Duncan Aviation, the aircraft went directly into an airframe inspection, complete interior refurbishment, complete paint refurbishment, Cabin Management System (CMS) installation and flight deck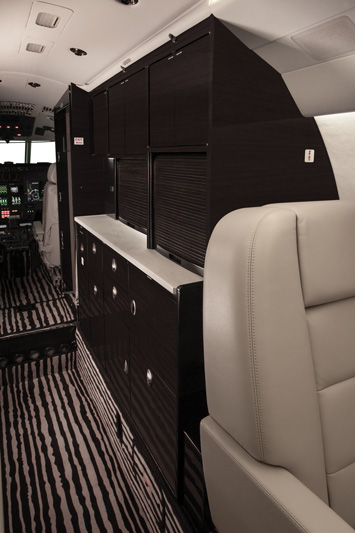 Cabin Comfort
CMS: Simple, Sleek, Superior
When Duncan Aviation's designers sit down to discuss the hopes and needs owners have for their business jets, most say they want simplicity, with a touch of elegance.
"Our customer wanted an intuitive CMS—one that would control in-flight entertainment and environmental conditions with one touch," explains Project Manager Shawn Busby.
Duncan Aviation's Avionics Installations Sales Rep Mike Morgan recommended Honeywell Aerospace's Ovation Select CMS because it met all those needs, and more.
"This CMS allows users to pull up a movie or presentation and control the lighting, seats, temperature, galley and window shades with a tap or two on a touchscreen from their seats," says Mike.
Mike says his team recommended the all-digital CMS because it's ideal for the Falcon platform.
"We've installed the Ovation CMS on other Falcon aircraft, but this was our first Falcon 50EX, joining more than 100 Ovation aircraft worldwide," says Mike.
Handcrafted Interior
The best time to upgrade a CMS is during an airframe inspection, which also happens to be an optimal time to reconsider updating the interior. This Falcon 50 received a complete interior materials refurbishment.
"From the beginning, the customer provided clear direction of what he was looking for aesthetically," explains Designer Kristen Cotugno. "Before moving to the production phase, our team put together renderings of a clean, modern interior, focusing on the high-contrast pattern in the carpet."
From that point forward, it was a matter of translating the vision into a tangible product.
"Looking at the before and after pictures, you'll see a dramatic transformation not only in the color palette, but also in the reconfiguration," says Kristen. "The interior team took conservative beige and replaced it with a sophisticated warm gray."
The creamy seats are set off by the dark wood details. The pattern in the carpeting is echoed in the more subtle sidewalls. Every material sets off another.
In addition to style updates, Duncan Aviation's engineering team swapped out two right-hand aft seats for a divan.
"This shift allowed us to relocate life rafts, which had been mounted to the aft cabin bulkheads, into the new storage area under the divan," says Kristen. "We streamlined the appearance of the cabin, making the space appear larger and feel more inviting."
Additionally, Duncan Aviation's engineering, design and cabinetry teams worked closely together, integrating two new divan armrest cabinets with some additional storage space.
A Pilot's Dream
For many aircraft owners, choosing which aircraft systems require upgrade can be a real challenge. For this operator, though, retrofitting the flightdeck with Rockwell Collins' Pro Line 21 was a no-brainer.
"As a pilot, the customer's representative knew what he wanted, and he wanted all the bells and whistles," says Mike. "The Rockwell Collins Pro Line 21 has flexible avionics system solutions, so we're able to walk through all the options with our customers and configure the flightdeck to meet their mission."
Duncan Aviation replaced the Pro Line 4 CRTs with Pro Line 21 LCDs, leaving the backbone of the original system essentially untouched—including the radios, navigation equipment, surveillance air data, FMS, TCAS and transponders.
"Rockwell Collins developed a mating wiring harness process that helps simplify the installation," says Mike. "While the large LCDs require a new instrument panel, the wiring only takes a few weeks."
This option cost the customer 30 percent of what a traditional flightdeck retrofit would, giving the pilot all the updates without exceeding the budget.
Final Touches
Finally, nothing makes an aircraft's paint look worn like a brand new interior.
Because this aircraft needed a partial paint with the tail number update, the customer also opted to have the aircraft repainted, which includes stripping, sanding, washing, priming, painting, striping and detailing.
"The customer decided on a simple, modern stripe scheme that's popular among Dassault Falcon owners," says Kristin.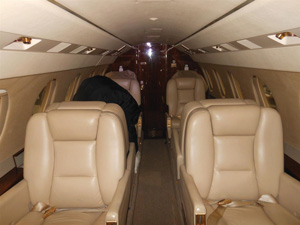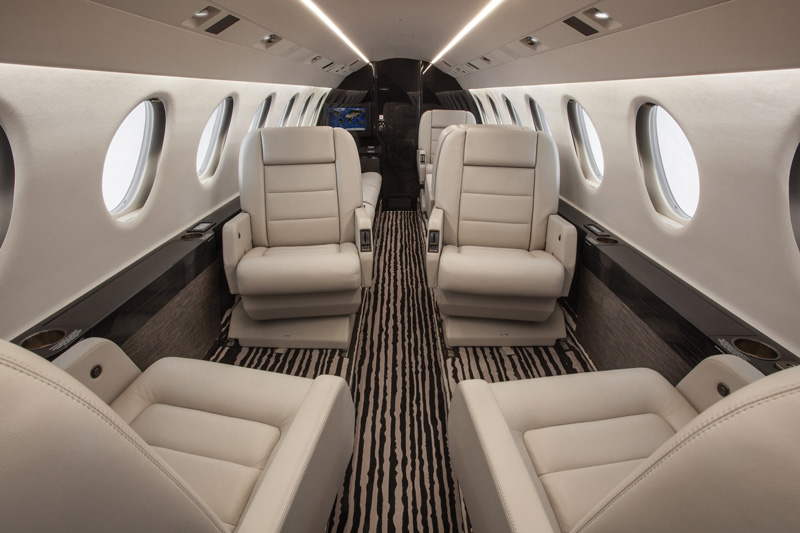 Before and After