«Spring 2015
Transforming an Embraer Legacy 600 for Embraer Executive Jets


To the average person, a 96-month Embraer Legacy 600 inspection looks a lot like organized chaos—organized being the key word.
Neatly catalogued aircraft parts surround a gutted fuselage. Airframe technicians line the interior and exterior of the aircraft, checking and testing every inch, looking for needed repairs.
Add an interior refurbishment, new paint, a Wi-Fi system installation and you'll start to understand why a project of this magnitude takes time to plan and complete.
"Upon delivery, the jet is, in many ways, new again," explains Project Manager Tracy Hein. "Every inch of that aircraft is touched by several professionals—from airframe technicians to interior install experts and paint team members. And before delivery, we go over it again, ensuring the aircraft leaves our facility as flawless as it was on its first flight." .
NBAA Display: Before, During and After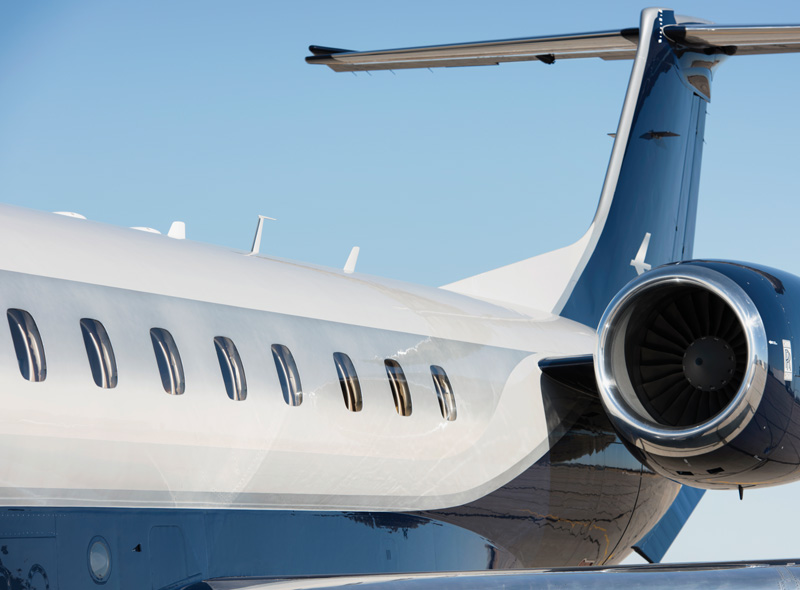 When the PreFlown Aircraft division of Embraer Executive Jets brought a 2007 Legacy 600 to Duncan Aviation's Lincoln, Nebraska, facility for a tip-to-tail refurbishment, they wanted to capture the process in a three-minute time lapse video to show potential clients what takes place during a super midsize business jet transformation. View the video at www.DuncanAviation.aero/embraer-services.
The aircraft was unveiled at NBAA's October 2014 conference in the National Aircraft Resale Association (NARA) static display. Embraer representatives opted to play the video on the aircraft's Cabin Management System, showcasing before and in-progress images inside the final product.
"Because the aircraft was going to NBAA, we absolutely had to deliver on time," says Tracy. "That meant working additional shifts and multiple shops working on the aircraft at once. At the end of the day, the extra hours were worth it. The customer had a wonderful showing and a lot of great response from conference attendees."
Custom Solutions are a Must-Have
While customers request certain modifications time after time, rarely does Duncan Aviation see two identical aircraft. Consequently, almost everything Duncan Aviation produces is a custom solution.
"We have a cabinet and upholstery shop in-house. Our talented team members take a lot of pride in their work, adding their own personal touch to every aircraft that comes into our hangar," says Interior Completions Team Leader Darren Blaser.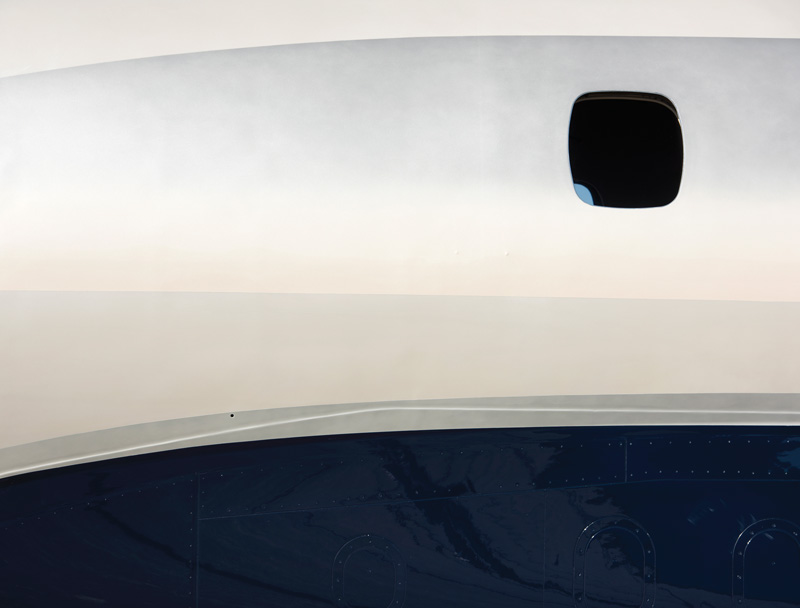 Duncan Aviation was able to add value to the project by breathing new life into some of the aircraft's existing materials, delivering a total transformation while stretching the budget a bit further.
"We took out the entire interior for the inspection, stripped everything down, cleaned it up, repaired it and recovered everything with more modern materials, giving the cabin a brand new look and feel without the price," says Darren. "The new carpet and glass racks were additional perks that really helped update the aircraft."
Spot-On Paint
Paint Team Leader Brad Sievers has seen a lot of paint schemes in his years at Duncan Aviation. While the Legacy 600 wasn't as intricate as some his team has delivered, the paint job was by no means average.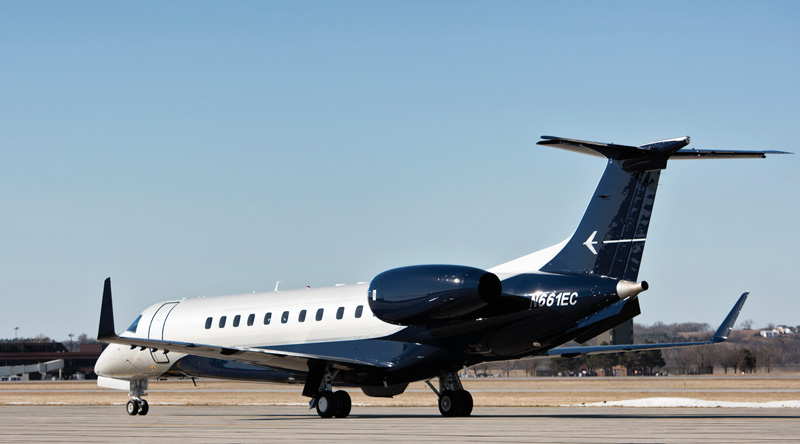 The customer wanted pearl paint with a fade. To better meet the time schedule, Duncan Aviation team members painted the aircraft backwards—meaning they started with the navy blue so they could balance the elevators. They then painted the rest of the jet.
"Pearl paint is a three-step process, and the fade takes a lot of time and skill to make it symmetrical, but we completed the scheme in the allotted two weeks. It turned out exactly as the customer hoped it would," says Brad.
Duncan Aviation, the One-Stop Shop
Duncan Aviation also has internal engineering and certification teams, as well as Organization Designation Authorization (ODA), meaning we can design modifications and installations and then approve them on behalf of the FAA. Our team of on-staff and consultant engineers, flight test pilots, and manufacturing and airworthiness inspectors are qualified under the ODA.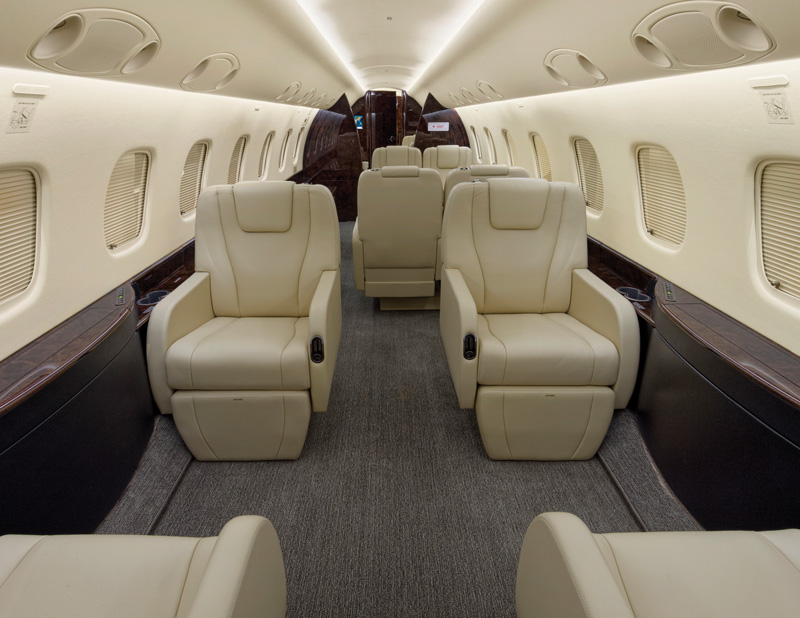 Along with the ability to approve design data, analysis and test procedures, as well as witness compliance testing, Duncan Aviation's teams can issue Supplemental Type Certificates (STCs) for interior and airframe modifications and avionics systems and system upgrades.
The Legacy 600 needed to shift its EASA certification to make it FAA compliant. During this process, Tracy relied heavily on Duncan Aviation's ODA expertise, as the aircraft needed a Certificate of Airworthiness for the United States.
"A lot of that recertification work was in the cockpit, which required box changes and rewiring," says Tracy. "Having those capabilities in-house really streamlines the process. All the teams work together to craft a plan before the aircraft even arrives, so hiccups are few and far between."
Expect the Unexpected
Embraer's PreFlown division chose to partner with Duncan Aviation for this aircraft based on their experience with past projects and deliveries. They cite Duncan Aviation team members' attention to detail, exceptional craftsmanship and ability to stay on or ahead of schedule as major factors in their decision to bring the aircraft to Duncan Aviation.
One of Duncan Aviation's time management secrets to success lies in the project manager.
"We prepped and planned, working through scheduling details as much as we could before the aircraft entered our facility," says Tracy. "Once the Legacy 600 was in-house, our teams reworked the schedule constantly to complete the refurbishment as efficiently as possible."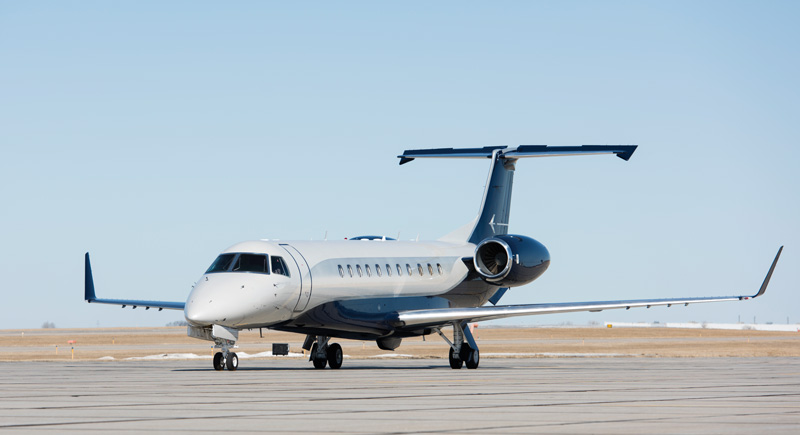 Tracy has more than a decade of experience, so she's seen it all. She says she knows to watch for challenges with every refurbishment of this magnitude. Because she anticipates them, she leaves a bit of wiggle room in the schedule, allowing her to repurpose resources as needed.
"For example, right at the end of this project, we decided we needed to replace the window seals," says Tracy.
She and her teams previously worked on an aircraft of a similar age and replaced its window seals. During this project, she thought this aircraft might have similar issues, so she planned ahead.
"We had to remove the interior, one-half at a time, replace the seals and then reinstall the interior. Fortunately, we were a bit ahead of schedule, and the teams all worked together to do their parts, remaining flexible enough to complete this project on time," says Tracy. "At the end of the day, these challenges didn't impact the out-date because we were able to foresee them and plan ahead."
Final Business Jet Touches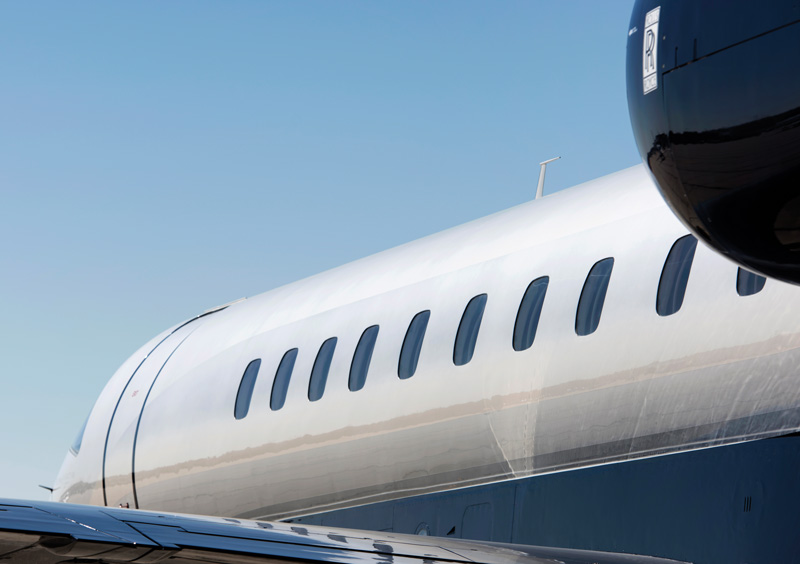 Along with its incredible physical transformation, the Legacy boasts a new Gogo Business Aviation SwiftBroadband Aviator 200 solution alongside several custom additions, creating an efficient, effective, comfortable business jet.
"It's really incredible to watch an aircraft that completed such a large workscope deliver on time and know each of us played a pivotal role in its service success," says Tracy. "And when we look back at the before photos, it's hard to imagine that this is the same aircraft we started working on a few months ago."