«Spring 2015
Value, Honesty, Integrity, Loyalty & Trust: The Core of Customer Relationships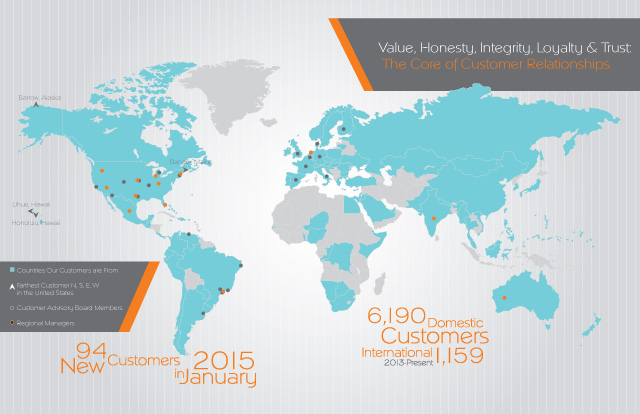 Duncan Aviation recognizes the crucial role trust plays in all relationships, but most particularly in working relationships. Regardless of whether those relationships are among co-workers or between Duncan Aviation's team members, vendors and customers, trust is the foundation upon which the business was built.
"In the 13 years I've been with Oakmont Corporation, I've always brought our aircraft to Duncan Aviation, and the No. 1 reason is the people. The character of the people who work on our make/model and their level of experience instills trust far beyond comfort. They have an unmatched knowledge base due to their many years of experience working on our make/model of aircraft."
– Erick Bonar, Director of Maintenance, Oakmont Corporation
The Golden Rule
Duncan Aviation Project Manager Tammie Burns knows that building relationships with customers is the best way to earn trust and confidence. Many of her customers are from Mexico and are not familiar with Lincoln, Nebraska, at all.
"I just put myself in my customers' shoes," says Tammie. "If I were to go to a country that I'd never visited before and didn't speak the language, I'd welcome all of the help I could get. It's all about treating our customers how we'd like to be treated."
Often, too, the project manager is the main point of contact for many customers. One Saturday before Christmas, several of Tammie's customers from Mexico had gone to the Nebraska outlet mall store located between Lincoln and Omaha. While there, they accidentally locked the keys in the trunk. The rental agreement and all of the insurance information were locked inside the car.
Tammie was one of a handful of people they knew in the area, so they called her. She made a few phone calls to find out which rental company they had gone through and what insurance coverage they had, and she called the car rental company. A representative for the rental company took the stranded shoppers a new car so they could drive back to Lincoln, and he waited at the mall for a locksmith.
"When we need refurbishments or paint, I always call Tim Klenke in Lincoln. My company and I have always valued our relationship with Duncan Aviation because of the honesty and integrity of everyone at the company. Honesty is paramount in our business. We will absolutely continue to do business with Duncan Aviation, and we've started taking our aircraft to the Battle Creek, Michigan, facility because it's so much closer for us here in Cincinnati."
– Phil Carrell, Director of Maintenance, Cin-Air
It's Personal
Lincoln Customer Service Manager Doug Alleman says building trust and confidence comes from the fun part of business–getting to know others.
"It comes from taking the time to get to know each customer as a person," says Doug. "Once you find out about their hobbies outside of work, where they like to vacation or what their spouse and kids' names are, you have a way to connect. Regardless of whether you've known someone for four or 40 years, the bonds grow and thrive."
In 2006, Vice President of Marketing and New Business Development Steve Gade proposed having customer dinners every other week at local restaurants in Lincoln and Battle Creek as a way to relax with our customers outside of work and to let customers meet and visit with one another.
"The Wednesday night customer dinners were originally planned to simply allow us to show our appreciation for those customers who were in town overseeing projects. They have since evolved to also facilitate the creation of a sense of community amongst our customers," says Steve. "I think the rule of degrees of separation in the aviation industry could be reduced to two degrees instead of six; so many of our customers share common experiences and relationships. Another unexpected benefit for us is that it provides our customers the opportunity to give our senior leadership unsolicited, casual feedback on the industry, our competition and our company."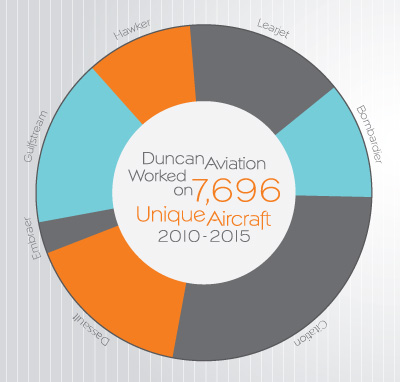 Rich Boyadjian, director of maintenance for TWC Aviation in Van Nuys, California, says, "Duncan Aviation has the customer service side of its business down. Everyone is included in the customer lunches and dinners, regardless of the cost or scope of the project. I especially like the customer dinners because they provide a way to relax away from the work day, and I get to talk with other owners and operators I'd probably never otherwise have met."
Carlos Martinez Canchola, powerplant engineer for Aerolineas Ejecutivas, in Toluca, Mexico, was at Duncan Aviation's Lincoln facility with his company's Learjet during a frigid February that produced a stretch of single-digit temperatures.
During introductions at one of the customer lunches, Carlos said, "This is my first time in Nebraska, and I do not like the cold at all. But everyone here at Duncan Aviation has made us feel warm and welcome. The people here are really very kind."
Following Advice
In an effort to build relationships, encourage open communication and foster the trust and confidence of our customers, Duncan Aviation also established a Customer Advisory Board (CAB) in 2004.
"Listening to our customers is critical to our continued success. We convened the first CAB to help us accomplish our mission of continuous improvement and customer-centered innovation," says Jeannine Falter, vice president of business development.
By working with boards in Europe, Latin America and the United States, Duncan Aviation hopes to tap into the insightful perspectives of the various members to gain a clearer understanding of business aviation and customers' expectations around the world.
"Board meetings always involve lively, intelligent discussions about pressing business aviation challenges," says Jeannine. "CAB recommendations have influenced company decisions on billing policies, customer service best practices, the use of technology and social media and many other important aspects of our business."
Tim Ganse, aviation manager at Cimarex Energy Company in Englewood, Colorado, has been a member of the Duncan Aviation CAB for two years.
"The leadership at Duncan Aviation is open to the input and suggestions from CAB members. They encourage creative thinking," says Tim. "Serving gives me the opportunity to discuss issues and items that affect operators who don't have a seat on the CAB. Trying to solve problems and help Duncan Aviation evolve to become more successful is a goal that all CAB members take very seriously."
By fostering opportunities to communicate with customers in as many settings as possible, Duncan Aviation hopes to keep the level of trust high. That, in turn, helps build the foundations of long-lasting business and personal relationships.
"I've been at Coca-Cola for 33 years and have done business with Duncan Aviation since 1984. I have a great rapport with Sharon Klose (turbine engine service sales rep). I trust what she says and feel she's completely honest with me. Because of that, I can be completely honest with her, too."
– Jerry Cohoon, Director of Maintenance, The Coca-Cola Company