Talking To The Principal About Comparing Quotes
February 2021
Evaluating the many quotes an operator receives in the course of preparing for an aircraft service event can be an overwhelming experience. Here is our best advice:
DO NOT ASSUME THE BOTTOM LINE OF THE LOWEST QUOTE INCLUDES EVERYTHING
And our second-best advice
BE MORE CONCERNED ABOUT WHAT IS NOT LISTED THAN WHAT IS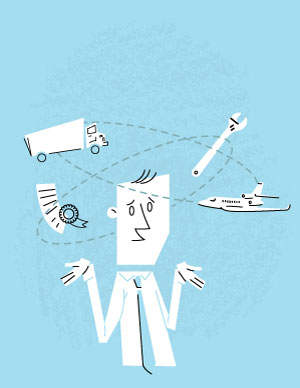 Time and time again, we have heard stories from operators who have chosen the lowest quote only to discover the out-the-door costs far exceeded the other submitted quotes. Not verifying the details of the quote can lead to items being missed or added to the invoice after the aircraft is input.
At Duncan Aviation, we feel strongly about giving our customers everything they need to make informed decisions and have written extensively about this topic.
It's More Than Numbers (Spring 2018 Duncan Debrief) gives you a list of specific questions to ask any MRO to get the proposal conversation started. If these items are not listed, ask about them. (https://www.duncanaviation.aero/debrief/2018/Spring/it-s-more-than-numbers)
For example:
Airframe: Are support services like NDT, machining services, hydrostatic testing included? Tool rental?
Avionics: Are any additional mods required to complete the workscope, like relocating antennae? Are Engineering fees included?
Paint: In addition to the base paint quote, does the proposal include painting the entry air stair? Does that include replacing the step tread or masking around it?
This is by no means an exhaustive list of questions. We encourage you to read this article to learn more about what to ask if your maintenance project has airframe, avionics, interior, engine, or landing gear requirements.
The Difference Is In The Details (Summer 2020 Duncan Debrief) provides a guide about added expenses that may show up on the final bill of other MROs included in detail on a Duncan Aviation quote. (https://www.duncanaviation.aero/debrief/2020/Summer/the-difference-is-in-the-details)
For example:
How are consumables defined and billed?
Will you be charged hangar fees?
Is Interior R&R included?
Will you be billed for Maintenance Tracking & Research?
The bottom line is if you are not getting the complete picture from a submitted quote, you should feel comfortable calling the MRO salesperson and having them walk you through it to better understand the proposal details and the ultimate workscope.
Talking To The Principal Series
The principal owner of an aircraft is often not involved in the day-to-day operations of the asset. They rely on the expertise of the Director of Maintenance and flight department to make these tactical decisions.
However, they do keep a sharp eye on the bottom line and, from time to time, may want to know more to understand better the cost of maintenance and service of their aircraft.
We've developed this series to arm you with valuable information to quickly and satisfactorily address these questions.
Previous Series Topics:
November: Talking To The Principal About Safety Management Systems
December: Talking To The Principal About Cabin Management Obsolescence
January: Talking To The Principal About COTS
If you have topics you would like to see covered in this series, please send your suggestions to Intelligence@DuncanAviation.com