Duncan Aviation Adds Engine Rapid Response West Coast Assistant Manager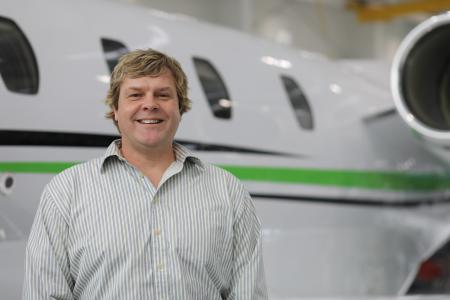 LINCOLN, NEB — In a move to support the continued growth experienced by the company's engine Rapid Response Teams (RRT), Duncan Aviation has named Shane Heier as the RRT Assistant Manager-West Coast, focusing on AOG and scheduled engine calls for the Western regions of the United States.
Heier joins Andrew Arcuri, RRT Assistant Manager-East Coast, to provide customer continuity and support to the United States and beyond for all in-the-field engine services. Together, Heier and Arcuri will continue to expand Duncan Aviation's mobile engine service presence to meet the needs of operators anywhere in the world.
In the 19 years that Heier has been with Duncan Aviation, he has continually taken on positions of greater responsibility, most recently RRT Team Leader in Seattle, Wash. "Shane has the technical knowledge, hands-on practical experience, and customer service track record necessary to bring our engine services on the West Coast to the next level," says James Prater, Manager of Duncan Aviation Engine Services. Prater adds that Heier is able to talk-the-talk with customers on issues that concern them, while providing excellent customer service and follow-through. "He understands that Duncan Aviation RRT is more than just an engine shop supporting customers in one region. We are here to support any customer with all of their needs, wherever that happens to be."
Heier has already been traveling with Duncan Aviation's Regional Managers along the West Coast, discussing how the RRT is able to fully support the engine platforms that customers operate every day. His message is to not only raise awareness of available engine services, but to raise customers' expectations about the level of service they can expect to receive.
"My message to operators is that no matter where they are or when the need arises, we will answer the call and deliver the highest level of professional support and experience," Heier says. "The service is the same as they would receive through any of Duncan Aviation's service facilities."
Shane Heier can be reached at Shane.Heier@DuncanAviation.com or +1 206.375.4454.
Growth Opportunities
Starting with on-the-road AOG engine services near the end of 2000, Duncan Aviation's engine Rapid Response network now has more than 35 engine team members located at 17 launch sites. It is the largest independent mobile engine services network in existence. The team has experienced rapid growth over the last three years and shows no signs of slowing.
"We are looking for qualified individuals to fill 10 engine technician positions currently open," says Prater. "Over the next three years, we will be expanding our reach with new locations in areas of the country we already frequently travel."
About Duncan Aviation
Duncan Aviation is an aircraft service provider supporting the aviation needs of business aircraft operators, government agencies, and other aircraft service providers. Services include major and minor airframe inspections, engine maintenance, major retrofits for cabin and cockpit avionics systems, full paint and interior services, engineering and certification services, fabrication and manufacturing services, and preowned aircraft sales and acquisitions. Duncan Aviation also has international aircraft components solutions experts available 24/7/365 at +1 402.475.4125 who can handle any aircraft system problem with immediate exchanges, rotables, loaners or avionics/instrument/accessory repairs and overhauls. Complete service facilities are located in Battle Creek, Michigan; Lincoln, Nebraska; and Provo, Utah. We also have dozens of other facilities strategically located throughout the United States to provide customers with scheduled regional support and the quickest response possible to avionics, engine and airframe Aircraft On Ground (AOG) situations.
For more information about any of Duncan Aviation's services, call +1 402.475.2611 or visit https://www.DuncanAviation.aero/services