Duncan Aviation CJ3 Pro Line Fusion® Integrated Avionics Upgrade Program in Full Swing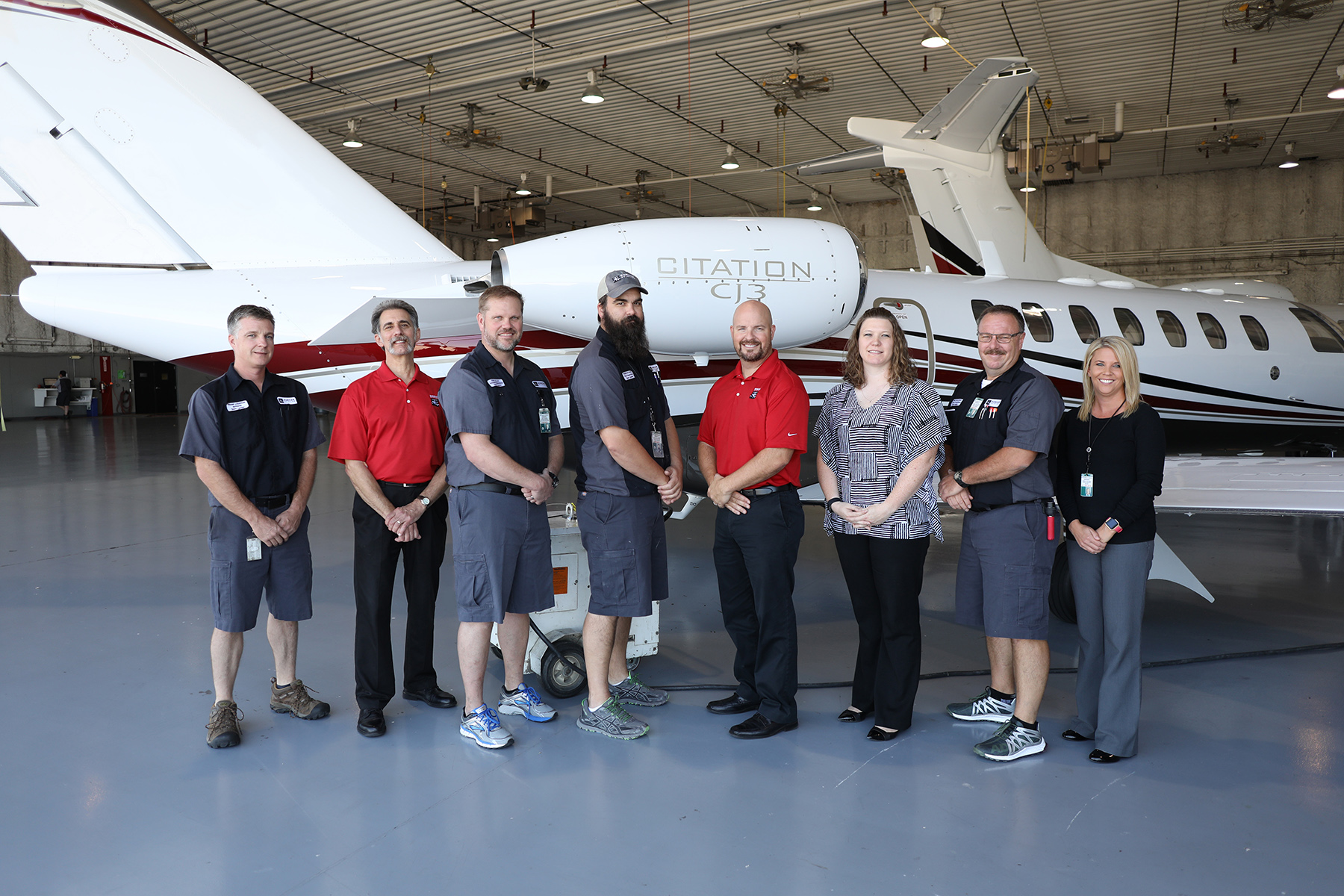 LINCOLN, NEB — Since Duncan Aviation delivered the first Citation CJ3 aircraft equipped with the Rockwell Collins Pro Line Fusion® integrated avionics upgrade in April, the company has been working to complete the flight deck upgrade for other excited CJ3 owners.
Two additional CJ3 aircraft received the upgrade at Duncan Aviation this summer and a fourth just delivered ahead of schedule. Duncan Aviation has 17 additional CJ3 aircraft scheduled for the upgrade over the next 18 months, and will be performing the installations at its main facilities in Battle Creek, Michigan, and Lincoln, Nebraska, and at select satellite avionics locations in 2018.
"The customers who have received the upgrade tell us that they love their flying experiences and rave about the system and its capabilities," says Jeff Simmons, Duncan Aviation avionics sales representative. "One is even making his aircraft available for private demonstrations at the upcoming 2017 CitationJet Pilots Annual Convention to be held October 4-7 in Phoenix, Arizona. Interested operators who wish to see the impressive flight deck upgrade can make an appointment. They will also see first-hand Duncan Aviation's beautiful interior and paint completions."
Along with being certified WAAS/LPV, the baseline Pro Line Fusion upgrade meets the current 2020 mandate for ADS-B, as well as giving a clearer path for future mandates. The Pro Line Fusion upgrade replaces the factory-installed portrait displays with larger 14.1-inch landscape touchscreen primary flight displays. The new system includes intuitive, touch-interactive maps, and easy-to-use icons, giving the pilot the ability to control items on the screen through touch as well as through two new cursor control panels and a new QWERTY keyboard, which replaces the current FMS CDU mounted in the center pedestal.
Contact Jeff Simmons today at 402.470.4517 or Jeff.Simmons@DuncanAviation.com to schedule your tour of the upgraded CJ3 during this year's event.
To see more information about the system and to see installation progress of the first CJ3 Pro Line Fusion integrated avionics upgrade, visit www.DuncanAviation.aero/cj3prolinefusion.
In addition to installing the Pro Line Fusion integrated avionics upgrade, Duncan Aviation gives CJ3 operators the option to take advantage of the aircraft's downtime and receive new paint, a new interior or other avionics upgrades and options.
Duncan Aviation has access to or holds 37 FAA-approved solutions for ADS-B, which allows the company to perform upgrades on more than 100 aircraft models. In addition, Duncan Aviation is the only Rockwell Collins-authorized facility that can perform repairs and upgrades to the TDR-94 and TDR-94D transponders required to comply with the ADS-B mandate. Duncan Aviation also holds or has access to FANS solutions for 24 aircraft models. As needed, Duncan Aviation plans to seek foreign validations for the NextGen STC solutions the company holds. Visit the Duncan Aviation NextGen landing page at www.DuncanAviation.aero/nextgen to see the mandate deadlines and a searchable database that lists STCs available by aircraft make/model.
About Duncan Aviation
Duncan Aviation is an aircraft service provider supporting the aviation needs of business aircraft operators, government agencies, and other aircraft service providers. Services include major and minor airframe inspections, engine maintenance, major retrofits for cabin and cockpit avionics systems, full paint and interior services, engineering and certification services, fabrication and manufacturing services, and preowned aircraft sales and acquisitions. Duncan Aviation also has international aircraft components solutions experts available 24/7/365 at +1 402.475.4125 who can handle any aircraft system problem with immediate exchanges, rotables, loaners or avionics/instrument/accessory repairs and overhauls. Complete service facilities are located in Battle Creek, Michigan; Lincoln, Nebraska; and Provo, Utah. We also have dozens of other facilities strategically located throughout the United States to provide customers with scheduled regional support and the quickest response possible to avionics, engine and airframe Aircraft On Ground (AOG) situations.
For more information about any of Duncan Aviation's services, call +1 402.475.2611 or visit https://www.DuncanAviation.aero/services