Duncan Aviation is Open and Supporting Customers During the COVID-19 Pandemic Response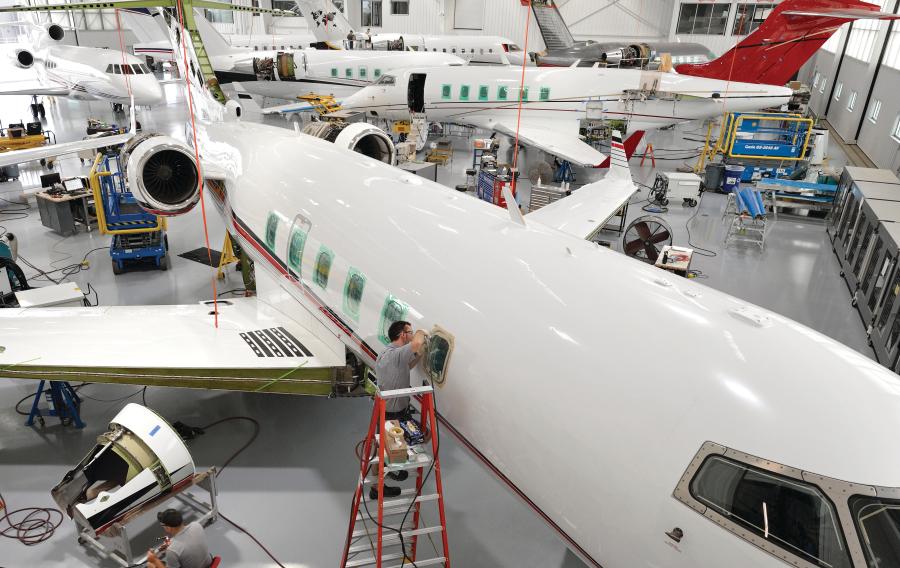 LINCOLN, NEB — Duncan Aviation cares deeply about our customers and the communities in which we conduct business. By working together as the COVID-19 situation continues to evolve, we are confident that we can keep our team members, partners, customers, and their families and assets safe and protected. What's more, we can help our customers so they will be able to use their assets to their full potential when they need them, both now and in the near future.
To that end, Duncan Aviation is OPEN and CONTINUING TO SERVE our customers through this crisis. Our full staff continues to work multiple shifts at all of our facilities, including our three full-service MRO locations, all of our avionics satellite locations, and all of our engine Rapid Response Team launch locations.
If you are not flying your aircraft, it is a good time to consider completing upcoming maintenance requirements or taking care of paint, interior or modifications projects. This will ensure your aircraft is ready to meet your company's future needs.
In addition, we have the ability to get you home utilizing Duncan Aviation's sterilized Part 135 aircraft if you prefer to not utilize commercial carriers during this time.
We are taking recommended precautions to minimize the risk of potential COVID-19 spread and have processes in place to disinfect your aircraft interior upon arrival at our facility and again before delivery and departure. To learn more, watch a video here: www.duncanaviation.aero/videos/duncan-aviation-aircraft-disinfection-service
Furthermore, we have implemented new policies to maintain a safe and healthy environment for our team members and guests. These include things like restrictive travel policies, work-from-home initiatives, and a visitor questionnaire that all of our guests will receive prior to arrival. The questionnaire includes a simple set of questions that will help our teams assess any possible limitations we may need to implement for the individuals who accompany an aircraft and desire access to our facilities and people. While we appreciate having customers with us on-site and consider them a part of our extended team, it is vitally important to ensure a safe working environment for our teams so they can stay focused on delivering high-quality products on time. That means that when appropriate, we will work with customers to help them feel comfortable using our industry-leading myDuncan project management tool and overseeing our work remotely rather than staying on-site with the aircraft.
When coupled with strategies for sanitizing our facilities and ensuring team members are following social distancing policies, we believe we can maintain a safe and healthy environment for our team members and guests during this time. We are here to support your needs.
About Duncan Aviation
Duncan Aviation is an aircraft service provider supporting the aviation needs of business aircraft operators, government agencies, and other aircraft service providers. Services include major and minor airframe inspections, engine maintenance, major retrofits for cabin and cockpit avionics systems, full paint and interior services, engineering and certification services, fabrication and manufacturing services, and preowned aircraft sales and acquisitions. Duncan Aviation also has international aircraft components solutions experts available 24/7/365 at +1 402.475.4125 who can handle any aircraft system problem with immediate exchanges, rotables, loaners or avionics/instrument/accessory repairs and overhauls. Complete service facilities are located in Battle Creek, Michigan; Lincoln, Nebraska; and Provo, Utah. We also have dozens of other facilities strategically located throughout the United States to provide customers with scheduled regional support and the quickest response possible to avionics, engine and airframe Aircraft On Ground (AOG) situations.
For more information about any of Duncan Aviation's services, call +1 402.475.2611 or visit https://www.DuncanAviation.aero/services