Duncan Aviation's David Moll Receives FAA Wright Brothers Master Pilot Award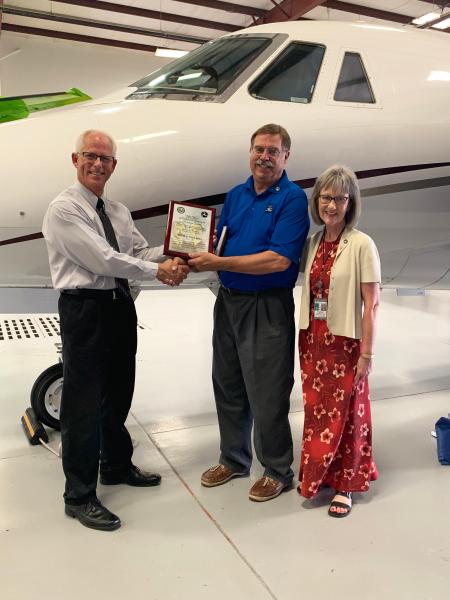 Duncan Aviation is pleased to announce that one of its pilots, David Moll, has earned The Wright Brothers Master Pilot Award from the FAA. From flying some of the most complex corporate business jets to doing aerobatics in the Pitts, Moll says in his 51 years of flying that he has experienced the best career ever imagined.
The Wright Brothers Master Pilot Award is the most prestigious award the FAA issues to pilots certified under Title 14 of the Code of Regulations (14 CFR) part 61. This award recognizes individuals who have exhibited professionalism, skill, and aviation expertise for at least 50 years while piloting aircraft as "Master Pilots."
When asked what made him want to start flying, Moll said: "My father had an airplane, and at 16 you wanted to try as many things as you can. We didn't have cell phones or iPads, you actually had to go out and do something."
Moll first soloed on June 17, 1968, three days after his 16th birthday. In the fall of 1970, he enrolled in the aviation program at Mankato State College (MSC) in Mankato, Minnesota. In 1971, he enrolled in the MSC Flight School and dove head-first into aviation. 51 years later, Moll has logged a total of 11,600 hours of flight time.
Moll started at Duncan Aviation in September of 1976 after earning his Learjet type rating in Lincoln, Nebraska, at the local FAA office. While at Duncan Aviation, he received a wide variety of experience. Some of the aircraft he flew included the following: a Cessna 206, a Mooney, an Aztec, a Baron 55 and 58, a Bonanza, the Cessna 310, 402, 414, and 421, and the Learjet 23, 24, 25, and 35. Moll even flew President Carter's mother, Lillian Carter, during the last week of the Carter campaign in 1976.
In 1977, Moll was selected to captain a Learjet 35 on lease Duncan Aviation had with Northrop Aircraft Corporation to support their "Peace Hawk" program in Dharan, Saudi Arabia. This included flying five days a week throughout the Kingdom, with occasional flights to Athens, Greece, and Geneva, Switzerland.
"One of the highlights of this position was flying the Learjet 35 from Lincoln to Saudi Arabia with Harry O'Conner, the Corporate Chief Pilot for Northrop, as my co-pilot," Moll says. "His knowledge of flight operations outside the U.S. was phenomenal, and quite a learning experience for a 26-year-old."
In 1978, Moll left Duncan Aviation to pursue his flying career with other companies and in other locations. His experiences included a Chief Pilot's position in Atlanta, Georgia, being President of both the Denver Aerobatic Club and the Midwest Aerobatic Club, and flying the Governor of Nebraska. He always kept ties with Duncan Aviation, and brought many aircraft to the company as a customer. He also married a long-time Duncan Aviation team member, Nancy McKinney, in 2004. Then in February 2019, Duncan Aviation's Director of Flight Operations Lou Gray hired Moll to fly a Learjet 31A that the company manages.
"I met Dave 15 or more years ago, and he was as relaxed and laid back as he is now," Gray says. "Dave has been a great fit in our department not only supporting the flight line but offering support and assistance to our scheduling and maintenance staff. We are glad he is back on the Duncan Aviation team."
Moll has fastidious attention to detail, and is dedicated to professionalism and safety, Gray says. His dedication and moral ability to take the high ground inevitably causes him to stand out and earn the respect of his colleagues.
When asked about his plans for the future, Moll replied, "I will continue to fly until it is no longer enjoyable. Work is supposed to be fun, and when that stops, you get out of the cockpit."
In 2008, another Duncan Aviation pilot, Chairman Emeritus Robert Duncan, also received the Wright Brothers Master Pilot Award.
About Duncan Aviation
Duncan Aviation is an aircraft service provider supporting the aviation needs of business aircraft operators, government agencies, and other aircraft service providers. Services include major and minor airframe inspections, engine maintenance, major retrofits for cabin and cockpit avionics systems, full paint and interior services, engineering and certification services, fabrication and manufacturing services, and preowned aircraft sales and acquisitions. Duncan Aviation also has international aircraft components solutions experts available 24/7/365 at +1 402.475.4125 who can handle any aircraft system problem with immediate exchanges, rotables, loaners or avionics/instrument/accessory repairs and overhauls. Complete service facilities are located in Battle Creek, Michigan; Lincoln, Nebraska; and Provo, Utah. We also have dozens of other facilities strategically located throughout the United States to provide customers with scheduled regional support and the quickest response possible to avionics, engine and airframe Aircraft On Ground (AOG) situations.
For more information about any of Duncan Aviation's services, call +1 402.475.2611 or visit https://www.DuncanAviation.aero/services