Duncan Aviation's Leo Sawatzki Receives Charles Taylor Master Mechanic Award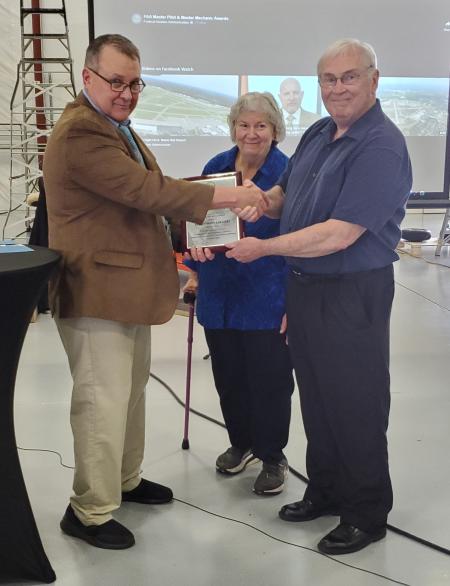 LINCOLN, NEB. — During a recent reception at Duncan Aviation in Lincoln, Neb., Leo Sawatzki, retired Manager of Engine Acquisition and Sales and a long-time aircraft technician with Duncan Aviation, was honored as a recipient of the Charles Taylor Master Mechanic Award.
The Charles Taylor Master Mechanic Award is named in honor of Charles Taylor, the first aviation mechanic in powered flight. Taylor served as the Wright brothers' mechanic and is credited with designing and building the engine for their first successful aircraft. The award recognizes the lifetime accomplishments of senior mechanics.
Award recipients are required to have worked for 50 years in an aviation maintenance career. They must have been an FAA-certificated mechanic or repairman working on N-registered aircraft maintained under the federal aviation regulations for a minimum of 30 of the 50 years required.
Sawatzki was awarded this recognition in 2020, but the pandemic delayed its presentation. During a reception held at Duncan Aviation, Leo and his wife Linda were honored and presented the award by Owen Grimm, DOT/FAA FAASTeam Program Manager.
Sawatzki has enjoyed a 50-year career in aviation, 32 of those years dedicated to serving at Duncan Aviation. He began his aviation career after graduating from Westside High School in Omaha, Neb., and joined the US Navy during the Vietnam War.
"I had no idea what I wanted to do when I joined the Navy," said Sawatzki. That was until the age of 19 when he sat in the cockpit of an F4 Phantom and heard the roar of the engines for the very first time. "It was the most awesome thing I'd ever experienced—the power and smell of the engine burn. I've never lost the passion for jet engines."
In 1973, Sawatzki stepped off the Navy ship USS Constellation and signed on as a jet engine mechanic with Duncan Aviation in Lincoln. At that time, there were nine mechanics in the entire company. All nine did airframe work, engine work, and even painted the aircraft. They worked on Learjets, Citations, King Airs, Barons, and Bonanzas.
Over the years, Sawatzki was promoted to Lead Mechanic, Service Manager, and Supervisor when the first Duncan Aviation Engine Shop was opened.
"We wouldn't have an engine shop if it weren't for Leo," said Doug Alleman, Vice President of Customer Service. "He initiated a letter-writing campaign that resulted in our engine shop becoming established and authorized."
Duncan Aviation Chairman Todd Duncan expressed his appreciation for the experience and wisdom Sawatzki imparted during his tenure at Duncan Aviation. "We grew and flourished because of people like Leo and those who came before and after him."
About Duncan Aviation
Duncan Aviation is an aircraft service provider supporting the aviation needs of business aircraft operators, government agencies, and other aircraft service providers. Services include major and minor airframe inspections, engine maintenance, major retrofits for cabin and cockpit avionics systems, full paint and interior services, engineering and certification services, fabrication and manufacturing services, and preowned aircraft sales and acquisitions. Duncan Aviation also has international aircraft components solutions experts available 24/7/365 at +1 402.475.4125 who can handle any aircraft system problem with immediate exchanges, rotables, loaners or avionics/instrument/accessory repairs and overhauls. Complete service facilities are located in Battle Creek, Michigan; Lincoln, Nebraska; and Provo, Utah. We also have dozens of other facilities strategically located throughout the United States to provide customers with scheduled regional support and the quickest response possible to avionics, engine and airframe Aircraft On Ground (AOG) situations.
For more information about any of Duncan Aviation's services, call +1 402.475.2611 or visit https://www.DuncanAviation.aero/services