Stop by Duncan Aviation's Virtual Booth at NBAA's VBACE (Virtual Business Aviation Convention & Exhibition)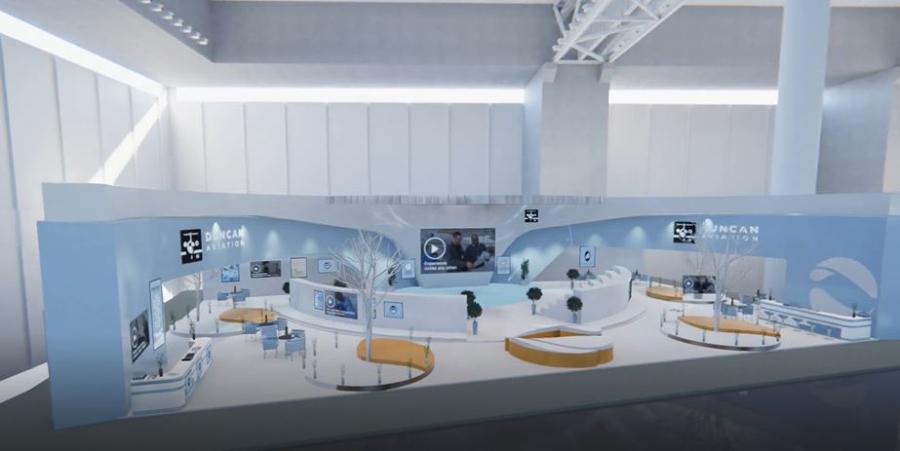 LINCOLN, NEB — Duncan Aviation is exhibiting at the National Business Aviation Association's (NBAA) first ever Virtual Business Aviation Convention & Exhibition (VBACE) on Dec. 2-3 and our representatives are looking forward to connecting with aircraft operators, existing customers, and industry partners.
"We look forward to NBAA's BACE event every fall because it is a great way to strengthen relationships with people we have talked with and worked with throughout the year," says Todd Duncan, Duncan Aviation's Chairman. "It is also a great way to introduce those unfamiliar with Duncan Aviation to our services and our culture. While that is a tall order for a virtual show, we really miss gathering at industry events and are looking forward to experiencing traditional show elements in a new way. We are excited to share the online experience with other business aviation professionals."
Duncan Aviation's booth will provide those who "stop by" an opportunity to access our vast video, podcast and webinar resources, learn more about the nose-to-tail aircraft services we provide, and quickly contact our technical and sales representatives.
Although Duncan Aviation representatives will be available throughout the two-day event, we have set specific times for the major airframes on which we work. Technical representatives from all areas of service for that airframe will be available for immediate responses. Here is the set airframe schedule for the show:
Wednesday, Dec. 2, 2020, EST
9-11 am: Learjet Representatives
11 am–1 pm: Falcon Representatives
1-3 pm: Challenger/Global Representatives
3-5 pm: G100/G200 Representatives
Thursday, Dec. 3, 2020, EST
9-11 am: Hawker Representatives
11 am-1 pm: Gulfstream Representatives
1-3 pm: Gulfstream Representatives
3-5 pm: Embraer Representatives
In addition, those who stop by the booth and find our registration spot will be eligible for prize drawings. We will give away a patriotic designed hydrodipped RTIC tumbler each morning and afternoon. These tumblers were created in Duncan Aviation's Finish Shop by the same teams that developed our hydrodipping finish options for aircraft cabinetry, sinks and other interior surfaces. Each day, one person will win Bose sound-cancelling headphones.
If sustainability interests you, you can hear about Duncan Aviation's efforts in this area in the 4-5 pm Thursday educational session entitled, "Next Steps to Achieving Sustainability."
Stop by our booth and/or the sustainability session to learn more about us… or just to say hi. We'd love the opportunity to connect.
VBACE registration is free for NBAA members. To register for VBACE, visit the NBAA website here: https://nbaa.org/professional-development/on-demand-education/nbaa-go/2020-vbace/
About Duncan Aviation
Duncan Aviation is an aircraft service provider supporting the aviation needs of business aircraft operators, government agencies, and other aircraft service providers. Services include major and minor airframe inspections, engine maintenance, major retrofits for cabin and cockpit avionics systems, full paint and interior services, engineering and certification services, fabrication and manufacturing services, and preowned aircraft sales and acquisitions. Duncan Aviation also has international aircraft components solutions experts available 24/7/365 at +1 402.475.4125 who can handle any aircraft system problem with immediate exchanges, rotables, loaners or avionics/instrument/accessory repairs and overhauls. Complete service facilities are located in Battle Creek, Michigan; Lincoln, Nebraska; and Provo, Utah. We also have dozens of other facilities strategically located throughout the United States to provide customers with scheduled regional support and the quickest response possible to avionics, engine and airframe Aircraft On Ground (AOG) situations.
For more information about any of Duncan Aviation's services, call +1 402.475.2611 or visit https://www.DuncanAviation.aero/services