«Summer 2007
Astra/Westwind Summer 2007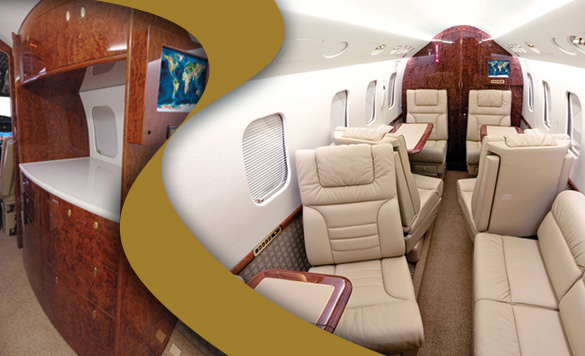 Corbin's Astra 1125 includes a Rockwell Collins Pro Line 21 IDS avionics package and a G100 interior kit featuring a modular headliner, PSU and window panel system. Take a closer look at Corbin's Astra by taking the 360° Virtual Tour - Astra 1125.
Astrae Completions
Part 2 of A 3-Part Series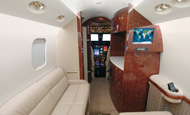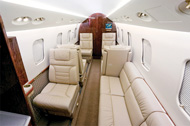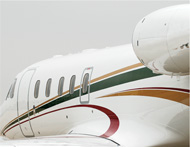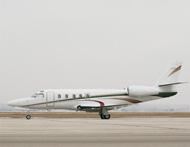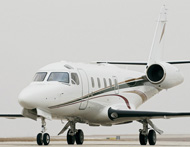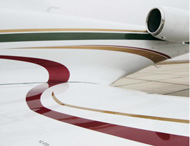 Owner/operator Corbin McNeill is anxious to enjoy his newly refurbished Astrae in comfort and style with added safety for his crew and passengers.
Form and function dictated Corbin's Astrae refurbishment. The interior has custom enhancements to fit the needs of Corbin, his crew and passengers. For example, the galley is tailored with the most important items reachable from the cockpit so the pilot and co-pilot don't need to leave the controls.
The G100 interior uses a modular headliner, PSU and window panel system resulting in a sleeker, more maintenance-friendly design. To accent the design, dependable and controlled LED lighting systems were installed for the reading, upwash and downwash lights.
Other style and convenience features are the geared table mechanisms and manual, pleated window shades. These are durable, easy to use and deploy evenly and effortlessly. The new entertainment system and integrated switching packages are also both attractive and functional. And stylish touch latches on the new cabinetry look elegant and perform flawlessly.
The exterior paint scheme has stripes that transition from the fuselage to the wing across the large faring, relating what is typically white to the rest of the aircraft. Corbin likes the design so much he had hats and jackets embroidered with the aircraft's image!
Astrae requirements reached:

Avionics Upgrade: Rockwell Collins Pro Line 21 IDS
Interior: G100 Interior Kit
Custom Paint Design

Added features:

New de-icing boots
New 77 cubic feet O2 bottle
New Collins AHARS/RTUs
Iridium telephone system
Flight Deck Update
The Astrae flight deck is stalled and awating FAA certification. Look for the completed Astrae in the upcoming Duncan Debrief. Please contact Steve Elofson at 800.228.4277 or Dennis DeCook at 800.525.2376 for more information on the e program or other cockpit needs.
When form and function dictate a change for your aircraft, give Duncan Aviation a call. The experience, skills and knowledge of our Astra team is unmatched. Get completions details from Brian Husa at 800.228.4277 ext. 1563 or George Bajo at 800.525.2376 ext. 8462.