«Summer 2007
Citation Summer 2007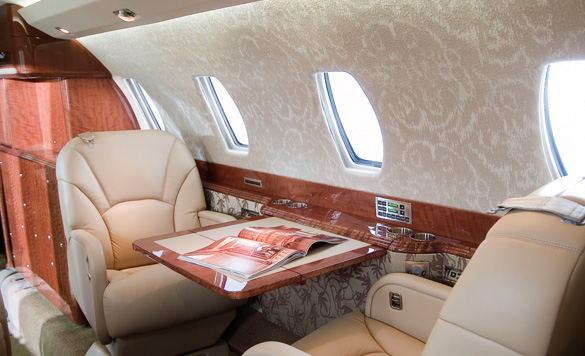 New LED lighting brightens the Ultralether headliner and warms the natural and organic feel of the upper sidewall fabric. Accented with Satin Nickel plating, the quarter cut cabinetry features figured makore in a high-gloss finish. The patterened fabric of the lower sidewalls adds and luxurious appeal.
All This In 35 Days?
Citation Experience Translates to Shorter Downtimes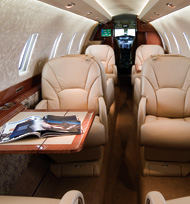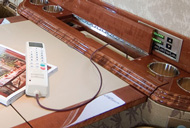 Duncan Aviation's Citation 750 expertise pays off in downtime. With more than forty 750s under our belt, we pass on what we've learned in downtime savings to customers.
In only 35 calendar days, this 750 was upgraded with some of the most-requested items from jet owners — a totally refurbished interior with premium materials, all new figured makore cabinetry veneer, new lighting and a new phone system.
"Having a customer who is very responsive and excited about the project generates contagious positive energy among the team that helped move the project along smoothly," said Industrial Designer Natalie Hosfeld.
The existing cabin, galley and vanity upwash/downwash lighting was replaced with new LED lighting and power supplies. LED lighting is the upgrade of choice for luxury jet owners. The light is warmer, more energy efficient and
maintenance friendly compared to fluorescent lighting. An LED bulb will last 10,000 hours compared to just a few hundred hours for a fluorescent bulb.
The existing Magnastar C2000 phone system was upgraded to the AirCell Axxess system. This innovative system incorporates Iridium Satcom and complex PBX functionality. CEPT-E1 Satcom interface, wi-fi connectivity and domestic broadband data services are planned upgrades to this unit.
"I am personally thrilled to send off an aircraft with such elegant materials and hope the customer's excitement continues to escalate while enjoying the new interior," said Natalie.