«Summer 2007
Duncan Designers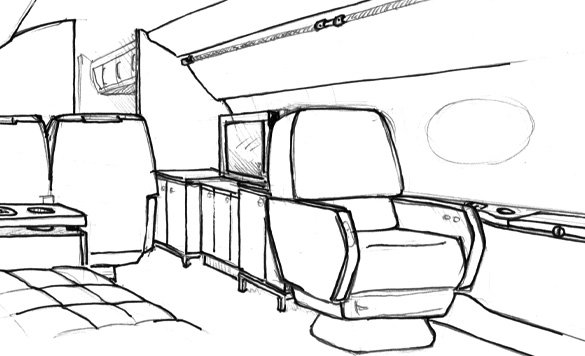 Creativity, Originality, Artistry
The Human Elements of Design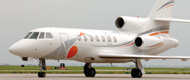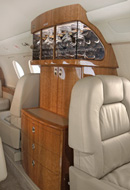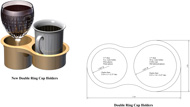 Duncan Aviation has always been a leading-edge company. Recognized for our unique culture and passion for excellence, Duncan Aviation has been setting trends for more than 50 years. A large part of our success is due to the people who make up the Duncan Aviation Family. Over the years, customers have developed deep relationships with Duncan Aviation Technicians, Project Managers, Sales Team Members and, of course, Designers.
The Duncan Aviation Design Department was born in 1981 with one Designer. At the time, the main focus was interior and paint design for Learjets and all design was done by hand. Paint illustrations were drawn with s-curves and colored pencils. There were no "simple changes" to paint schemes. In fact, each hand-drawn scheme could take a week or more to complete. Seat designs and cabinet drawings were also done by hand using the tools of the trade – T-squares, 45-degree angles and mechanical pencils.
More designers were added year by year as Duncan Aviation grew and capabilities expanded. The tools have changed as well. Pencils and s-curves have been replaced with high-end computers equipped with sophisticated software.
Even with these tools, the detail required for a paint scheme, cabinet or seat design is amazing. In many cases, these designs can take several hours, even days, to complete. One thing has not changed, though. The creativity, originality and artistry required to be an aviation designer speaks to the irreplaceable human element—the fundamentals that are innate to great designers, the skills that lead to turning an aircraft into a work of art.
Today, the Design Team is made up of nine talented Design Professionals with more than fifty years of combined experience. They work with customers to create interior and exterior designs for Citations, Falcons, Gulfstreams, Learjets, Challengers, Astras, Westwinds, Embraers and more.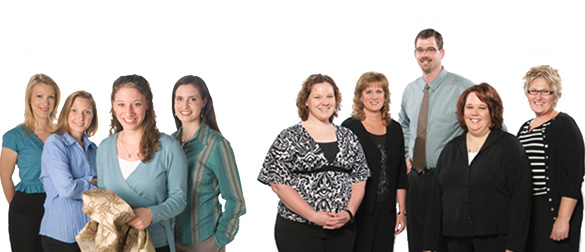 The Duncan Design Team
For Duncan Aviation Designers, every day is something new. Today may be finalizing a paint scheme, checking a stripe layout as it is applied to an aircraft, meeting with a fabric vendor to see the new line, releasing and verifying approved materials, and updating a customer. Tomorrow may bring working on galley drawings and layouts, inspecting a newly installed interior, and shopping for faucets. One thing is always sure, a Designer is never bored – every day brings new opportunities to use their creativity, originality and artistry.
Tiffany Griffin

- Aircraft Completions Designer, Allied Member ASID

With a Bachelor of Science in Interior Design from the University of Nebraska's College of Architecture, Tiffany enjoys applying architectural concepts to aircraft interiors. Her background of space planning has translated very well to the aviation industry.
"My favorite aspects of being a designer for Duncan Aviation are working with a variety of customers from around the world, creating new designs and renderings in AutoCAD and Corel Draw, and discovering new trends and processes in the design trade."
Kristen Cotugno

- Industrial Designer

Kristen began her education at The Massachusetts College of Art and later transferred to the Industrial Design department at Western Michigan University, where she developed technical knowledge in materials and manufacturing processes, working on projects ranging from small children's toys to large pontoon boats. During her time with Duncan Aviation, Kristen has worked on many diverse projects.
"What I like most about my job is the constant variety. One minute I can be pulling together fabric groupings, the next minute I will be working with the shops about a construction issue, and the next minute I can be on a test flight squawking a completed interior. One of the most exciting aspects of my work is when a project delivers. It's a great place to be when you can say you saw a project through from start to finish."
Patty Simon

- Industrial Designer

Patty graduated from Western Michigan University with a Bachelor of Science in Industrial Design. In school, her focus was product design. This focus gave her a solid foundation of how to create products that have a great form and function intuitively.
"The best part of my work here at Duncan Aviation is working with the great variety of people. As designers, we have a wonderful opportunity to learn not only about business aviation, but also about people. My greatest challenge is coordinating all the diverse requests from owners, pilots, maintenance directors and others and making them literally fly."
Natalie graduated Cum Laude from The Ohio State University with a Bachelors degree in the Science of Industrial Design. Prior to Duncan Aviation, Natalie was employed at Ethicon Endo-Surgeries where she designed non-invasive surgical equipment. Natalie is enjoying the application of her design skills to aircraft and really enjoys her daily interaction with Duncan Aviation customers.
"I love that industrial design is applicable to many various industries and that I am able to transfer my skills from surgical equipment to aviation design. I thoroughly enjoy the creative aspect of the job such as designing paint schemes, choosing fabric designs and designing usability, functionality, and esthetics of seating and cabinetry."
Shelley Owens

- Design Drafter
Shelley brings Architectural and Drafting experience to the team. A graduate of SCC Milford, with a degree in Architectural Technology, she has extensive experience in commercial and new home construction. This background gives her a unique perspective on aviation design.
"I really enjoy documenting aircraft layout and any modifications and doing research to support the design process. I have learned so much since coming to Duncan Aviation, and am looking forward to discovering more in this intriguing field."
Mary C. Lee

- Aircraft Completions Designer, Allied Member ASID

With her Bachelor's of Science from the University of Nebraska-Lincoln with a major in Interior Design, Mary brings extensive commercial and residential interior design experience to the world of aviation interiors. During her years with Duncan Aviation, she has had the opportunity to apply her expertise of cabinet design, lighting and space planning to projects that encompass a wide range of major corporate jet makes and models.
"The intriguing aspect of aircraft design is that every project brings a new challenge that allows me to explore new and creative design solutions. My passions include architecture and graphic art in addition to interior design; Aviation design allows me to utilize all of those talents."
Nate Klenke

- Aircraft Completions Designer

Nate has a Bachelor's of Science in Architectural Studies degree from the University of Nebraska and has many years of design experience which include Commercial and Industrial Design as well as Aviation Design. He also enjoys designing for the Very Light Jet market and working with the experimental aircraft community.
"I have met so many customers in my years with Duncan Aviation, each one of whom I have truly enjoyed working with and have learned so much from. Working one-on-one with owners as well as working with aircraft manufacturers has allowed me to broaden my expertise not only in design, but also in working with diverse personalities and honing my development and certification skills."
Christine Mann

- Aircraft Completions Designer

Christine graduated from the University of Nebraska with a Bachelor of Science in Architectural Studies and is a professional member of ASID (American Society of Interior Designers.) Christine's years with Duncan Aviation have allowed her to work on all major makes and models, however her expertise is with Challengers and Falcons. She enjoys incorporating the latest in materials, lighting, seating, and amenities, as they continue to improve and offer more to the jet owner.
"My personal design sensibility is classic and modern but I really enjoy collaborating with customers to help develop their design preferences. Whether it be traditional or modern, incorporating their favorite color palate or develop a unique detail that is special for them. My favorite projects are ones where the finished product exceeds their expectations."
Teri Nekuda (right)

- Aircraft Completions Designer, Allied Member ASID

Teri is a graduate of the University of Nebraska - Lincoln with a Bachelor of Science in Interior Design from The College of Architecture. During her years with Duncan Aviation, she has designed interiors and exteriors for most major models of corporate jet aircraft. Her passion for art and her creative style are reflected in her work.
"Each project is unique and has its challenges. This diversity is what I thrive on—it keeps me on my toes and allows me to be creative."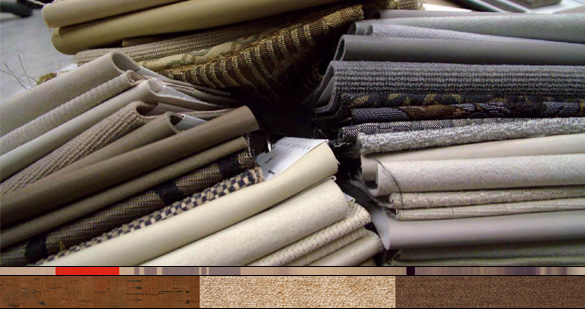 Design Trends Watch
Color
For many years the aircraft interior industry tended to stay very neutral; grays and tans dominated the interiors. Neutrals are still popular for interiors but more and more customers are asking for the color and finishes found in high-end residential and commercial spaces. While earth tones continue to dominate, look for an increase in richer more saturated hues such as chocolate brown, burnt orange, olive greens and smoky blues all of which are inspired by nature. As in the fashion and home furnishing markets, current design seems to be less about a specific trend and more about being individual.
Green Design
The design industry as a whole is definitely focused on "green" environmental designs. This movement incorporates products and resources that focus on environmentally safe, sustainable, recyclable products and colors, textures and patterns inspired by nature. Strong textures and natural materials also draw from the insurgence of "green" design, such as natural stone, cork, bamboo, woven materials and natural distressed leathers. Aviation material burn testing requirements add an extra hurdle for using some of these sustainable materials, but the list of resources continues to grow.
Sleek Lines & Flexible Seating
There is a greater call today for floor plans that reflect the way our society lives, works and thinks. Cabinet and seating designs are moving to a more contemporary look with sleeker lines and multiple purposes. Combinations of wood veneer with accent trims in various materials such as accent veneers, carbon fiber and cork reflect this trend.
Technology
Technology is a vital part of society today and aircraft owners want that technology incorporated into their aircraft. State-of-the-art sound systems, wide-screen monitors, touch screen master controls, MP3 player docking stations, ethernet and wireless capabilities are hot items for aircraft cabins.
Very Light Jets (VLJs)
The VLJ market – an outgrowth of the experimental aircraft community – is a very innovative group and all sorts of ideas are coming out of this sector of aviation, from avionics to airframe and performance as well as aesthetic design and methods of design and construction. Watch, these small jets may be on the leading edge of aircraft interior and exterior design.