«Summer 2007
Falcon Summer 2007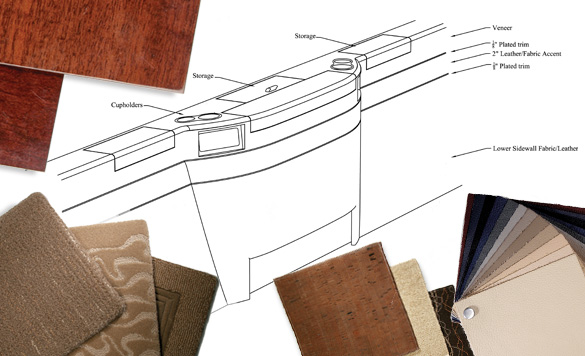 Efficiency in Multiples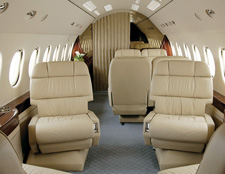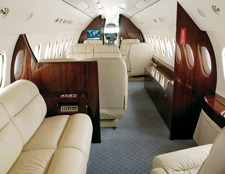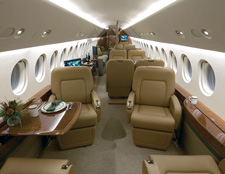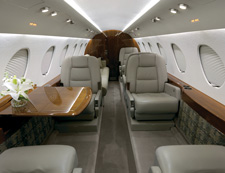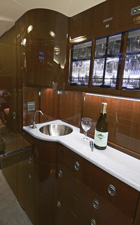 Over the years Falcon owners and operators have trusted Duncan Aviation to provide top-notch service and the latest in design to get their passengers to their destinations in style, comfort and safety. Most want the look and feel of a new aircraft and Duncan Aviation has been called upon by clients to refurbish or fabricate new and luxurious interiors and gleaming new exterior paint coatings.
We listen to our clients' desires and have responded by creating several unique products, as well as developed programs to fabricate these products more efficiently. Duncan Aviation's Cabinet Shop has invested in a Computer Numerical Controlled (CNC) cutting machine that can precisely craft one-of-a-kind modifications, but is most efficient when used to create multiples or alter previously designed pieces, saving our clients time and money.
Multiples are created and are roughly three-quarters finished before the aircraft arrives to begin the upgrade process. This saves customers 15-30% on downtime, depending on the project. Hardwood, plating, veneer and material finishes are not applied until a project is in work, which allows the customer freedom of customization.
Duncan Aviation's Falcon Team, consisting of production technicians, engineers and designers, has collaborated to offer our customers a wide range of products. These include the following:
Falcon 900 and Falcon 50 Galley – The galley area can be fully customized or updated from an existing galley to a modern, curvilinear design, or an entirely new custom cabinet can be constructed.
Falcon 900 Mid-Cabin Drop Down Divider – The LH mid-cabin drop down divider opens and joins the mid-cabin area with the aft-cabin when down. Complete privacy can be established by raising the LH mid-cabin divider and installing a removable pleated curtain.
Falcon 900 and Falcon 50 Drink Rail Assemblies – The drink rail with double-ring cup holders and pull-out card tables do away with the straight-edge design and take on a rounded, elegant surface connecting a modern design through the aircraft. The lower sidewall panels are customizable with plated accent trim, leather or alternate decorative techniques.
Falcon 50 Shell Kit – The Duncan Design Collection Falcon 50 Shell Kit is a unique upgrade option exclusive to Duncan Aviation and features a two-inch increase in seated headroom, new LED lighting, new O2s and ordinance signs. This headliner, PSU and window panel kit provides a dramatic overall design aesthetic resulting in a sleeker look and improved function.
Falcon 900 PSU Overlay – The new, one-piece overlay panels eliminate the painted metal center section for an updated, clean look. The soft oval openings for the lights and gaspers along with new slim-line ordinance signs complete the design. LED reading, upwash and downwash lighting can easily be incorporated with this new design.
Duncan Aviation is committed to providing you with convenient and smart options for your Falcon aircraft. For any of your interior needs or questions please contact Tracey Boesch in Lincoln at 800.228.4277 ext. 1648 or Matt Richardson in Battle Creek at 800.525.2376 ext. 8443.
The Feeling of Home
Duncan Aviation has been bringing home entertainment and technology options to Falcon aircraft for years. Recent installations have included iPod docking stations, game ports, larger monitors, High Speed Data (HSD) phones, controlled lighting and sound systems.
Iridium phones have current global capabilities with a clear growth path for Wi-Fi broadband data connectivity coming next year. This system frees up space and gives you the ability to stay in touch with those on the ground.
LED lighting can be summed up in two words – control and dependability. LED lights are useful for spot beam applications where light can be focused directly where it is needed, eliminating disturbance to other passengers. They also provide emergency and accent lighting. Direct improvements are low maintenance with a long life span, low heat, reliability, low weight, low power, battery back-up and continuous light wash.
Sound Systems. The acoustics within each aircraft are different. Alto Speakers can find the best placement of speakers by recording sound within the cabin prior to installation so your sound system operates at its best. Sound proofing your cabin also adds to the quality of sound.
HSD (Hi-Speed Data). Inmarsat is getting ready to release swift broadband capabilities for Aeronautical travel (1st quarter '08). This truly brings the office in the sky to a new level.
For additional information or questions about technology options for your Falcon, contact Dave Pleskac in Lincoln at 800.228.4277 ext. 1509 or Joe Spring in Battle Creek at 800.525.2376 ext 8875.