«Summer 2007
Newsbriefs Summer 2007
Duncan Aviation receives high marks from Professional Pilot magazine's PRASE Survey
Duncan Aviation again received high marks in Professional Pilot magazine's PRASE (Preferences Regarding Aviation Services and Equipment) Survey.
In the Best Avionics Centers category, Duncan Aviation's Lincoln, Nebraska, facility received the #1 ranking and Duncan Aviation's Battle Creek, Michigan, facility was named #2. Duncan Aviation-Teterboro, New Jersey, was voted #5.
In the Best Maintenance category, Duncan Aviation's Lincoln facility was voted #1 and Duncan Aviation's Battle Creek facility received the #7 spot.
Ballots were mailed to qualified Professional Pilot subscribers and readers were asked to rank service facilities on a scale of 1 to 10. The scores were then averaged. Aviation consultancy Conklin & de Decker Associates of Arlington, Texas, analyzed the survey results independently.
Duncan Aviation's Wellness Program Viewed as One of the Best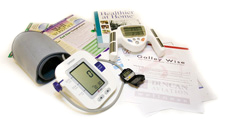 Duncan Aviation was selected as one of nine companies to receive a visit from the Centers for Disease Control and Prevention (CDC) in 2007. The CDC is conducting site visits to learn about innovative and successful programs that assist employees to attain or maintain a healthy weight. After conducting its visits, it will share information obtained from the workplaces with other companies.
Well-known for its infectious disease investigations, the CDC also conducts research and evaluates programs that focus on the prevention of chronic diseases by reducing risk factors and promoting healthy lifestyles.
Duncan Aviation's focus on wellness includes a full-time wellness staff, on-site workout rooms at its Lincoln and Battle Creek facilities, fitness classes, monthly and quarterly educational programs, confidential annual health screenings, nutrition analysis, mental health services, and more. The workout facilities and locker rooms are available for on-site customers as well as employees.
Duncan Aviation Announces New Accessory Warranty Policy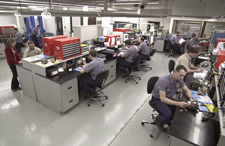 Duncan Aviation is pleased to announce a change in the accessory warranty policies for both repairs and overhauls of accessory units.
The warranty period for Duncan Aviation accessory repairs is now six months for business aircraft and 90 days or 500 hours, whichever comes first, for airline use from the date the repair was completed. This warranty covers only the parts and labor used in the previous repair. The warranty period for overhauls is one year for business aircraft and six months or 750 hours, whichever comes first, for airline use from the date the overhaul was completed. The overhaul warranty covers all parts and labor performed during the overhaul.
Repair estimates often require a "partial repair" of a unit. In these cases, Duncan Aviation may invest parts and labor to arrive at a meaningful estimate. If the repair estimate is refused, the unit will incur an evaluation charge for time and materials.
If you have accessory warranty-related questions, please contact Bryan Hermsen at 800.LOANERS (562.6377) ext. 4216 or call him direct at 402.479.4216.
Duncan Aviation Locations Named Citation Mustang Service Centers
Duncan Aviation's major service centers in Lincoln, Nebraska, and Battle Creek, Michigan, have been named Authorized Service Centers for the Citation Mustang. This authorization will allow Duncan Aviation to perform all scheduled and unscheduled maintenance events covered under Cessna's ProAdvantage Program.
For more information about Duncan Aviation's Citation Mustang capabilities, please contact Tim Klenke at 402.479.1679.