«Winter 2009
Duncan Download Winter 2009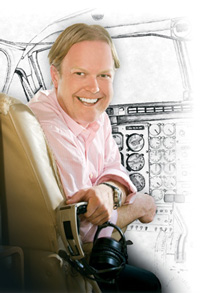 Todd Duncan answers questions about his role as Chairman of family-owned Duncan Aviation, what he sees as his legacy of growth and career building opportunities for Duncan team members, and the future of the business aviation industry.
What does it mean to you personally to keep Duncan Aviation in the family?
My family has a passion for aviation and has for multiple generations now. We are pilots and we use and rely on the products we service. We also have a passion for the communities that we live in—Battle Creek, Michigan, and Lincoln, Nebraska. When I'm in either location and see someone with a connection to Duncan Aviation, I take great pride in knowing we are creating futures.
My sons, P.K. and Harrison, are also developing an appreciation for the business. They fly with us and participate in all the Duncan Aviation family activities. They've attended meetings and see why I enjoy my work. That is the most important thing for them to understand; that it's not just work for me. I've loved it for the twenty years that I've been here.
I intend to be at the helm of Duncan Aviation for another twenty years at a minimum and during my tenure, the company will remain in the family. We receive purchase inquiries periodically, but have no intention of selling. We are actively out in front of the industry telling our business partners that we love the business and we're in the business for the long haul. I was born and raised and have always lived in Lincoln. If my twins, now age 14, have the interest, energy and aptitude to work in this business, I hope that they will. However, I also have a nephew currently in A&P School pursuing an aviation career. There are a lot of generations around here with the capability and the leadership.
How does a family-owned company have an advantage over a public corporation?
There are many publicly-held corporations that are successful. Some, though, get too large and lose sight of what is important. Our focus is still on what's most important to us: the business aircraft operator. That is the operator with one or two aircraft. We remain committed to that operator and will always do right by them even as we grow other opportunities when they make sense for Duncan Aviation. Flexibility is another clear advantage of maintaining family ownership. We are more adaptable to the changes in the marketplace than larger companies and corporations.
Why do aviation professionals want to work at Duncan Aviation?
I spoke with 20 new employees this morning at an employee orientation and asked them a similar question. They talked about having a career and being in an environment where they can learn and grow. That was my career path. I came in here as a young person right out of college. I didn't know a whole lot. After 20 years in the industry working in different areas and doing different things, I have gained a sense of value personally. I think that's what we all look for in a career; a good job and good people to work with, opportunities to be well trained and to be well-supported. We want a future in an organization that gets better and grows as we grow. That's the kind of environment we've created at Duncan Aviation.
Are Duncan Aviation customers smarter by being our customers?
I hear examples of that all the time. Our customers love the information and knowledge they gain from us. They get this information through channels like our "Straight Talk" books, the quarterly Duncan Intelligence newsletters we publish and our technical sales reps. They like the quarterly Duncan Debrief magazine and the one-phone-call access they have to receive information and assistance. They also like the open access they have when they are with an aircraft project on the hangar floor. We continually share with our customers what we've seen and the solutions we've used to solve issues in the past. We hope they're better at operating their aircraft because they have interacted with us. We know that we're better at what we do by having interacted with them.
I've had customers come up to me and tell me "Your people are wonderful. They're just the greatest." I tell customers our team members are as good as they are because our customers are involved, honest and tell us what they need and expect. On any real successful job, you can look back and see a sharing of that responsibility between customer and company. Ultimately, we're all in this together.