«Winter 2010
Redefining Customer Expectations Winter 2010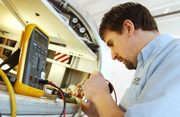 Tom Lieser-St. Paul, one of Duncan Aviation's many fully trained and licensed satellite technicians.
There's no such thing as being too far away from a trained, experienced Duncan Aviation technician. Although Duncan Aviation houses many of its techs and support staff in Lincoln, Nebraska, and Battle Creek, Michigan, it has an extensive network of Satellite teams who are staffed, tooled and ready to make repairs at all times, whether your aircraft is at one of our facilities or on the ground miles from the nearest Duncan Aviation. For the last 11 years, our avionics, engine and airframe techs and their equipment have been mobile and ready to make repairs where you are when you need them.
Matt Nelson, Satellite Operations Manager, says, "There's nowhere in the continental United States that is more than three-to-four hours away from one of our teams of qualified avionics technicians. . . .And although these work-away-from stations are located throughout the United States, we regularly respond to calls worldwide."
Last year, a loyal Duncan Aviation customer called with an "Aircraft on Ground" (AOG) in Italy, and the aircraft needed a new flight-management system. A tech from the Scottsdale facility traveled to Italy, shipping the necessary tools and equipment. After waiting a couple of days for his tools to clear customs, the Duncan Aviation tech had the new flight-management system installed within eight days; the aircraft was on the ground for only 12 days.
Fully Trained & Licensed
All of the technicians at the work-away-from stations are licensed repairmen and women and at least one tech at every location has his or her A&P license. More than 75% of all calls to the Satellite teams are for unscheduled work, and nearly 100% of them are mobile, meaning the techs can go where the aircraft is to make repairs. According to Nelson, "Duncan Aviation has a Satellite presence at nine of the 10 busiest General Aviation airports in the country, and we have highly qualified technicians within an hour of the 15 busiest airports." So, you're never out of the quick reach of a Duncan Aviation avionics technician.
In addition to Avionics techs, Duncan Aviation has teams trained and licensed to diagnose and repair engine problems in the field.
Rapid Response Teams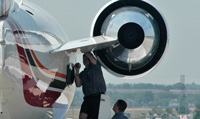 Rapid Response teams are
fully equipped to work on your engine as soon as they arrive
at the remote location.
The Rapid Response teams, which include a team leader and a tech, all have their A&P licenses and a minimum of five years' experience working on engines. Per the Repair Station General Operating Manual (RSGOM) in Lincoln, the Satellite locations have either QI or RII certification, so they can inspect their own work, too, which leads to faster return-to-service times.
Duncan Aviation Rapid Response Team (RRT) engine techs also pursue on-going training, often attending OEM training so they're licensed to work on a variety of engine models. Among other types, techs are trained and certified to repair TFE-731s and various Pratt & Whitney engines.
The Rapid Response teams each operate in a roughly 400-mile radius of one of Duncan Aviation's Satellite avionics locations, and they have vans or crew trucks outfitted with their diagnostic equipment and tools. The vehicles are fully equipped with engine stands, ladders and slings so the techs are ready to get to work on the engine as soon as they arrive at the remote location.
The teams perform diagnostics, as well as repair work. The teams are also backed by Duncan Aviation's extensive resources in Lincoln and Battle Creek. For example, if an aircraft is grounded, the pilot is unsure of the problem, and the tech isn't able to ascertain the problem based on the descriptions coming in from the field, there's a team of tech reps in Lincoln or Battle Creek who will troubleshoot problems with the customer and field technician in order to identify the issue while the tech is in transit. Then, when the tech arrives at the aircraft, he or she is ready to perform repairs immediately, helping the operator miss as little flight time as possible.
Keep The Bird In The Air
Sometimes, the tech heads into the field to pull an engine for a Core Zone Inspection (CZI). Rather than have the aircraft grounded during the three- to four-week procedure, the Duncan Aviation RRT technician installs a rental engine so our customer can continue flying. (Duncan Aviation has access to between 30 and 50 rental engines for customers who need them.)
Because the Rapid Response teams are located at seven busy airports, including Scottsdale, Denver, Dallas/Addison, Chicago, Atlanta and Fort Lauderdale, the techs rarely have to travel more than 400 miles to reach any destination in the continental United States.
Regardless of the problem you're experiencing with your engines or avionics equipment, Duncan Aviation has experienced and mobile technicians ready and able to travel to you and your aircraft at a moment's notice. Our goal is to keep you flying, and our techs work as quickly as possible, anywhere in the world, to make that happen.
QUICK RESPONSE ALSO AVAILABLE FOR AIRFRAME AND PARTS/COMPONENTS NEEDS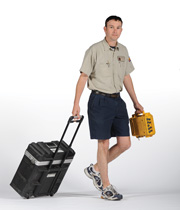 Duncan Aviation technicians are ready to make repairs where you are when you need them.
Airframe Services
In addition to avionics and engine in-field support, Duncan Aviation has long offered airframe support in the field. Duncan Aviation technicians will assist operators with serious AOG airframe issues as well as help operators complete airframe inspections and repairs at their own location.
Scheduled Off-Site Inspections
Duncan Aviation Airframe technicians are available for small-phase inspections at an operator's location when scheduled in advance. These services are scheduled through the airframe services team.
AOG
Regardless of whether an aircraft is disabled on the road or in its home hangar, the Duncan Aviation technicians will pack up their tools and come to you, wherever you are.
Airframe techs are typically dispatched from Lincoln or Battle Creek, and we'll tailor the techs and equipment to your situation. James Prater, LNK Airframe Manager, says, "Techs have responded to repair flight-control or landing-gear problems, diagnose fault indications in the cockpit, and change tires that were damaged by debris on a runway."
Technicians travel from Battle Creek or Lincoln, depending on the type of expertise needed as well as the availability of the techs. In addition to the 48-contiguous United States and Anchorage, AK, Duncan Aviation airframe techs have traveled as far as Bahrain. They've also recently traveled to Canada, Brazil, Mexico, and the Cayman Islands.
In 2009, Duncan Aviation-BTL technicians racked up 2,500 hours in 104 road trips. Technicians from Duncan Aviation-LNK averaged about the same number of road trips, but had as many as five trips on the schedule some weeks.
Parts & Components Support
Duncan Aviation also provides customers with parts and rotables support on a 24/7/365 basis. We stock thousands of parts, loaners and exchanges and will ship units counter-to-counter, door-to-door or UPS/FedEx as required. One call can take care of your parts needs anytime day or night, weekend or holiday. We can also coordinate AOG loaner or exchange installations with the avionics Satellite shops.