«Winter 2010
Shrinking the World for our Customers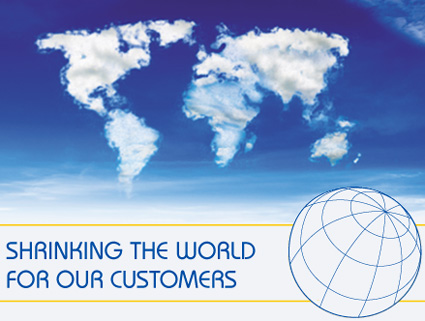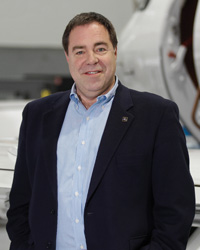 Tony Gilbert's Contact Information
You may reach Tony through Duncan Aviation's main switchboards in Lincoln (402.475.2611) or Battle Creek (269.969.8400).
Duncan Aviation customers are located around the world. As that number continues to skyrocket, we strive to provide greater opportunities for communicating with and offering support worldwide. Toward that end, Vice President of International Business Development Tony Gilbert is relocating to France for the next couple of years in an effort to make him more accessible to our customers in Europe, Russia, India, Asia, the Middle East and North Africa.
Although Tony credits the support he has received from his co-workers for the successes he has enjoyed in his 22 years at Duncan Aviation, he was asked to head up the company's European Initiative because of his unique talents and abilities. In addition to his native Portuguese, Tony fluently speaks French, Romanian, Spanish and English. He's spent nearly 20 years developing relationships with international customers, helping spread Duncan Aviation's reputation for excellence around the world.
Tony's mission includes not only spreading the word about Duncan Aviation to potential customers, but also strengthening relationships with our already valued customers.
Brazilian Born
Through Youth For Understanding, a non-profit international education program that matches exchange students and host families in 64 countries, the then 14-year-old Tony Gilbert first came to the United States. While staying with the Knerl family in tiny Ponca, Nebraska, a serendipitous ride in a Cessna 152 convinced Tony that he was going to be a pilot.
Back home in Sao Paulo, Brazil, Tony had two possible paths to pursue his dream: Pay exorbitant fees for a private pilot's license or join the military. Tony opted for the Brazilian military, attending an Air Force-run high school and college. Graduating with a degree in aeronautical engineering, he served as a pilot in Brazil's military for 15 years and retired from service at the rank of Major.
Cows & Corn
Throughout his school and military experience, Tony kept in touch with Phil and Pat Knerl, his "Mom and Dad" in Nebraska. He visited them in Ponca as often as he could, amid what Tony laughingly refers to as "the cows and corn." Having never seen snow prior to his first trip to Nebraska, Tony looked forward to vacationing in the town of 1,000 in northeast Nebraska during the coldest, snowiest times of the year.
Over the years, he made many friends in Nebraska, including then Secretary of State Allen J. Beerman. Through his friendship with Beerman, Tony met then Governor J. J. Exxon, who made Tony an Honorary Citizen of the State of Nebraska. On one of those visits to the blustery plains, Tony asked Allen if he knew of any aviation companies in Nebraska. Tony wanted to immigrate to the United States, and he knew having a job lined up would make the process a bit easier.
Beerman suggested Duncan Aviation, and Tony applied for a position as a pilot. Duncan Aviation immediately recognized Tony's talents and offered him the job on the spot. Despite having landed a job, it still took two years for the paperwork to come through. Tony was back in Sao Paulo when he received word from the United States Embassy that his paperwork had been processed. He and his family packed up and moved to Lincoln, Nebraska, in 1988.
Welcome Aboard
Hired as a pilot, Tony shuttled employees and honored guests for six months. During that time, Tony says he couldn't help but notice the special relationship between Duncan Aviation and its customers. He realized there were pilots and flight directors the world over who had never heard of Duncan Aviation, and he made it his mission to spread the word. He began traveling to countries throughout South America to build relationships with customers. Eventually, Tony's territory included Mexico, South and Central America, France, Italy, Portugal and Spain.
As the customer relationships grew, Duncan Aviation realized that regardless of how talented Tony was, he could not be in more than one country at a time. In an effort to better serve customers in countries outside of the United States, Tony began recruiting representatives, or "agents." Duncan Aviation wanted the best-qualified reps to establish working relationships with customers. There are now 26 agents in the field working in 24 countries, and they work with Tony Gilbert and Duncan Aviation to provide customers with access to Duncan Aviation's full range of aircraft support services.
In 2010 and beyond with Tony's able assistance, Duncan Aviation will help an even greater number of customers who operate outside of the U.S.