«Spring 2011
Engine Service Since "The Beginning"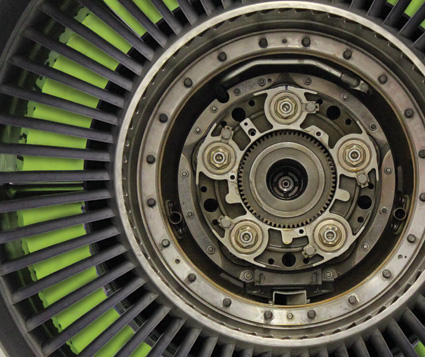 This year, Duncan Aviation Engine Services celebrates its 30th year of being a Honeywell Major Authorized Service Center. Although our OEM authorization became official in 1981, Duncan Aviation has actually been there since the beginning.
The Beginning
In 1973, Leo Sawatzki stepped off the Navy ship U.S.S. Constellation and signed on with Duncan Aviation in Lincoln, Nebraska, as a jet engine mechanic. He was prepared to service GE CJ610 and Pratt & Whitney PT6 engines. However, it wasn't long after he arrived that Airesearch introduced a new engine, the TFE731. This engine showed lots of promise and Duncan Aviation's team members, with only a four-section wooden box filled with plugs, caps and hardware, were eager to discover and learn all they could.
Mechanics were sent to customers in Iceland, Argentina and Canada, and their quick responses made them the go-to guys for on-the-road services.
Early on, as with many first-generation technologies, this new engine had some growing pains. Leo and six other Duncan Aviation turbine engine mechanics were called upon many times to provide Aircraft on Ground (AOG) services. Just by the sheer volume of hands-on, field-repair work, they discovered first-hand how the engines operated and what was needed to fix them.
Seeing an unmet need, Duncan Aviation invested in the necessary tooling and equipment to dispatch a team to any location whenever the calls came in. And the calls did come. On a weekly basis, mechanics were sent as far away as Iceland, Argentina or Canada... or to the hangar just down the road. Their quick responses made them the go-to guys for TFE731 on-the-road engine services.
This Duncan Aviation team was the original AOG engine road crew before such crews became popular. This practice of being ready to travel at a moment's notice is the genesis of Duncan Aviation's Engine Rapid Response Teams (RRT). Today, seven RRTs are strategically located across the United States, able to reach an operator's location in as little as 24 hours.
The Authorizations
Duncan Aviation had become a reliable resource for TFE731 operators flying all over the world, proving that even a small shop from the middle of America had a worldwide impact. In 1981, Duncan Aviation hit two milestones and received major level authorization to work on the Airesearch TPE331 and TFE731engines. These authorizations allowed all who previously relied upon Duncan Aviation to come to their rescue during times of need to entrust their engines to Duncan Aviation for high-level, expert Major Periodic Inspection (MPI) service. Word quickly spread and the number of MPIs that Duncan Aviation performed every year increased at an exponential rate.
The culture at Duncan Aviation has always been to deliver only the best, on time and at budget.
In those early years, the Duncan Aviation team disassembled the engines and sent them out for repair, relying on the abilities and time schedule of others. The culture at Duncan Aviation has always been to deliver only the best, on time and at budget. Unfortunately, not every company has the same level of customer commitment. "We knew we could provide these same services better, faster and cheaper," says Leo. With that, the decision was made to invest in the research, tooling and training to bring those capabilities in-house.
Engine Services Today
Today, Airesearch is now Honeywell and Duncan Aviation Engine Services has grown to include 55 licensed factory-trained turbine engine technicians working two shifts to provide line maintenance, MPIs, AOG services and technical expertise, all dedicated to the support of the TFE731. The "four-room" wooden box is now a modern 20,000-square-foot facility with 12 separate engine bays. It is a one-stop shop that performs all MPI and maintenance events in-house.
Generations of experience and OEM-authorized repair methods ensure engine performance and reliability.
Obtaining the maximum performance out of your engines is an art mastered by the Duncan Aviation turbine engine professionals. Generations of experience combined with investment in all Original Equipment Manufacturer (OEM)-authorized repair methods bring the most reliable and proven techniques to ensure performance and reliability of your engines.
Leo, now the Engine Acquisitions and Sales Manager, has seen first-hand the changes the TFE731 has gone through over the last 38 years. One thing has remained constant—Duncan Aviation has remained Duncan Aviation. The company has never changed its name, its ownership or its commitment to delivering only the best.
Duncan Aviation is the only U.S.-run, family-owned company with this length of historical and technical experience on the TFE731. We are still Duncan Aviation. We have been there since the beginning. And we'll be here for generations to come.
In-House Engine Capabilities
Non-Destructive Testing, including fluorescent penetrant, magnetic particle, ultrasonic and eddy current inspections.
Blading and digital balancing for all turbine components and fan assemblies.

A4/A5 nozzle flow bench.
Fuel manifold flow bench.
Fan blade shot peening.
Thermal Spray.
Separate bearing, turbine
inspection rooms.

Welding.
Machining.
High-pressure turbine flow, leak testing.
Oil pressure stimulation fixture.