«Fall 2011
Arjen Groeneveld: Helping Customers in Europe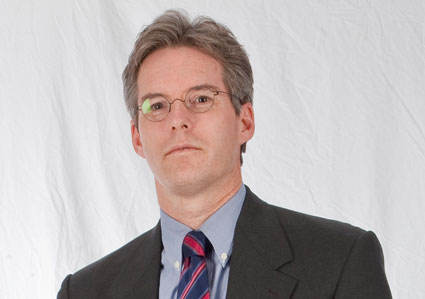 European Regional Manager, Arjen Groeneveld.
The Man for the Job
At the age of 12, Arjen Groeneveld built his first model airplane. That began his love for aviation. By 14, he was flying aerobatics in Dutch competitions with his remote-controlled models. Over the years, he developed his interests professionally, attending technical school and working in maintenance, aerospace research and the commercial airline and aircraft leasing industries.
His career brought him to Duncan Aviation in the spring of 2008 as a customer. After his first experience with Duncan Aviation, he knew for sure that it would not be his last.
After just a few short years, Arjen is now a member of the Duncan Aviation team. Living and working in the Netherlands, he travels the region interfacing with aircraft operators, management organizations and other service providers with the goal of maintaining and building relationships. Arjen's ability to speak German, Dutch and English amplifies his abilities as Duncan Aviation's first European Regional Manager.
A Career that Benefits
After receiving his aeronautical degree from Anthony Fokker College, Arjen worked as a helicopter technician, spent seven years with the Dutch Aerospace laboratory, some time in aircraft leasing and five years deriving experience with consultancy. He attained a degree in Polytechnic Engineering and Business Administration and further developed his 20+ years of aviation skill.
During that first trip to Duncan Aviation, Arjen met Tony Gilbert, Duncan Aviation's Vice President of International Business. Arjen was at Duncan Aviation's Battle Creek facility for a C-check on a Falcon 2000EX. "We started talking about possibilities to grow Duncan Aviation's support in Europe," explains Arjen.
In 2009, Tony moved to Paris, where he and Arjen met on a regular basis. They spent time visiting customers and potential customers throughout Europe together. In 2011, Arjen took over responsibility for Duncan Aviation's European business. Tony has since moved to Brazil, where he continues to expand Duncan Aviation's international reach and Arjen carries on European customer development and support.
"Tony taught me a lot about the Duncan Aviation way of working and who to contact for particular expertise," Arjen states. "Further, he gave me more insights about Duncan Aviation's history and unique selling points. Even though Tony is now in Brazil, I can always rely on him."
Easing Uncertainty
As a former customer of Duncan Aviation, Arjen says his first impressions of Duncan Aviation were good, "nice facility, great people with ownership for their work, a lot of knowledge, a surprising list of in-house capabilities and good cost-control." These are attributes that Arjen enjoys promoting to the market. "My motivations have always been safe aircraft operation and enabling lower cost per flying hour."
He now gets to support other operators to achieve those same goals. "Being in a position where I get to interact and support the customer is most rewarding" explains Arjen. "Growing the business, building relationships with maintenance suppliers and enhancing the European service network just add to the excitement."
"In Europe, we see a lot of aircraft management groups and charter companies. Many do not have in-house capabilities to meet European Aviation Safety Agency (EASA) requirements and EU-OPS rulemaking. They are structured organizations with large fleets of aircraft. They are in need of contracted maintenance. These companies are important customers of Duncan Aviation," says Arjen.
According to Arjen, customer impressions of Duncan Aviation are positive. He often hears from customers that Duncan Aviation is a respected company. Any concerns usually revolve around whether it is worth the effort to ferry an aircraft to the United States or customers wonder how they will keep track of a large maintenance event over such great distance.
As a customer and now as an employee, when Arjen steps back and looks at what Duncan Aviation offers, he sees a senior management team who invites employees to be involved in process improvement. Arjen explains, "Many projects are managed in a bottom-up style. This makes the team members committed."
Key corporate IT systems are developed in-house instead of being purchased from a shelf. This approach delivers results like myDuncan, the web-based project management tool for customers, and the electronic work order system, which allows customized reporting and regulated documents to improve efficiency. It will be up to Arjen to educate operators of these specialty services.
Over time, Arjen plans to relieve any uncertainties. Letting operators know of Duncan Aviation's tip-to-tail service, skilled technicians, experience with EASA regulations, craftsmanship and innovative systems such as myDuncan will be his main goals. "It would be nice to bring every potential customer to a Duncan Aviation facility" says Arjen. "Once on-site, they would see all that we have to offer. That is all it would take."
Today's Newest Initiatives
Since his start, Arjen has been a part of a number of initiatives. Arjen has been and will continue to be instrumental in providing support to customers located in Europe and part of this support is through Duncan Aviation's first European Customer Advisory Board.
Arjen says the initial meeting, held during the European Business Aviation Convention & Exhibition (EBACE) 2011, came together nicely. "It was good to see customers in discussion with each other," he says. The second meeting is planned for fall and will deliver an active brainstorming session. These meetings will serve Duncan Aviation well and will lead to even better customer support in the future.
In addition to the European Customer Advisory Board, Arjen has spent time developing relationships with fleet managers and maintenance suppliers. Working with others, Duncan Aviation will provide support to operators and continue to support those operators long after they leave a Duncan Aviation facility.
Duncan Aviation is accomplishing its aircraft service mission worldwide because of its dedicated team members who work with competence, dedication and passion. With Arjen now a part of that mission, the future of Duncan Aviation's European presence is enhanced. He supports a need in the international market that can only lead to bigger and better opportunities.
Tony Gilbert is proud of the mission saying "I believe Duncan Aviation is solidifying its presence around the world, changing its image from a company that does business abroad to a global presence that operators know and trust."