«Fall 2011
Emerging Avionics Upgrades & Industry Outlook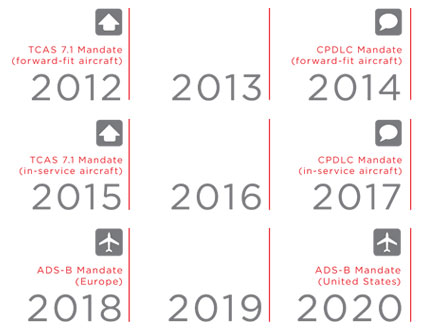 Duncan Aviation's avionics experts anticipate the avionics installation outlook for the next few years will be very active, thanks to a number of new technologies and associated products available to the business aircraft market.
The new breed of Liquid Crystal Display (LCD) glass cockpit retrofits is easier to install, High-Definition (HD) entertainment options are certified, and a multi-regional in-flight internet offering for smaller aircraft is now available, to name a few. A number of upcoming mandates are also on the horizon.
Popular Upgrades
The most common upgrades in Duncan Aviation's avionics shops should come as no surprise. Wi-Fi with high-speed internet/data (HSD) tops the list, followed by Wide Area Augmentation System (WAAS) / Localizer Performance with Vertical Guidance (LPV). Other popular upgrades include LCD glass cockpit retrofits and HD cabin entertainment and Cabin Management System (CMS) upgrades.
The most popular in-flight internet upgrade solutions include Aircell Gogo Biz™ and Inmarsat SwiftBroadband, says Steve Elofson, Avionics Installations Representative at Duncan Aviation's full-service facility in Lincoln, Nebraska.
Aircraft Wi-Fi operations must be installed by Supplemental Type Certificate (STC), which are specific to each aircraft configuration. Duncan Aviation has engineered eight Wi-Fi STCs with five more STCs in work.
WAAS / LPV upgrades also require an STC if certification for lower minimums (LPV) is desired. Universal Avionics was first to offer WAAS FMSs and Duncan Aviation has invested in the development of numerous STCs with their FMS products over the past few years.
The most recent Duncan Aviation WAAS/LPV certifications include the Honeywell NZ-2000 6.1 for the CL 600-/601-1A and Falcon 900B. Additional STCs for WAAS/LPV are also available for Rockwell Collins FMS-equipped aircraft such as Challenger 300/604/605, Falcon 50EX & 2000, Hawker 800/850/900XP and the Beechjet 400A.
Glass Cockpit Retrofits & HD Cabins
LCD glass cockpit upgrades are not new to our industry, says Steve. For a number of years now, aircraft have been manufactured with LCD displays and Duncan Aviation has been working with the major avionics manufacturers to develop and certify retrofit solutions for select legacy airframe types.
The new breed of LCD panel retrofits are easier to install, says Steve. They focus on the later model airframes with highly integrated and capable systems but with a significant weak spot: CRT displays.
These later-model systems include the Collins Pro Line 4 and the Honeywell Primus 1000 / 2000. "The benefits are terrific," says Steve. "They provide crisp and clear Jeppesen Charts on the panel with own ship position, XM weather, EVS and, coming soon, synthetic vision."
HD entertainment and CMSs are also now certified and available, bringing the latest in audio/ video technologies to the aircraft cabin. New touch screen controls can replace push-button style passenger control units (PCUs), and complete cabin controls are now available through devices such as the iPad. These cabin upgrades are best scheduled with interior refurbishment or maintenance events where the interior is removed.
SB200
SwiftBroadband 200 (SB200) is a relatively new in-flight internet offering that has entered the avionics market within the past year. What makes it noteworthy is its size and price, says Steve.
Where high- and intermediate-gain services have been popular in the larger airframes, the antenna size has been a limiting factor for smaller aircraft, says Steve. SB200 systems are compact, using a smaller blade-type antenna that is easily certified and fits well on smaller aircraft where space is an issue.
"If an operator has a smaller aircraft, like a Citation, Hawker or Learjet, this might be a good choice, especially if they're traveling outside the United States," says Steve.
Although SB200 is much slower than what people can expect from their home internet connections, it's less expensive and it works internationally. With a connection speed of 200 kbps, passengers can send and receive e-mails and attachments, but it's not well suited to graphicintensive web surfing such as pages containing video, says Steve. VPN connections are supported, although operators should ask their IT department about speed considerations.
The SB200 is also a good add-on option for those that either have or are installing the very popular and fast Aircell Gogo system. When both systems are installed, you get the best of both worlds: when in the United States, the Aircell Gogo system provides up to 3.1 mbps service and when outside the United States, the wireless connection automatically switches over to the SB200 providing international 200 kbps service.
CPDLC, ADS-B & TCAS 7.1 Mandates
Many customers have been hearing about upcoming European mandates and are concerned about the availability of solutions and associated costs.
First on the horizon will be Traffic Collision Avoidance System (TCAS) 7.1, which is a software update to existing TCAS II systems that corrects safety issues in the TCAS logic. TCAS II has been required for aircraft traveling in European airspace for many years, and the 7.1 upgrade is required for forward-fit aircraft in 2012 and for in-service aircraft by 2015.
Following shortly afterwards is the Controller Pilot Data Link Communications (CPDLC) mandate, which is a datalink application that allows pilots and air traffic controllers to exchange text-based messages. Recent guidance suggests that mandates will be required for forward-fit aircraft in 2014 and for in-service aircraft by 2015. In most cases, CPDLC solutions are only available for the newest aircraft and detailed pricing and options for most systems aren't available yet, says Steve.
Close on its heels is Automatic Dependent Surveillance-Broadcast (ADS-B), which will replace radar as the primary surveillance method for air traffic control in most of the world. It will be mandated in Europe in 2018, two years before the U.S. mandate.
Retrofit solutions for CPDLC and ADS-B are currently in development by avionics manufacturers such as Collins, Honeywell, Universal Avionics and Garmin. Options and pricing are expected to become available within the next year.
Planning & Budgeting
As the industry waits for solutions to become available, operators need to be asking themselves where they fly, what mandates are coming due for those airspaces and what upgrades will be required.
Most operators will want to install these solutions during a major event, says Steve. "Understanding what needs to be done and what equipment is involved will help operators anticipate downtime and costs and avoid surprises."
For more information, please call a member of the Avionics Installation Sales team in Lincoln at 402.475.2611 or in Battle Creek at 269.969.8400.