«Spring 2011
Jeff Duvall: Home Again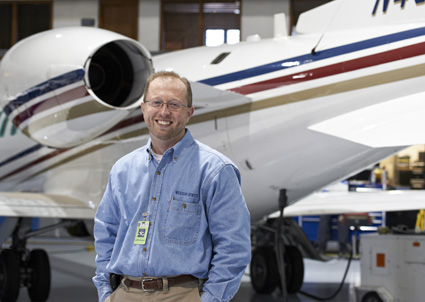 Jeff Duvall, Chief Pilot at Integrated Management Services, LLC appreciates the atmosphere Duncan Aviation has created for customers.
During early visits, one of the first things that Jeff Duvall liked about Duncan Aviation was the overall feeling he had of being at home. Jeff is Chief Pilot at Integrated Management Services, LLC, which is located in Bowling Green, Kentucky. With each visit, Jeff feels more and more attached to the facility, teams and his Project Manager, Tony Leitschuck.
A Welcoming Atmosphere
Jeff appreciates the atmosphere that Duncan Aviation has created for customers. "Everyone has treated me like I belong. I can walk around the facility and have never felt like I did not belong or should not be there," says Jeff. When his Learjet 45 is in-house, Jeff can usually be found camping out by the airplane, watching the teams work. "Some facilities that I have visited before leave me with the feeling that they do not like having the customers around the aircraft while it is being worked on," Jeff states. At Duncan Aviation, customers are welcome in the facility and have free access to their aircraft and the teams who work on them.
"I have made Duncan Aviation my primary maintenance provider."
Project Manager Tony appreciates Jeff and his attitude about aircraft maintenance, describing him as a "top-notch customer." Tony says Jeff is a "safety-first kind of guy." He doesn't look through rose-colored glasses and expect not to find items on his aircraft when it comes in for inspections. He realizes that is why aircraft are inspected. The fact that Jeff spends time at the aircraft with the teams means he "not only gets to see the actual discrepancy, but he is very quick to approve or disapprove," says Tony. This sort of teamwork has meant a lot to Tony and the Duncan Aviation technicians.
Customer Service
When Jeff spends extended periods of time in Lincoln, he takes advantage of what Duncan Aviation has to offer a customer away from home base. "I always look forward to returning to Lincoln, receiving top-notch maintenance, visiting friends, a little rest and relaxation at the Embassy Suites hotel and a good customer dinner at Lazlo's," he says. Biweekly customer dinners give Jeff and other customers a chance to socialize with staff and each other. It is a simple way to thank customers for their business, but also allows networking and the opportunity to gauge the service experience offered.
The Duncan Aviation customer service experience stands out to Jeff. Over the years, Tony has provided Jeff with support, especially in using the myDuncan application. This online work order management tool has been created by Duncan Aviation with customers' needs in mind. "I can go over everything with the project team, take some time to make the proper decision and then approve or disapprove items on myDuncan," states Jeff. The system allows easy access to project information and provides interactive management tools to the customer from anywhere. Jeff appreciates the access that he can have to the project when he is not at the facility. "The myDuncan application is especially handy if I am away from the project and need to make decisions while traveling," he says.
Team Relationships
After many trips to Lincoln for maintenance, Jeff has established relationships with many team members. "I request Tony and Steve McDunn's jet airframe team when I schedule maintenance." There have been one or two instances where Tony was not able to oversee his project and he was assigned another Project Manager. Jeff says that even then, Tony maintained communication with him to ensure that everything went well.
"It has been a real pleasure to get to know Tony and I consider him a great friend."
"It has been a real pleasure to get to know Tony and I consider him a great friend. He has provided the utmost in customer satisfaction," Jeff continues. "Due to the overall service and attitude that I have received from Tony, Jerry House and the rest of Steve McDunn's team, I have made Duncan Aviation my primary maintenance provider."
Duncan Aviation Team Leader Steve McDunn lost a battle with cancer on December 5, 2010. The service he provided to Jeff and all his other customers makes Duncan Aviation proud. "I am going to miss Steve," Jeff says. Tony knows that Jeff is genuine when he says this. "Jeff appreciates the guys and gals on the floor and has respect for the work they do."
Tony has worked with Jeff for the past five years and cannot say enough good things about him. Each visit means a new chance to further develop their relationship, both personal and professional. Tony finishes by saying, "Jeff truly is a friend, and a model customer."