«Spring 2011
New 24-Month Warranty Has You Covered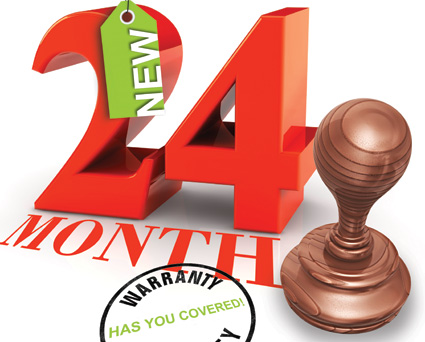 New 24 Month Avionics & Accessory Overhaul Warranty
It is rare these days to have a business so confident in what they do that they warranty their work for 24 months... and not just their work, but the work of others.
Beginning in 2011, Duncan Aviation's Components Solutions will provide all customers the peace of mind of a 24-month warranty that covers 100% of many Duncan Aviation overhauled avionics and accessory units. So when you bring in a pneumatic valve for overhaul because the motor failed, it won't cost you anything in 18 months if the flapper also fails to work.
Our 24-month warranty covers the entire unit, whether we serviced the part or not.
We know what you're thinking. In this tough economy, how can Duncan Aviation possibly offer a warranty on work we didn't perform? It's simple. Through our experience, we've been able to identify high-failure parts in many units and will take the extra time during overhaul to make sure those parts are able to last for 24 months or more, even if they are not replaced during the overhaul. Other shops only overhaul and fix the current fault without regard to the entire system. We have always taken care of the whole component when it is in our shop. We will send that component home... and include the confidence that we've got you covered should you need us again.
Promises Kept
A warranty is only as good as the company providing it, and it obviously isn't worth much if the company won't be around to honor it. According to Karl Detweiler, Business Development and Marketing Manager for Duncan Aviation Components Solutions, "2009 was the beginning of turbulent times for business aviation. It was common to hear about at least one component shop closing its doors every week." At Duncan Aviation, we say what we'll do and do what we say. We'll be around in two years (and beyond!) to fulfill our promises to you.
Most warranties range from six months to one year, and few provide comprehensive coverage.
Most warranties range from six months to one year, and few (if any) provide comprehensive coverage. Among independent component shops, Duncan Aviation is a leader in the industry, offering a 24-month warranty for many overhauled avionics and accessory units (and the number of units covered is growing every day). As a non-union shop, we are more flexible to respond to your needs by providing superior workmanship with quicker turntimes at great prices.
There is a small list of units that are not covered by the 24-month, tip-to-tail coverage. But even if your unit falls into this category, we will still provide warranty coverage for 12 months, just as we have in the past.
The choice is simple. When selecting the best component shop to service your aircraft avionics and accessories, choose the one that stands behind its work and will be here in the future to fulfill its promise to you.