«Spring 2014
AOG? Duncan Aviation Responds Rapidly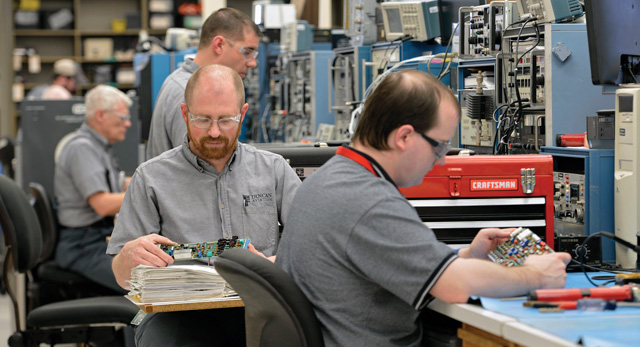 There are few things worse for an aircraft operator or owner than the news of an Aircraft On Ground (AOG). The phrase indicates that a problem is serious enough to prevent an aircraft from flying, and it doesn't matter if it's at its home hangar or on a landing strip in Timbuktu. The aircraft is grounded. Period.
That's what makes AOGs so costly and inconvenient. The crew and any passengers will typically have to find accommodations, alternate travel arrangements will usually need to be made for the passengers and a trusted technician will have to travel to the aircraft. The technician will then have to determine what's wrong, obtain any necessary tools and parts and secure the necessary paperwork to return the aircraft to service.
Regardless of where an aircraft is stranded or what the AOG problem is, Duncan Aviation takes care to ensure AOG situations are handled as quickly and painlessly as possible.
"Everyone here realizes how difficult AOGs are, and we will work around the clock to do what we can to get an aircraft back in the air," says Andrew Theis, team leader for Duncan Aviation's avionics and instruments customer account reps. He and his team field calls from customers who need repairs or inspections on avionics equipment; many of them from customers who are AOG.
Theis says, "We never turn away a customer, and we do our best to accommodate quick turntimes."
When a customer calls with an AOG, the customer account rep opens a work order and flags it as AOG. Team members give the customers the work order number and suggest that they use a Sharpie permanent marker to write both the work order number and AOG in bold letters on the outside of the box. When the part arrives, Ryan Young, the team leader in Duncan Aviation's shipping and receiving area, immediately recognizes the AOG package and delivers it to the appropriate bench as soon as possible.
"Because we have so many years of experience among us, we know when we hear a particular squawk roughly how long it'll take to duplicate the problem and fix it and approximately how much it's going to cost," says Theis. "We're able to give the customer the usual cost and turntime, and we typically get the OK to go ahead with the work based on that estimate. If we find out it's going to go above the normal scope, we'll call the customer."
When technicians finish with a unit, the customer account reps update the status and electronically send the paperwork to an account rep, who then arranges to ship the unit back. "If the unit is from an AOG, we may arrange for evening or weekend shipping," says Theis.
One time, we had a customer from Dubai, United Arab Emirates (UAE) who brought a defective part with him on a visit to our facilities in Lincoln, Nebraska. A customer account rep was able to get the part to the bench, where the technician performed a same-day turn on it. The necessary paperwork was secured and the part was given back to our customer so he could take it with him when he left.
"It wasn't a high-dollar repair, but we didn't treat him any differently than any other customer," says Theis. "Throughout Duncan Aviation, whether it's on our avionics bench or in one of our shops, our goal is to have happy customers who trust us and know that we're here for them."
AOG in the USA
Scott Griess, team leader for the DME transponder bench, received a call one morning that a fleet of six Cessna aircraft had navigational units that were approaching the deadline on an airworthiness directive. The Original Equipment Manufacturer (OEM) for the units couldn't handle the additional work, so our customer called and explained that if we couldn't perform the inspections, the entire fleet would be AOG.
"Initially, the units presented quite a challenge, and we were concerned we couldn't accommodate the short turntime," says Griess. "My philosophy is to try it, though. No, we're not sure, but we have to give it a try. Our customer called us because he believes in us; he thinks we can do it. We have to maintain our reputation and, more importantly, we cannot let our customers down."
In this instance, the customer pulled the units from five aircraft and flew them to Lincoln on the sixth aircraft. He and the units arrived in early afternoon, and the DME team went to work. One tech stayed late and continued working. The next afternoon, all of the units had been inspected and returned to our customer, and he flew them back home. From start to finish, in 36 hours, all of the aircraft in the fleet were ready to fly again.
Often, calls about AOGs are so common, they become the norm. Autopilot I Team Leader Steve Krings says, "Most of our calls are from customers with AOGs. And we're never sure how many units we'll have in a day, either. Today, we knew before coming in that we had six units scheduled for quick turns—they all need to be repaired, inspected, recertified and shipped out by 6 p.m. tomorrow."
In the past, the autopilot I team members worked solo on the units as they arrived, with one person responsible for a unit from start to finish. Now they operate on more of a cooperative assembly line: One tech does the initial inspection and tries to duplicate the squawk. The next changes the parts, performs any necessary fixes and cleans the unit. After sealing the boards, the unit is handed off for the final inspection.
On any given day, the workload for the bench looks like this: There are four or five scheduled autopilot units, an unscheduled unit drops in and a customer requests a quick-turn repair for a unit from an AOG.
"That's a typical day, and in order to accommodate the workload and quick turntimes, a couple of us will work late, we'll have one tech working overnight and a couple of techs will come in early the following morning," says Steve. "Our mindset is that we're going to come to work today, and we don't know what we're going to face. But it's not a big deal; we may have one unit or seven. Whatever shows up, we're going to deal with it, and we'll do everything to take care of the hot units [from AOGs] when they show up."
Every bench in the avionics department has a similar story. The aircraft that Eric Olson, team leader for autopilot II, work on are often involved in medical flights. They're often older aircraft, and we don't always have a lot of spares for those legacy parts.
Eric says, "One OEM requires a five-day lead time for parts, and med flights with AOG issues don't have that kind of time. As a result of our customers' needs, we've increased our inventory for commonly needed parts."
There are some parts for which a quick turntime is not possible. A complete overhaul for a gyro usually requires two to three days. Jerry Bremer, team leader for gyro I, says, "We regularly have AOG units that require a quick turn, but if the repair is going to take a couple of days, we let our customers know we have loaners and rentals available."
Joe Moritz, team leader for pitot static, also lets customers know about the spares and loaners. "The nature of the problems on the units we repair rarely require more than a day, so we can almost always accommodate same-day turns. When we cannot, we suggest spares or loaners for our customers, so they don't have to wait."